Blettes sautées parfumées à la noix de coco – Sautéed Chard leaves with grated coconut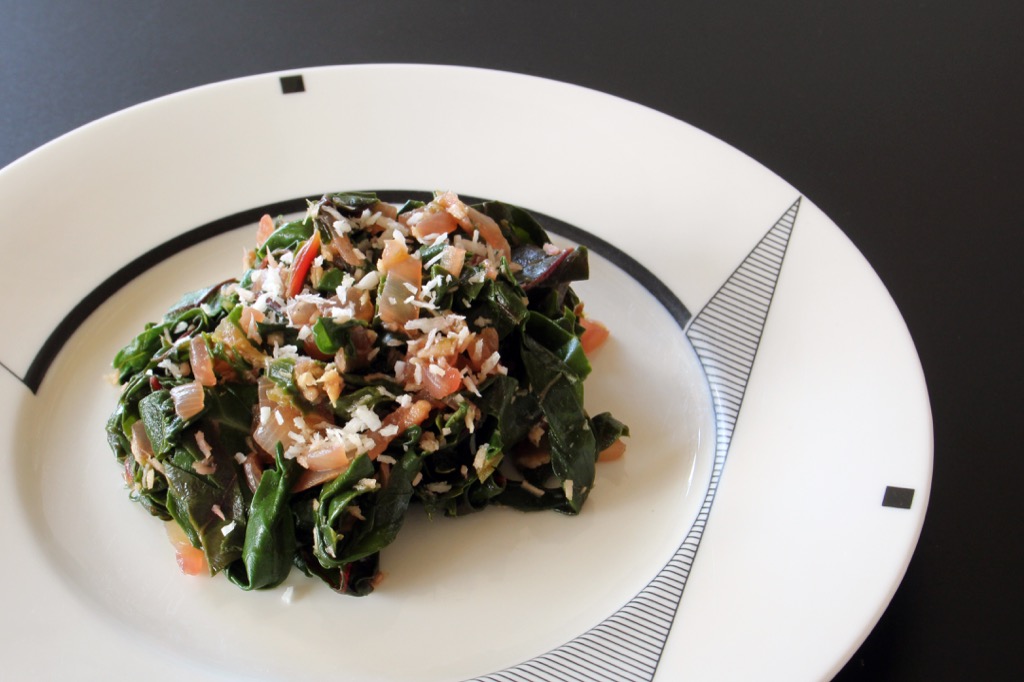 Scroll down for English
Samedi je suis allée au marché de San Mateo, dans le but d'acheter des fraises toutes fraîches cueillies. Je n'ai pas été déçue, nous nous sommes régalés au dessert. Sur les étals de primeurs, beaucoup de verdure de toutes sortes en cette fin d'hiver / début de printemps. J'ai craqué (il n'y a pas d'autre mot) pour un bouquet de blettes multicolores: des feuilles vertes, ou jaunes et des tiges rouges. Splendide!
Sauf que… en fait une fois rentrée à la maison, la blette, ce n'est pas très "sexy" à proposer à sa famille et voici mon bouquet qui reste à se morfondre dans le bac à légume…
Heureusement, après recherches dans mes classeurs de cuisine, j'ai fini par retrouver une recette d'inspiration Indienne, qui donne du "peps"et du goût à la verdure. Et c'est parti pour des blettes légèrement parfumées à la noix de coco.
INGREDIENTS: (pour 4 personnes)
1 bouquet de feuilles de blettes (ou de feuilles de betteraves, kale, épinards…)
1/2 gros oignon américain finement détaillé
2 belles gousses d'ail, pressées
1/2 piment jalapeño détaillé très fin, sans les graines
1 pincée de curcuma
sel, poivre
2 CàS de noix de coco râpée
huile d'olive
REALISATION:
Nettoyez les feuilles de blette, retirez les tiges (que vous pouvez conserver pour une autre utilisation) et coupez les feuilles en lanières.
Dans une sauteuse, faites chauffer à feu moyen 1-2 CàS d'huile, ajoutez les oignons que vous ferez cuire 5 minutes environ, jusqu'à ce qu'ils soient fondants. Ajoutez l'ail, le jalapeño et faites encore cuire 2 min. Ajoutez une partie de feuilles de blettes et faites les tomber. Lorsque vous aurez de nouveau assez de place dans la sauteuse, ajoutez le reste des feuilles de blettes. Ajoutez une pincée de curcuma. Mélangez bien et couvrez pour faire cuire quelques minutes, le temps que les feuilles deviennent tendres. Salez, poivrez.
Ensuite, retirez le couvercle et faites encore cuire quelques minutes pour éliminer le liquide qu'ont rendu les feuilles.
Parsemez de noix de coco râpée, cuire encore une minute et c'est prêt, vous pouvez servir!
---
Last Saturday, I visited the farmers' market in San Mateo, intending to buy fresh picked strawberries. I was not disappointed, and we enjoyed very much our strawberries for dessert. As it is late winter, the producers' stalls were lined with all kinds of greens. I impulsively bought a bunch of multicolored Swiss chards: green and yellow leaves and red stalks. Magnificent! As beautiful as a bouquet!
Except that bringing back Swiss chards home is not considered very exciting by my family and here was my bouquet, forgotten at the bottom of the fridge, lonely and sad…
Fortunately, after researching my cooking folders, I eventually found a recipe of Indian inspiration, which gave a "boost" and more taste to the greens. And here come some coconut-flavored Swiss chards.
INGREDIENTS: (for 4 servings)
1 bunch of Swiss chards – other greens can be used instead such as beet greens, kale, spinach …
1/2 large American onion, finely diced
2 large cloves of garlic, pressed
1/2 jalapeño, seeded, finely diced
1 pinch of turmeric
Salt, pepper
2 TbS of grated coconut
Olive oil
DIRECTIONS:
Wash the Swiss chards, remove the stalks (you can set them aside for another use) and chop the greens into bite size pieces.
Heat 1-2 TbS of oil in a sauté pan over medium heat, add the onions which you will cook approximately 5 minutes, until they are soft and golden. Add the garlic, the jalapeño pepper and cook another 2 min. Toss in some of the Swiss chards (most likely your sautée pan will not be large enough to accommodate all the chards in one batch). When the first batch of leaves have wilted and there is more room in the pan, add the rest of the Swiss chard. Add a pinch of turmeric. Mix well, cover and cook for a few minutes, until the leaves are wilted and tender. Season with salt and pepper to your taste.
Then, remove the lid and continue to cook for a few minutes in order to allow any excess moisture to evaporate.
Sprinkle with grated coconut, sauté for another minute and it is ready, you can enjoy!
---
---