Chou-Fleur rôti aux épices – Roasted cauliflower with curry and curcuma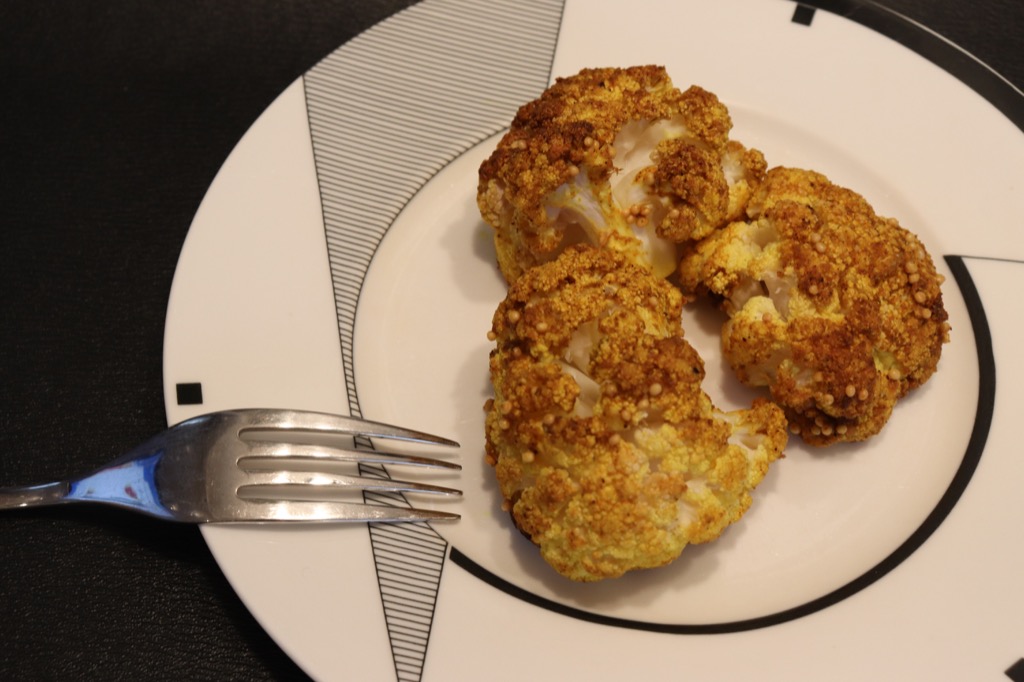 Plus léger que le sempiternel chou-fleur à la béchamel, voici une façon d'accommoder ce légume en 2 temps, 3 mouvements. Et bonus, toute notre petite famille apprécie!
INGREDIENTS:
1 chou fleur détaillé en petits bouquets (en coupant les tiges au ras des bouquets)
1-2 càc curry
1-2 càc curcuma
1 càc graines de moutarde (donne du croustillant)
1/2 càc sucre
Sel, poivre
4 CàS huile d'olive
NB: Pour cette recette, n'utilisez pas les tiges, qui restent très (trop) fermes et croquantes après cette cuisson au four, vous pourrez les "recycler" en les cuisant à l'eau ou à la vapeur et en les ajoutant à une soupe ou une tarte salée. Par exemple: cette soupe-de-chou-fleur-aux-épices
INSTRUCTIONS:
Préchauffez le four à 200C
Mélangez épices, sucre, sel, poivre, huile dans un grand saladier
Ajoutez les bouquets de chou-fleur et mélangez bien, pour que le chou-fleur soit recouvert de la préparation.
Mettez au four 45 min à 1h (selon la taille des bouquets).
---
A pretty healthy way to eat cauliflower, and furthermore it only takes a few minutes to prepare (plus some time in the oven, obviously). And the good news is, even my son loves it!
INGREDIENTS:
1 cauliflower (only the florets, remove completely the stems)
1/2 tsp curry
1/2 tsp turmeric
1 tsp mustard seeds (gives some crunchiness to the dish)
1/2 tsp sugar
Salt, pepper (to taste)
4 Tbs olive oil
Note: For this recipe, do not use the cauliflower stems which will remain very crunchy when roasted in the oven, but you can save them for a different dish, for example: this cauliflower-soup-with-spices
DIRECTIONS:
Preheat the oven to 400F
In a large bowl, mix the curry , turmeric powders, mustard seeds, sugar, salt, pepper and olive oil.
Add the cauliflower florets and stir thoroughly so that they are covered with the mixture.
Roast for 45min to 1 hour (depending how large the florets are).
---
---