Confiture de mangues vanillée – Mango jam with vanilla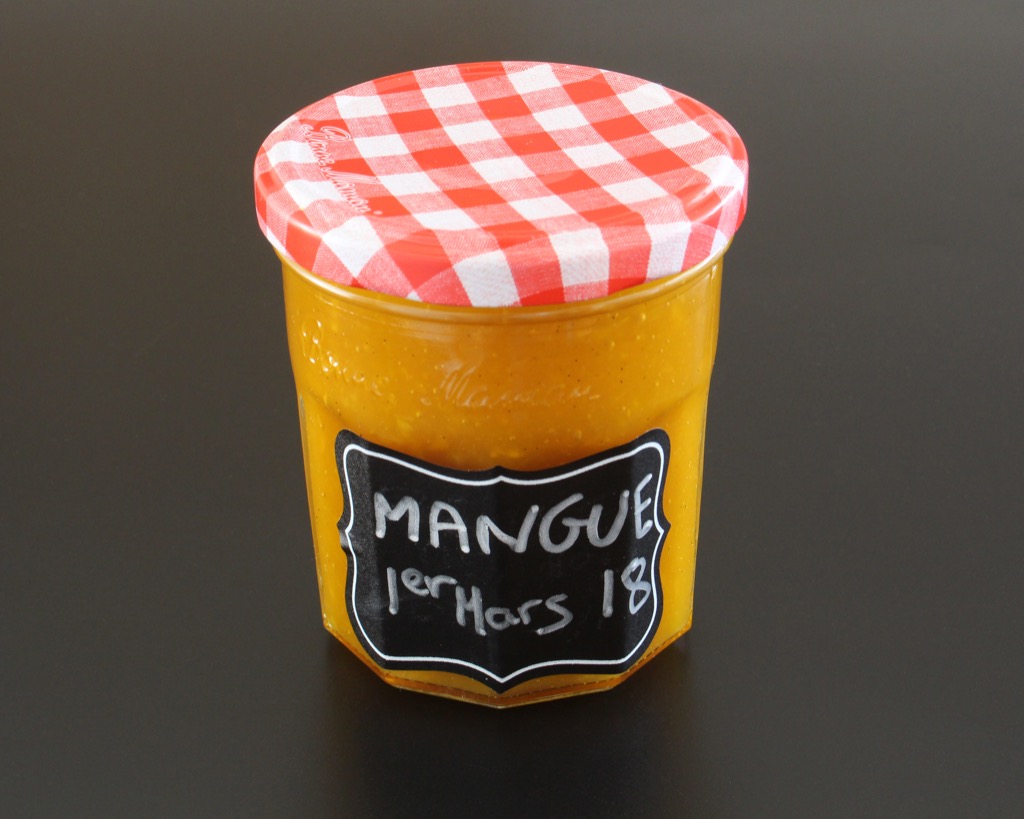 Scroll down for English
Jour de tempête, vent et pluie toute la journée. Un temps à ne pas mettre le nez dehors… Ça tombe bien, j'ai acheté en début de semaine un plateau de mangues, délicieuses. On  a mangé des mangues crues, des
tartelettes à la mangue
, et bien maintenant passons aux confitures!
PS: Vous avez remarqué? Mon mari et moi avons bien travaillé le week end dernier et mon blog a changé de look. Vous aimez ?
INGREDIENTS: pour 3 pots
6 mangues Ataulfo (petites mangues jaunes ) = environ 800g de chair
600g de sucre roux
Jus d'1/2 citron vert
1/2 gousse de vanille
INSTRUCTIONS:
Mettez la mangue épluchée et détaillée en petits morceaux dans un grand récipient, ajoutez les noyaux qui apporteront de la pectine, ajoutez le sucre, le jus de citron, mélangez et laissez macérer plusieurs heures.
Ajoutez 1/2 gousse de vanille dont vous gratterez les graines et faites cuire la confiture à petit bouillon.
Au bout de 20 minutes, faites le test de l'assiette froide pour vérifier si la confiture est assez cuite. (Vous pouvez prolonger un peu la cuisson mais attention à ne pas trop cuire car vous pourriez obtenir une confiture de mangue si dense qu'elle en devient impossible à tartiner… ça m'est arrivé!)
Retirez la gousse de vanille et les noyaux et mixez la confiture au mixeur plongeur. (Je ne laisse pas de morceaux dans la confiture de mangue)
Versez tout de suite dans des bocaux ébouillantés, que vous retournerez immédiatement après les avoir fermés, ainsi votre confiture se conservera plusieurs mois à température ambiante.
Délicieux tartiné sur une
baguette
bien croustillante!
---
Stormy weather today. No way I am going outdoors ! Actually,  it's a perfect day to spend time in the kitchen.
Earlier this week I bought a case of delicious, juicy mangoes: we ate mangoes for dessert the first days, then I baked
mango tartlets
, now it's time to prepare mango jam!
PS: Did you notice? My husband and I have worked hard last week end and we have updated my blog. Do you like its new look?
 INGREDIENTS: for 3 jars
6 Ataulfo mangoes (small yellow mangoes)
2 1/2 cup brown sugar
Juice of 1/2 lime
1/2 vanilla bean
 DIRECTIONS:
Peel the mangoes and cut them in small pieces. Place the mango pieces in a large pan, add the mango pits (they will bring pectin), add the sugar, the lemon juice, stir and wait for several hours.

Add the vanilla bean (s

crape the vanilla seeds) and cook the jam on medium.

After 20 minutes, test if the jam is ready : pour a teaspoon of jam on a chilled plate, the jam should be a soft gel that barely moves . If necessary, you can cook a bit longer but be careful and do not cook for too long because you could obtain a jam so thick it becomes impossible to spread it.

Remove the vanilla bean, mix the jam thoroughly (I 

do not like to leave pieces in my mango jam).
Pour the jam immediately into scalded jars, put the lid on and turn the jars upside down.  This way your jam will keep for several months at room temperature.
This jam is delicious spread on fresh baguette!
---
---