Soupe de chou-fleur aux épices |
Cauliflower soup with spices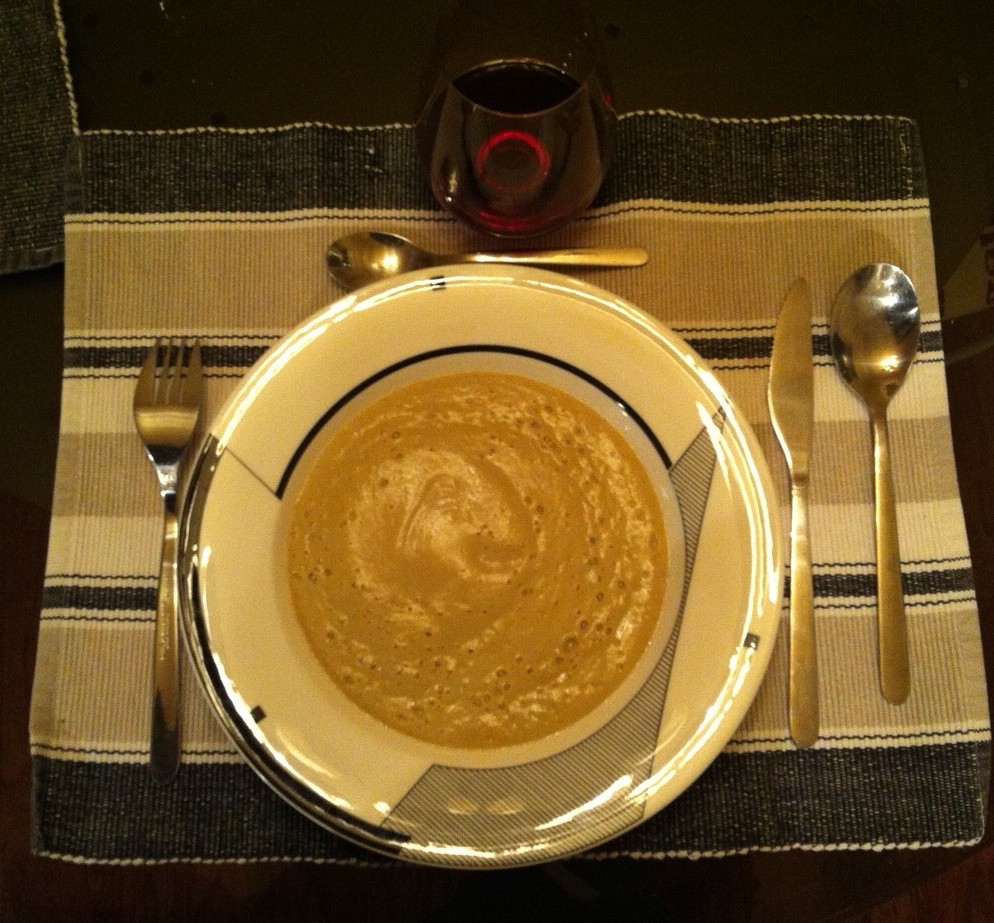 Hier, il faisait froid, selon les standards de Houston. Pas d'école pour les enfants (et oui, quand la température descend en dessous de zéro et qu'il fait humide, la ville se couvre d'une couche de glace et les échangeurs d'autoroute deviennent de vraies patinoires, trop dangereux pour circuler).
Un vrai temps à rester à la maison et à manger une bonne soupe.
Que reste-t-il dans le congélo? Du chou fleur?
C'est parti pour une soupe chou-fleur aux épices.
Ingrédients:
1 chou-fleur
1 oignon émincé
1 gousse d'ail écrasée
1 càs de gingembre frais émincé (je n'avais plus de gingembre frais, j'ai mis de la poudre de gingembre, et c'était bien bon quand même)
1/2 cc de curcuma
1cc de cumin en poudre
1cc de coriandre moulue
1 càs de yaourt grec
1 càs d'huile d'olive
1/2 l de bouillon de légumes
sel, poivre
Méthode:
1. Détailler le chou-fleur, le laver et le faire cuire 4-5 min à la cocotte minute ou 10min à l'eau bouillante. L'égoutter et le réserver.
2. Faire revenir les oignons, l'ail et le gingembre dans l'huile d'olive. Ajouter ensuite le curcuma, le cumin, et la coriandre puis bien mélanger. Ajouter le chou-fleur, mouiller avec le bouillon de volaille, saler si nécessaire et porter à ébullition. Laisser frémir une dizaine de minutes.
3. Mixer la soupe dans un blender, incorporer le yaourt, puis mixer à nouveau. Saler, poivrer à votre goût. Déguster chaud (maintenant) ou froid (l'été prochain).
————————————————————————————————————————————-
Real winter weather yesterday. Temperatures below freezing point. Exceptional for Houston. Schools were closed.
Perfect weather to stay home and warm up with a hot soup.
What's left in the freezer? Cauliflower ?
Here we go, let's prepare a cauliflower soup with spices.
Ingredients:
1 cauliflower
1 onion, diced
1 garlic clove, crushed
1 tbs fresh ginger, minced (I didn't have fresh ginger left, so I used powdered ginger, and the soup was still really good)
1/2 tsp turmeric
1 tsp cumin
1 tsp coriander
1 tbs greek yogurt
1 tbs olive oil
2 cups chicken broth
salt, pepper
Method:
1. Chop the cauliflower in small pieces, clean it, cook it for 4-5 min in a pressure-cooker or 10 min in boiling water. Drain and put aside.
2. Cook the onions, garlic and ginger in olive oil, until onions are soft. Add turmeric , cumin, coriander and stir thoroughly. Add the cauliflower, the chicken broth, salt to your taste and bring to a boil. Reduce the heat to maintain a simmer for 10 min.
3. Mix the soup in a blender, add the yogurt, mix again. Add salt and pepper to taste. Enjoy hot (now) or cold (next summer).
---
---