Vive les choux de Bruxelles – You'll love Brussel sprouts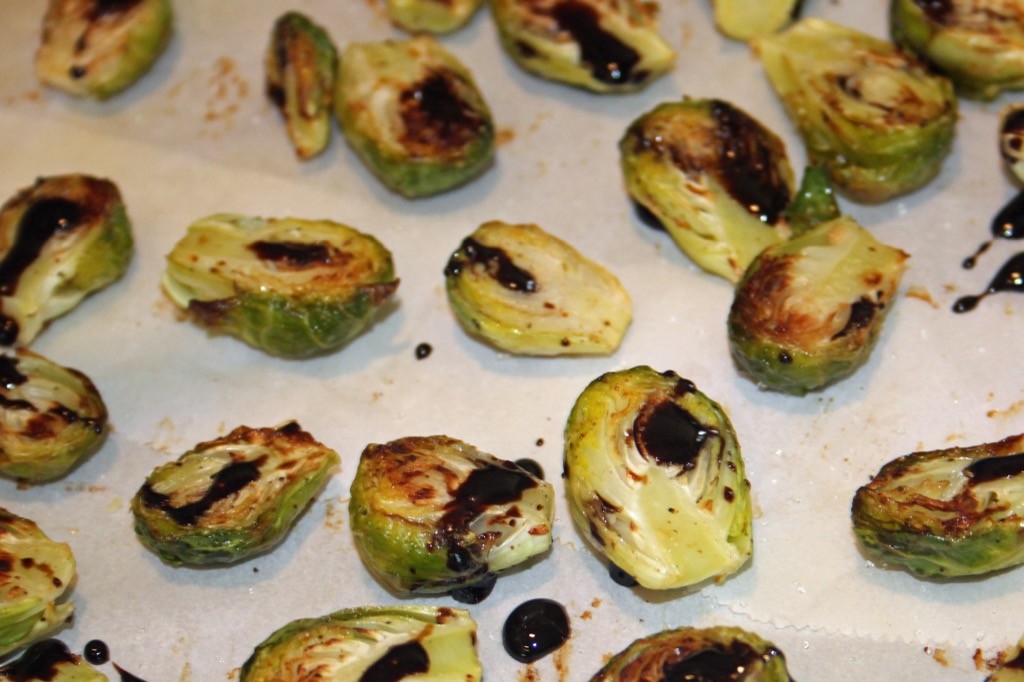 Scroll down for English
Voici LA recette grâce à  laquelle j'ai réussi à faire dire à mon mari que "Cuisinés comme ça, c'est pas mauvais du tout, les choux de Bruxelles". Autant vous dire que c'est un exploit ! Je ne sais pas si cela suffira à convaincre certain(e)s d'entre vous d'essayer cette recette?
En tout cas je sais que je vais faire au moins deux heureuses:  notre amie Sharon et ma maman, qui toutes les deux sont des "fans" de ce légume et m'ont demandé de publier cette recette!
Choux de Bruxelles rôtis et réduction de vinaigre balsamique
INGREDIENTS:
environ 600g de choux de Bruxelles, nettoyés et coupés en deux dans la longueur
2 CàS d'huile d'olive
1 càc de sel environ.
1 càc de poivre environ.
1 càc de miel
250 ml de vinaigre balsamique
sucre roux (facultatif)
METHODE:
Préparez une

réduction de vinaigre balsamique

: Dans une petite casserole, mélangez une cuillère à café de miel et 250 ml de vinaigre balsamique. Laissez réduire à feu doux une dizaine de minutes, jusqu'à ce que le mélange ait une consistance sirupeuse.
Préchauffez votre four à 400F / 200C
Mettez les choux de Bruxelles coupés en deux dans un bol. Arrosez d'un filet d'huile d'olive, salez, poivrez à votre goût et mélangez à la main pour qu'ils soient bien assaisonnés.
Disposez les choux de Bruxelles coupés en 2 sur une plaque recouverte de papier cuisson, face coupée vers le bas. Pour des petits choux de Bruxelles, laissez cuire environ 10 min (jusqu'à ce que le dessus des choux brunisse légèrement). Prolongez un peu la cuisson si vos choux sont de belle taille.
Sortez la plaque de cuisson du four, retournez les choux et arrosez de la réduction de vinaigre balsamique. Vous pouvez déposer quelques grains de sucre roux sur chaque choux, afin d'aider à la caramélisation. (J'essaierai sans ajouter le sucre la prochaine fois car la réduction de vinaigre balsamique apporte déjà une note sucrée)
Remettez au four, encore 5 à 10 minutes,  les choux doivent être dorés et légèrement caramélisés. Attention à bien surveiller la cuisson pour éviter de trop les griller!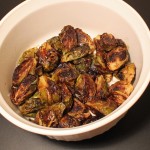 Note: Le jour où je refaisais cette recette dans le but de prendre des photos pour ce billet,  j'ai arrêté la cuisson à temps mais oublié les choux dans le four car le téléphone a sonné au mauvais moment. Résultat: des petits choux desséchés, croustillants…pas très présentables (cf photo!)… Mais c'est comme cela que mon mari les préfère! Affaire de goût…
---
Here is THE recipe that made my husband recognize that  " Brussels sprouts are not so bad after all ". I can tell you that it is an amazing achievement! Yet, I do not know if it will be enough to convince some of you to try this recipe?
In any case, I know that I am going to make at least two happy readers: our friend Sharon and my mom, who are both "fans" of this vegetable and asked for this recipe!
Roasted Brussel sprouts with balsamic vinegar reduction
INGREDIENTS:
about 1 1/2 pounds brussels sprouts, trimmed and halved lengthwise
2 tablespoons olive oil
1 teaspoon salt, or to taste
1 teaspoon pepper, or to taste
1 tsp honey
1 cup balsamic vinegar
brown sugar (optional)
DIRECTIONS: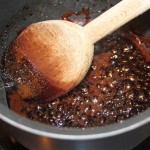 Prepare a

reduction of balsamic vinegar

: in a small pan, mix one teaspoon of honey with one cup of balsamic vinegar. Let reduce over low heat about ten minutes, until the mixture has a syrupy consistency (see photo)

Preheat your oven to 400F/200C. Put the Brussels sprouts cut in halves in a bowl. Drizzle with olive oil, salt, pepper to your taste and mix with your hands so that they are seasoned well.

Arrange the Brussels sprouts  on a baking sheet covered with parchment paper, cut face  downward. For small Brussels sprouts, cook approximately 10 min (until the top of the sprouts  browns slightly). Cook a bit longer if the sprouts are larger.

Take the baking sheet out of the oven, turn the sprouts upside down and drizzle them with the reduction of balsamic vinegar. You can add a bit of brown sugar on every sprout, to help them caramelize. (I will try without sugar next time because the reduction of balsamic vinegar already brings a sweet note).

Put back in the oven for another 5 to 10 minutes. The Brussel sprouts must be golden and slightly caramelized. Look at the Brussel sprouts carefully if you don't want them to get overcooked or even burned!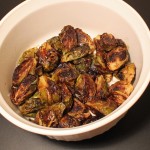 Note: When I made this recipe for the second time as I wanted to take nice photos for this post, I stopped the oven at the correct moment but forgot to take the sprouts out of the oven immediately.  (I got sidetracked because I answered a phone call from a friend)
 As a result: small, dried out, shriveled, crunchy Brussel sprouts … not very fit to be seen … But my husband said that they were even better than the first batch! 
---
---