Salade composée Méditerranéenne – Mediterranean mixed Salad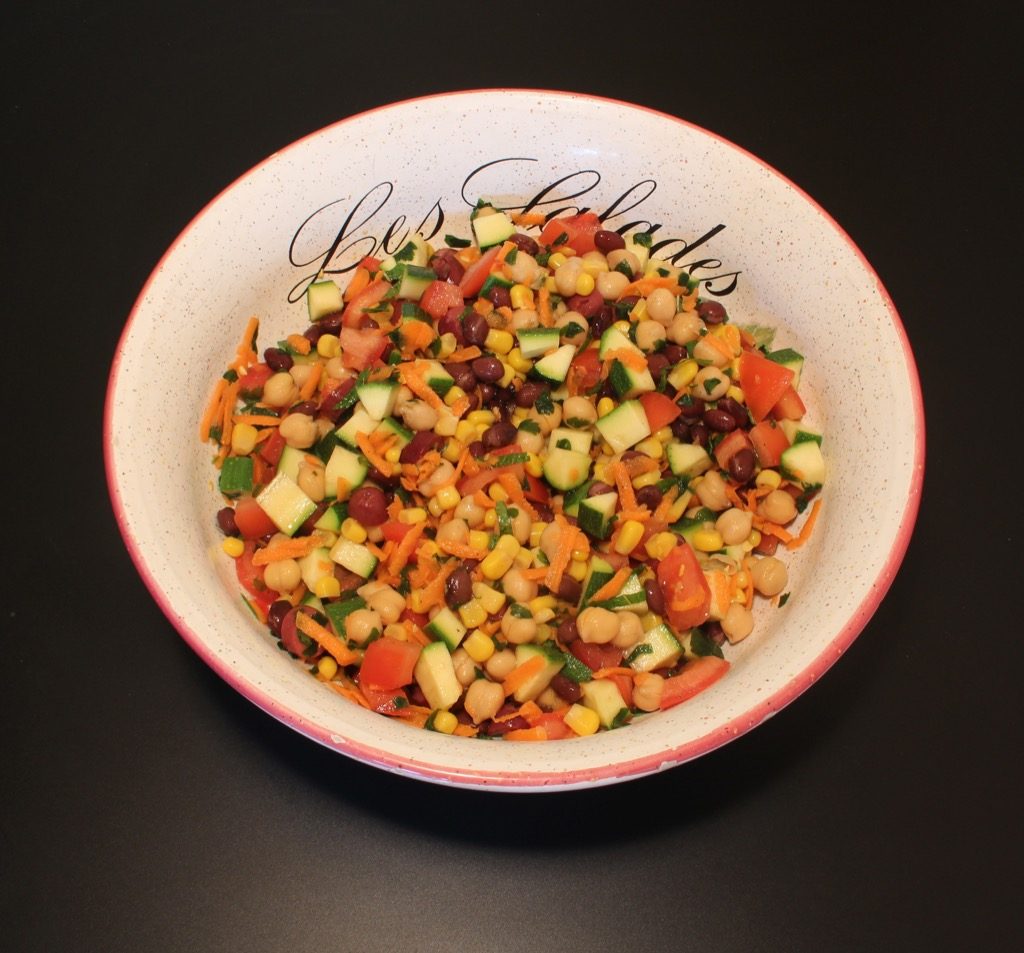 Scroll down for English
Voici une salade dont les droits d'auteur reviennent à ma copine Michèle. J'ai eu l'occasion de déguster cette salade composée lors d'un "pot luck" (chaque invité apporte un plat) de notre atelier couture et ai apprécié les ingrédients typiques du bassin méditerranéen, bien éloignés de ma culture gastronomique de Bourguignonne. Pas de pois chiches, olives, courgettes, menthe etc… dans les salades de ma maman!
INGREDIENTS: pour 6 personnes
1 boîte de haricots noirs
1 boîte de pois chiches
1 boîte de maïs non OGM (j'y tiens!)
1 carotte râpée
3 tomates détaillées en dés
2 toutes petites courgettes détaillées en dés
1 poignée d'olives noires tranchées
Menthe (fraîche, cueillie dans mon jardin aujourd'hui, mais Michèle avait utilisé de la menthe séchée)
Persil
Sel, poivre à votre goût
Jus de 2-3 citrons (selon la taille)
Huile d'olive (quantité à déterminer par vos soins, à vue d'oeil je dirais que j'ai mis le même volume d'huile que de citron)
une càc de moutarde
sel, poivre
METHODE:
Mettez les ingrédients de la sauce dans un bocal à confiture, fermez bien le couvercle. Secouez énergiquement. La sauce est prête!
Dans un grand saladier, mettez tous les ingrédients de la salade, arrosez avec la sauce, mélangez  délicatement,  et réservez une heure au frais si possible.
---
The author rights for this mixed salad belong to my friend Michele. I recently had the opportunity to taste her dish at a " pot luck"  lunch from our sewing group and enjoyed the ingredients which are typical from the Mediterranean regions, far from my family's food culture from Burgundy (in the center of France). No  garbanzo beans, olives , zucchini, mint etc … in my mom's salads !
INGREDIENTS: for 6 servings
1 can of black beans
1 can of garbanzo beans (chickpeas)
1 can of sweet corn (please, not GMO, I insist!)
1 grated carrot
3 tomatoes, diced
2 small zucchinis, diced
1 handful of olives, sliced
Mint (fresh from my garden today, but Michele had used dried mint)
Parsley
Salt, peper, to taste
The juice of 2-3 lemons (depending on their size)
Olive oil (I believe I did put same quantity of oil as juice, but feel free to adjust to your taste!)
1 tsp Dijon mustard
salt, pepper, to taste
DIRECTIONS:
Put the dressing ingredients in a jar, close the lid. Shake vigorously. The dressing is ready!
In a large salad bowl, put all the ingredients for the salad, drizzle with the sauce, mix gently, and reserve for an hour in the fridge, if possible.
---
---