Dés d'aubergines au four – Easy peasy diced Eggplant baked in the oven.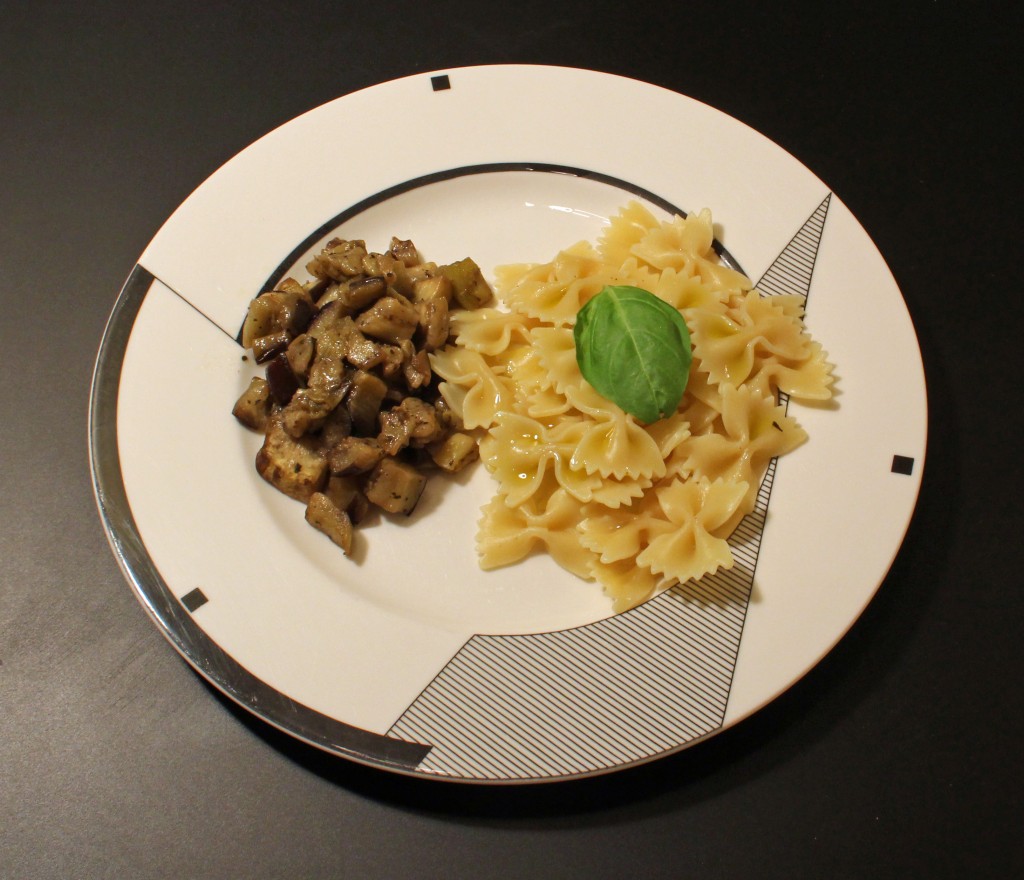 Scroll down for English
Je ne sais pas si ce post mérite le titre de "recette". Il s'agit plutôt d'une idée de petit plat de légumes facile et sain, dont la maternité (ça se dit? je ne crois pas, mais faisons preuve d'un peu de féminisme!) revient cette fois-ci encore à Julie (l'auteur de citytrotteuse.com).  A priori, je ne suis pas une grande amatrice d'aubergines, mais ainsi préparées,  elles sont fondantes, presque sucrées, et accompagnent à merveille un plat de pâtes.
INGREDIENTS: pour 2 personnes
1 grosse aubergine (ne sous-estimez pas la quantité, ça réduit beaucoup à la cuisson)
huile d'olive
sel, poivre, herbes (j'ai utilisé de l'origan, mais du thym ou des herbes de Provence feraient aussi l'affaire)
METHODE:
Préchauffez le four à 200 C / 400 F.
Lavez et épluchez partiellement l'aubergine, détaillez-la en cubes.
Huilez un grand plat allant au four, répartissez les dés d'aubergine dans ce plat, salez, poivrez, parsemez d'origan. Ajoutez un filet d'huile d'olive. Mélangez délicatement, sans écraser les dés d'aubergine.
Enfournez le plat. Après 15-20 min de cuisson , mélangez à nouveau les aubergines et rectifiez l'assaisonnement si nécessaire. Prolongez encore la cuisson une dizaine de minutes.
Vous pouvez servir chaud avec un plat de pâtes, ou pour accompagner un poisson. C'est aussi très agréable de déguster ce plat froid le lendemain.
---
I am not really sure this post deserves to be called a "recipe". It is rather an idea for an easy, healthy side dish which will help you eat your vegetables!    Usually, I am not a big fan of eggplant, but baked this way, they are melting in your mouth , almost sweet , and a perfect accompaniment to a plate of pasta . Thank you Julie (http://citytrotteuse.com)  for this great idea!
INGREDIENTS: 2 servings
1 large eggplant (do not underestimate the quantity , it greatly reduces while cooking)
olive oil
salt, pepper, herbs (I used dried oregano but thyme, "herbes de Provence" or other mixed herbs would do)
METHOD:
Preheat your oven to 200 C / 400 F.
Wash and partially peel the eggplant, dice into cubes.
Oil a large baking dish, spread the diced eggplant in this dish, add salt and pepper , sprinkle with oregano or other herbs. Add a little olive oil. Mix gently, without damaging the eggplant cubes.
Put the dish in the oven. After 15-20 minutes of cooking, stir again the eggplant and adjust the seasoning if necessary. Continue cooking about ten more minutes .
You can serve this eggplant dish with pasta or as a side for  fish . It's also nice to taste this dish cold the next day.
---
---