Poulet et concombre aux senteurs asiatiques – Chicken and cucumber with Asian influence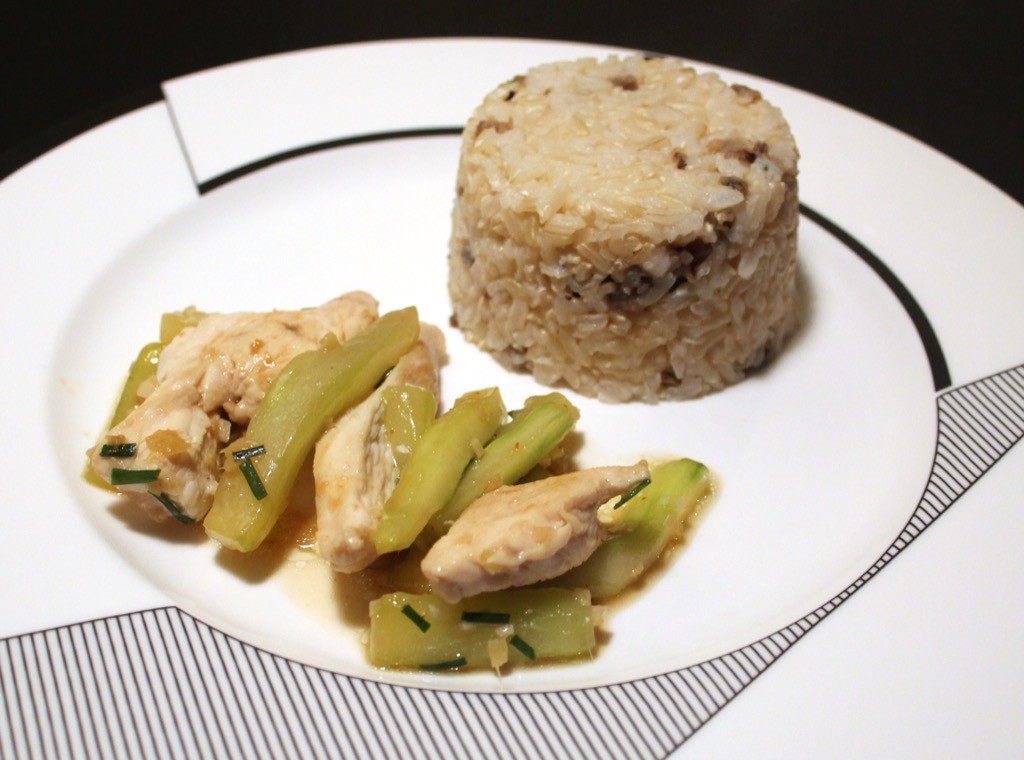 Scroll down for English
Je ne sais pas si vous êtes comme moi, mais il m'a fallu attendre d'avoir largement dépassé l'âge de raison pour découvrir que:
1. le concombre, c'est bon!
2. le concombre, ça peut aussi se manger cuit!
J'espère que vous êtes déjà convaincu(e)s du premier point, et pour démontrer le second je partage cette recette que je fais très régulièrement car elle est facile, équilibrée (de la viande, un légume, du riz) … et délicieuse.
INGREDIENTS (pour 4 personnes)
500g de filet de poulet
750g de concombre
2 CàS de sauce soja
1 CàS d'huile au goût neutre – Colza par exemple
1 CàS d'huile de sésame
1 CàS de gingembre frais râpé
1 CàS d'ail pressé
1 CàS de ciboulette (facultatif)
2 CàC de sel
1 CàC de sucre de canne
sauce pimentée – hier j'ai utilisé une sauce maison faite par ma copine Chanthy, excellent! d'habitude j'utilise ce que j'ai couramment dans mon frigo et à Houston c'est souvent du Tabasco ou des sauces pimentées Mexicaines, pas vraiment Asiatique!

METHODE
1. Préparez le concombre et le poulet
Epluchez, épépinez le concombre et détaillez-le en bâtonnets (3-5 cm environ).
Si vous avez le temps, mettez-les à dégorger avec 2 càc de sel dans une passoire pour 30min. Rincez ensuite les concombres pour retirer l'excès de sel, essuyez-les soigneusement.
Détaillez le poulet en morceaux de taille similaire.
2. Préparez la sauce
Dans un petit bol, versez l'huile de sésame, la sauce soja, le sucre, la sauce pimentée (quantité à votre convenance!) et mélangez bien.
3. Cuisson
Faites chauffer l'une huile neutre dans une sauteuse ou un wok. Lorsqu'elle est bien chaude, ajoutez les morceaux de poulet et faites les dorer à feu vif 2-3 minutes. Ajoutez l'ail pressé et le gingembre, ainsi que le concombre et faites cuire pendant encore 3-4 minutes, en prenant soin de remuer fréquemment.
Ajoutez la sauce, parsemez de ciboulette et laissez cuire encore 2 minutes à feu moyen. Servez avec du riz.
NB: Il ne faut pas faire cuire ce plat trop longtemps, le concombre doit conserver de la fermeté et du croquant dans votre assiette.
---
I don't know if it's the same for you, but I had to wait until I was largely past the age of reason to discover that:
1. Cucumber tastes good!
2. Cucumber can also be cooked!
I hope that you are already convinced of the first point, and to demonstrate the second I share this recipe which I prepare very regularly because it is easy, well-balanced (some meat, a vegetable, rice) … and delicious.
INGREDIENTS (4 servings):
1 lb chicken breast
1.5 lb cucumber
2 Tbs soy sauce
1 Tbs neutral oil – canola oil for example
1 TbS sesame oil
1 Tbs fresh grated ginger
1 TbS crushed garlic
1 TbS chives (optional)
2 Tsp salt
1/2 to 1 tsp cane sugar
Spicy Sauce – Yesterday I used a home made sauce offered by my friend Chanthy, excellent! Usually, I choose whatever spicy sauce is available in my refrigerator, which in Houston is often Tabasco or a Mexican spicy sauce, not really Asian!
DIRECTIONS:
1. Prepare the cucumber and the chicken
Peel the cucumber, remove its seeds and detail it in sticks (approximately 1 – 2″).
If you have time, toss the cucumber with 2 teaspoons salt in a colander, then drain 30 minutes. Rinse the cucumbers to remove the excess of salt, dry them carefully.
Detail the chicken in pieces of similar size.
2. Prepare the sauce
In a small bowl, whisk together the sesame oil, the soy sauce , the sugar, and the spicy sauce (quantity to your taste!)
3. Cooking
Heat the canola oil (or other neutral oil) in a frying pan or a wok. When it is very hot, add the pieces of chicken and brown them over a brisk heat 2-3 minutes. Add the crushed garlic and grated ginger, as well as the cucumber and cook for 3-4 minutes, stirring regularly.
Add the sauce to the pan, sprinkle with chives and cook another 2 minutes over medium heat. Serve with rice.
Note: You should not cook this dish for too long, the cucumber should remain somewhat firm and crisp when served on your plate.
---
---