Tarte à la rhubarbe toute simple – Basic rhubarb tart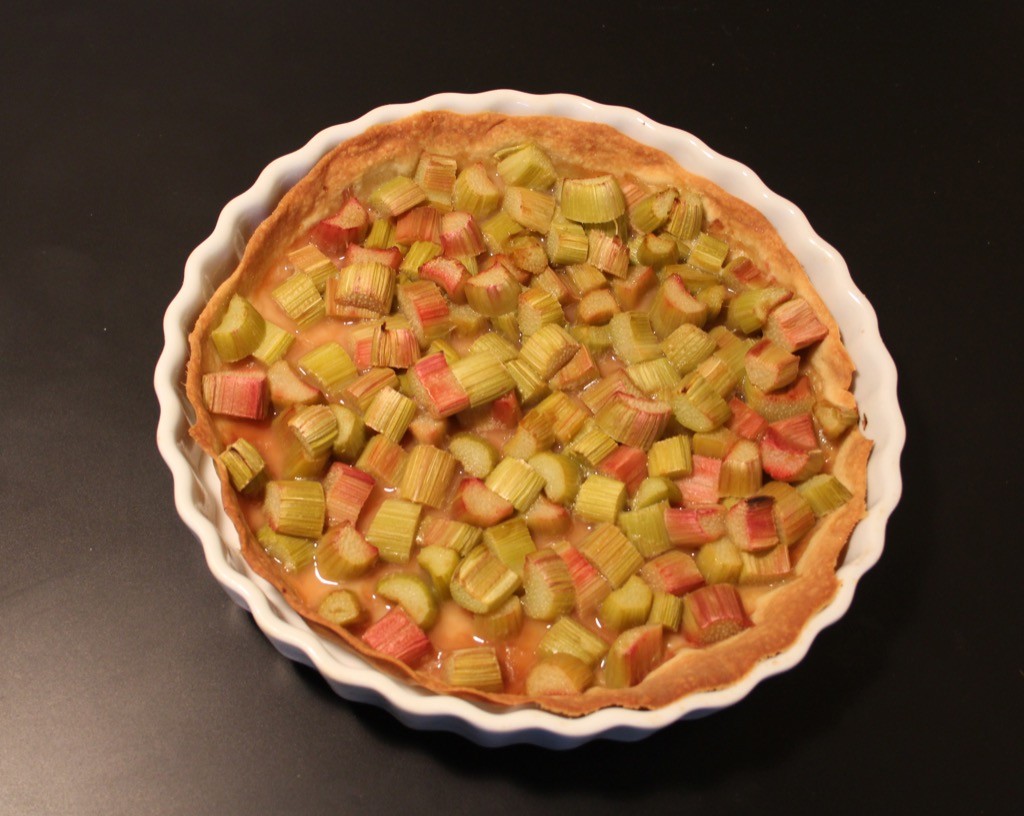 Scroll down for English version
Il y a quelques jours, je vois de la rhubarbe en rayon chez Sprouts, un supermarché tendance bobo-écolo. C'est assez rare de pouvoir acheter de la rhubarbe fraîche à Houston, alors je ne peux résister! (Il faut avouer que le climat ici ne se prête pas trop à cette plante…).
D'ailleurs, c'est tellement inhabituel qu'une cliente passe à la caisse avec de la rhubarbe, que l'année dernière, dans ce même magasin, elle m'avait été facturée au prix du céleri!
Et cette année, de retour à la maison, je me suis aperçue que je ne l'avais tout bonnement pas payée! Le caissier n'a peut être pas osé avouer son ignorance…
Aujourd'hui c'est donc un dessert ultra-facile que je propose:  Attention, à réserver à ceux qui ADORENT la rhubarbe et son acidité.
– préchauffer le four à 400F / 200C
– étaler une pâte à tarte dans un moule (j'ai utilisé ma pâte à tarte à l'huile d'olive). Piquer la pâte avec une fourchette.
– éplucher, laver, couper en petits tronçons les tiges de rhubarbe.
– arranger artistiquement (ou pas, j'étais pressée!) les morceaux de rhubarbe sur le fond de tarte. La rhubarbe se rétracte à la cuisson, il faut donc en mettre beaucoup.
– saupoudrer de sucre de canne. (La quantité de sucre dépend de votre goût, la rhubarbe c'est TRÈS acide!)
– cuire à 400F environ 30 min.
Evidemment, comme dit mon homme, ce serait pas mal non plus si j'ajoutais avant cuisson une petite crème du style " battez 2 oeufs, 200g de sucre et 20 cl de crème fraîche " à verser sur la rhubarbe, mais alors ce ne serait plus une recette pour la rubrique  "santé" de ce blog mais une recette pour sa rubrique "on se lâche". Une prochaine fois peut-être…
---
A few days ago, I stumbled upon some rhubarb at Sprouts (a trendy supermarket with some organic food). It is rather rare to be able to buy fresh rhubarb stalks in Houston, so I could't resist! (I believe the climate here does not lend itself too much to this plant).
Anyway, it is so unusual that a customer buys rhubarb stalks, that last year, it had been charged to me as " celery"!
And this time, back home, I noticed that I had simply not been charged for it! I guess the cashier didn't want to admit his ignorance…
Here is today's ultra-easy recipe , but watch out, this dessert is dedicated to those who ADORE rhubarb and its acidity.
– Preheat the oven to 400F / 200C
– Spread a tart crust  in a pie dish (I used my usual  Olive oil pie crust). Prick the dough with a fork.
– Peel, wash, cut in small sections the rhubarb stalks.
– Arrange artistically (or not, I was in a hurry!) the pieces of rhubarb on top of the crust. You should know that the rhubarb retracts when cooked, so you need to put a lot of raw rhubarb.
– Sprinkle with cane sugar. (The quantity of sugar depends on your taste, the rhubarb is very acid!)
– Bake in the oven at 400F for approximately 30 min.
Obviously, like my husband suggested, it would also be very nice if I added on top of the rhubarb before baking some sort of custard " beat 2 eggs, 200g of sugar and 20 cl of cream", but then it would ruin the purpose of this post which was intended to be listed in the "Health" category of this blog!  Next time maybe…
---
---