Pâte à tarte "low-cholesterol" – "Low cholesterol" pie crust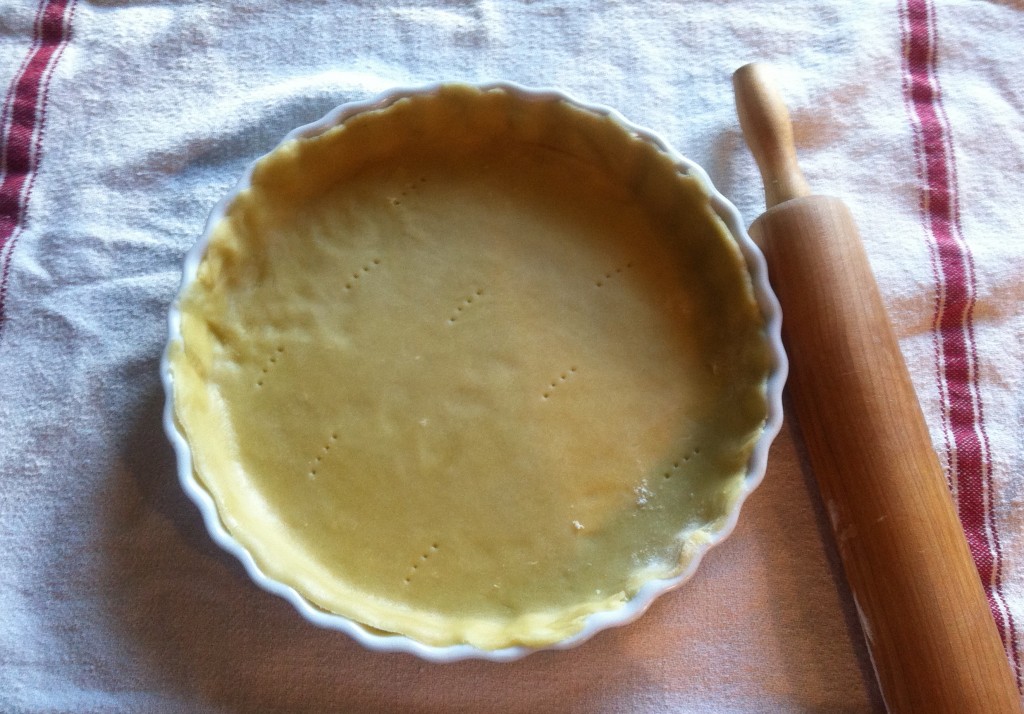 Scroll down for English version
Pour toutes vos quiches et tartes, voici une pâte à tarte sans beurre, pour prendre soin de votre niveau de cholesterol!
Astuce: pour varier les plaisirs, vous pouvez ajouter des herbes dans la pâte, par exemple de l'aneth pour une quiche au saumon.
INGRÉDIENTS pour un plat de 24 cm de diamètre
1 cup de farine – environ 150g
¼ cup d'eau- 60 ml
¼ cup d'huile d'olive – 60 ml (ou autre huile végétale si vous le souhaitez)
1 pincée de sel
INSTRUCTIONS
Mélangez la farine et le sel dans un saladier. Faire un puits.
Mélangez l'huile d'olive et l'eau, puis ajoutez-les à la farine et remuez avec une cuiller en bois jusqu'à former une boule.
Mettez la pâte sur le plan de travail et travaillez-là à la main jusqu'à obtenir une consistance de pâte à tarte. (Aplatissez la boule, repliez en deux, recommencez dans la direction opposée 4-5 fois). La pâte sera plus friable qu'une pâte traditionnelle au beurre.
Si vous avez le temps : Enveloppez la pâte dans du film plastique et laissez-là reposer 1-2h au frigidaire.
Etalez la pâte avec un rouleau à pâtisserie et disposez-là dans votre plat à tarte.
Il ne reste plus qu'à ajouter la garniture de votre choix.
————————————————————————————————————————————————————————–
For all your quiches, pies and tarts, here is a recipe for a crust without butter, so that you don't fear for your cholesterol level!
Tip: you can add herbs in your crust, for example dill for a savory tart with salmon.
INGREDIENTS Makes one 10" pie crust
1 cup white flour
¼ cup water
¼ cup olive oil (or other vegetable oil)
1 pinch of salt
DIRECTIONS
Mix flour and salt in a mixing bowl.
Make a hole in the flour.
Stir in all the olive oil and water, and mix with a wooden spoon, until it makes a ball.
Put the dough on a nonstick mat and knead it (flatten the ball shape, fold in half, and redo in the opposite direction, 4-5 times) with your hands until it gets a nice consistency.
If you have time: fold the ball in plastic film and let stand in the fridge for 1-2 hours.
Roll the dough on the mat with a rolling pin, and place it in your tart pan (or in a pie pan)
Now you just have to fill it with whatever you like.
---
---