Fromage blanc – A French alternative to cottage cheese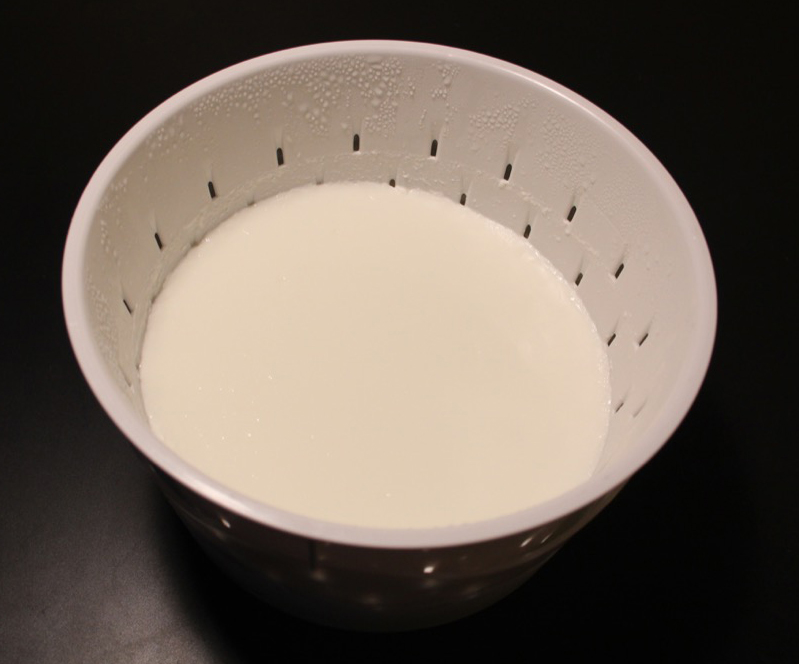 Recette avec vidéo 
Scroll down for English
Ah, le vaste choix de produits laitiers des rayons des supermarchés Français… Faisselles, fromages blancs battus, au lait entier, écrémé, moulé à la louche etc… etc…
Les Français de Métropole ne réalisent pas leur bonheur…
Au début de ma vie à l'étranger, je me suis contentée d'acheter et de faire des yaourts mais au fil du temps, j'ai eu envie de varier les plaisirs et de retrouver le goût unique du fromage blanc français (introuvable en magasin, que ce soit à Perth, Australie ou à Houston, Texas).
Mes premières expérimentations, peu concluantes, ont eu lieu en Australie. Je n'avais pas de présure et ai essayé de faire cailler mon lait avec du citron. Bof, bof… c'était du lait caillé, pas du fromage blanc!
Finalement, à force de persévérance et surtout grâce à l'importation (licite ou pas ?) de présure dans mes bagages, je peux maintenant proposer à mes amis expats une méthode facile pour faire du fromage blanc.
Pour la vidéo en français, cliquez ici:
INGREDIENTS:
1l de lait (entier ou écrémé – le goût et le rendement seront différents)
4 gouttes de présure (s'achète en pharmacie en France – "rennet"en anglais: pour en acheter aux US cliquez ici ou là )
100ml de petit lait (si vous n'en avez pas, je vous indique une astuce ci-dessous)
MATERIEL:
idéalement: un moule à faisselle, qui permet l'égouttage (grande faisselle ici, faisselles individuelles là)
alternative: un grand bol + un linge fin ("cheese cloth") pour l'égouttage
METHODE:
Chauffer le lait et le verser dans la faisselle ou le bol. Y ajouter le petit lait. Mélanger.
Le mélange doit être à 30 degrés C.  Ajouter 4 gouttes de présure. Mélanger à nouveau.
Couvrez le bol et laissez le 12 à 24 heures dans un endroit tempéré, à l'abri des vibrations.
Après 12 à 24 heures, le lait est caillé et il reste à égoutter le fromage blanc . Pour cela, mettez la faisselle en position d'égouttage (position haute) ou transférez délicatement le caillé dans le linge et suspendez le linge.
Après quelques heures d'égouttage au froid le fromage blanc est prêt. Vous pourrez le conserver plusieurs jours au réfrigérateur.
N'oubliez pas de récupérer le petit lait pour votre prochaine production de fromage blanc!
Remarque: Si vous ne voulez pas refaire de fromage blanc immédiatement, il est possible de congeler le petit lait pour un usage ultérieur. Il faudra alors le laisser décongeler au réfrigérateur.
Astuce:
Si vous n'avez pas de petit lait, vous pouvez le remplacer par 100ml de crème fraîche ou de "sour cream".
La première production de fromage blanc n'aura pas exactement le goût recherché, mais vous allez récupérer le petit lait issu de l'égouttage de ce premier fromage blanc, et l'utiliser pour votre prochaine production.
Au fil des répétitions, le goût du fromage blanc va évoluer et s'affiner.
---
Ah, the amazing variety of dairy products on the shelves of the French supermarkets…
The French people who do live in their home country do not realize how lucky they are! (at least, food wise)
At the beginning of my life abroad, I was happy to simply buy  yoghurts or make yoghurts, but after a few years, I really missed the unique taste of the French "fromage blanc" (impossible to find a place to buy such a delicacy in Perth, Australia or in Houston, Texas).
My first experiments, mostly unsuccessful, took place in Australia. I had no rennet and tried to  curdle my milk with  lemon juice. Well, it did't taste as expected…
Finally, by means of perseverance and especially thanks to the import (licit or not?) of rennet in my luggage, I can now propose to my expats friends an easy method for home made "fromage blanc".
For the video (sorry, available only in French), click here:
INGREDIENTS:
1l of milk / approximately 1 quart  whole or skimmed – Both work, the taste and the yield will be slightly different
4 drops of rennet (to buy in the US click here or here)
100ml of whey /  1/3 +1/8 cup if you don't have any, I give you a trick at the bottom of the page
EQUIPMENT: 
Ideally: a mold designed for "fromage blanc" production, called "faisselle", which allows the draining (large bowl here, individual bowl here)
alternative: a large bowl + a cheese cloth  for the draining
METHOD:
Warm the milk and pour it into the bowl. Add the whey. Stir.
The mixture has to be at 30 degrees C (86 degrees F). Add 4 drops of rennet. Stir again.
Cover the bowl and let rest at room temperature for 12 to 24 hours, away from vibrations.
After this time, the milk should be properly curdled and you will have to drain the curds. For that purpose, put the cheese mold in draining position ( high position) or transfer delicately the curd in the linen and suspend the linen.
After a few hours of draining in the fridge, the fromage blanc is ready. You can keep it for several days in the refrigerator.
Don't forget to save the whey for your next production of fromage blanc!
Remark: if you do not want to prepare a new fromage blanc immediately, it is possible to freeze the whey for a later use. It will then be necessary to let it defrost in the refrigerator.
Trick:
If you have no whey, you can replace it by 100ml of crème fraiche or " sour cream ".
The first batch will not exactly taste like traditional fromage blanc, but you are going to save the whey and use it for  your next production.
In the course of the repetitions, the taste of the fromage blanc is going to mature and your second or third production of fromage blanc should be perfect!  
---
---