Panna Cotta Noix de coco et ananas confit – Coconut panna cotta and pineapple confit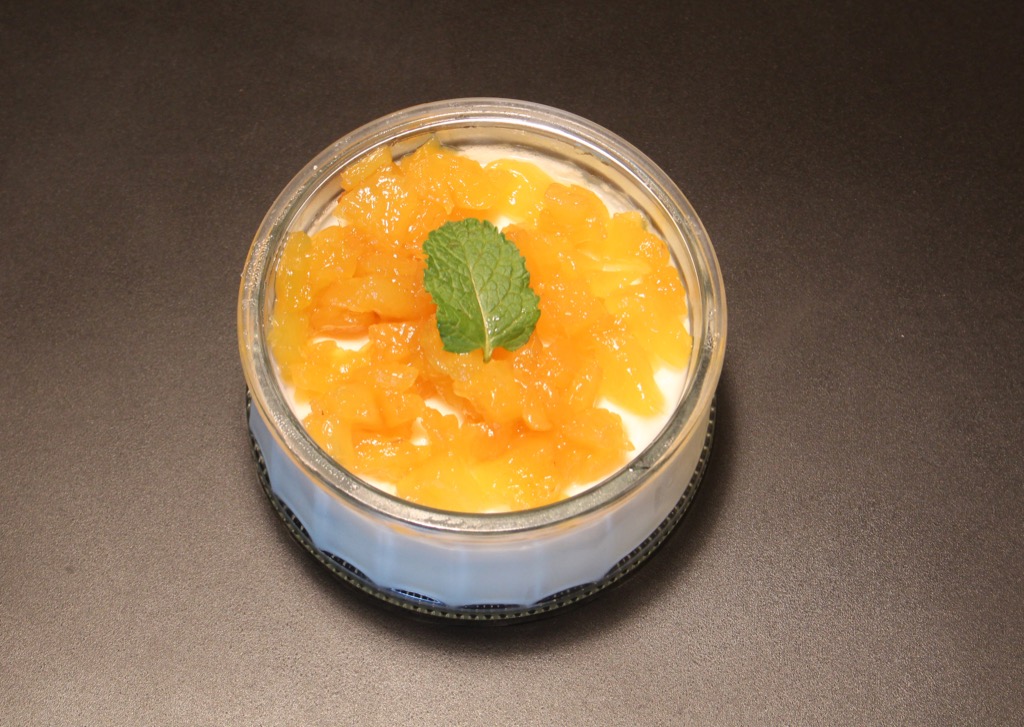 Scroll down for English version
Deux ananas achetés 0,98$ (pauvres producteurs…) attendaient sur mon comptoir, en ce jour où j'allais retrouver mes copines du cercle de lecture (au programme: "The Automobile Club of Egypt" de Alaa Al Aswany – un livre que je recommande). J'avais promis un dessert et Karine devait déjà apporter une salade de fruit. Il fallait donc trouver autre chose… Au fil de mes réflexions , j'ai fini par "inventer" cette recette, en m'inspirant de recettes similaires trouvées au fil de mes pérégrinations sur le net.
Je n'étais pas complètement satisfaite de la consistance de mes premières crèmes façon "panna cotta" (et oui, vous commencez à me connaître, j'ai supprimé la crème fraîche pour une version "sans cholesterol") , un peu trop liquides à mon goût. Je suis donc retournée à mes fourneaux et le deuxième version, testée lors d'un apéritif dînatoire prolongé ce samedi, s'est révélée parfaite (et ce n'est pas moi qui le dis!).  Attention tuerie!
INGREDIENTS: (pour 7 petits ramequins)
Panna cotta:
1 petite boîte de lait de coco – 40cl
30 cl de lait
3 g (soit 3/4 tsp) de poudre d'agar-agar
80g de sucre
2 càc d'arrow-root (il s'agit d'une fécule, vous pouvez remplacer par la même quantité de maïzena)
7 feuilles de menthes – facultatif
Ananas confit:
1 ananas découpé en tout petit morceaux
30cl d'eau
100g de sucre roux
INSTRUCTIONS:
Crèmes façon "panna cotta":
Délayez l'arrow root ou la maïzena dans un peu de lait froid. Versez ce mélange dans une casserole, ainsi que le lait de coco et le lait. Ajoutez le sucre et l'agar agar que vous mélangerez A FROID. Ensuite, portez l'ensemble à ébullition 30 à 45 s, en remuant. (Il faut porter l'agar-agar à ébullition pour activer ses propriétés gélifiantes).
Versez immédiatement dans des petits ramequins et laissez refroidir à temperature ambiante, puis solidifier quelques heures au réfrigérateur.
Ananas confit:
Mettez l'eau et le sucre dans une casserole. Délayez le sucre dans l'eau. Ajoutez les morceaux d'ananas. Faites confire à feu vif, en remuant de temps en temps, jusqu'à évaporation complète de l'eau. Après évaporation, gardez sur le feu quelques instants, tout en remuant, le temps de caraméliser les ananas.
Assemblage:
Au moment de servir, disposez délicatement quelques cuillères d'ananas confit sur la panna cotta. Décorez éventuellement d'une feuille de menthe.
---
Two pineapples at $0,98 each (poor producers…) waited on my countertop. That Wednesday evening, I was going to a "book club" meeting (to discuss the new book written by Alaa Al Aswany: " The Automobile Club of Egypt " – a book which I recommend) and in charge of contributing with a dessert. My fellow book club member Karine already said she would bring a fruit salad. It was thus necessary to find some other idea… I eventually created this recipe, inspired by similar recipes found in the course of my wanderings on net.
I was not completely satisfied by the consistency of my first "panna cotta" (and yes, you should know me by now, I didn't use any "crème fraiche" as I am always trying to make low-cholesterol dishes). I decided to try again a few days later with a slightly modified recipe. This time it was perfect! Beware, it is very addictive!
INGREDIENTS: (for 7 small cups)
panna cotta:
1  can of coconut milk – 40cl
1 cup 1/4 Milk – 30cl
3/4 tsp of agar-agar powder – 3g
1 tsp of arrowroot (arrowroot is a kind of starch, you can replace by the same quantity of cornstarch)
7 mint leaves – optional
 pineapple confit:
1 pineapple, diced in small pieces
1 cup 1/4 water – 30 cl
1/2 cup brown sugar – 100g
DIRECTIONS:
 "Panna cotta":
Stir and dissolve the arrow root or the cornstarch in a few tablespoons of cold milk. Pour this mixture in a saucepan, as well as the coconut milk and the milk. Add the sugar and the agar-agar that you will dissolve. Then, and only then, bring the preparation to a boil for 30 – 45s, while stirring. (It is necessary to bring the agar-agar to a boil to activate its setting properties).
Pour immediately into cups and let cool at room temperature, then let set for a few hours in the refrigerator.
Pineapple confit:
In a saucepan, dissolve the sugar in the water. Add the pieces of pineapple. Cook over a brisk heat, stirring from time to time, until complete evaporation of the water. After evaporation, keep cooking for a little while, stirring, just long enough to slightly caramelize the pineapple.
Assembly:
When ready to serve, spoon delicately some pineapple confit on top of the panna cotta. Decorate with a leaf of mint.
---
---