Tartelettes à la mangue – Individual Mango tarts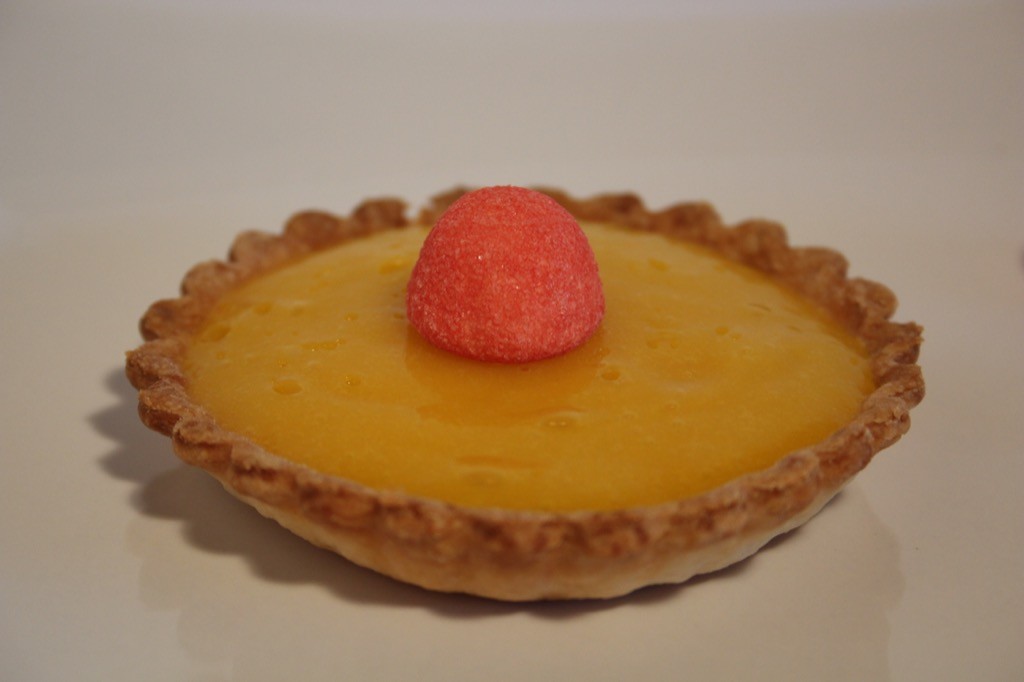 Scroll down for English
Vendredi soir, nous étions invités chez des amis pour un dîner Mexicain. Margarita, salsa, guacamole et poulet avec une sauce à base de Tequila ("Pollo Borracho", ou " Poulet Ivre") . Excellent! Un bon repas bien arrosé (il n'y a pas que le poulet qui était un peu "borracho"…), en bonne compagnie, que demander de plus?
Même si j'adore les desserts typiquement Mexicains qu'on trouve dans les restaurants à Houston (flans aux oeufs, gâteau "tres leches"…), j'avais envie d'apporter quelque chose de plus léger et rafraîchissant. J'ai donc décidé de faire des tartelettes aux mangues, car en ce moment les petites mangues Ataulfo importées du Mexique, très parfumées, commencent à arriver sur les étalages.
J'ai décoré ces tartelettes avec des framboises fraîches (et pas avec des fraises Tagada, ça c'était juste pour la photo !). La recette vient du livre "Agar agar" de Cléa. Je l'ai légèrement modifiée, en remplaçant le sirop de maïs par du sirop de sucre, car j'ai développé une forte aversion psychologique pour le "corn syrup" (et tout ce qui est à base de maïs, potentiellement OGM ici aux USA).
Tout les convives ont apprécié ces tartelettes, même Carmentxu qui en théorie n'aime pas les mangues (!).
Une petite précision: vous apprécierez ce dessert si vous aimez les saveurs très, très acidulées.
NB: Pour celles qui ne connaissent pas encore, voici le lien sur Le blog de Carmentxu, consacré au scrapbooking et autres bricolages. Rendez-lui visite, il y a plein de jolies réalisations.
INGREDIENTS (pour 12 tartelettes):
– 2 pâtes à tarte, par exemple celle-ci
– 4 petites mangues bien mûres
– jus de 3-4 citrons
– 4 g d'agar-agar
– 1/4 tasse de sucre de canne
– 1 tasse d'eau
– quelques framboises pour décorer (ou des fraises tagada!)
REALISATION:
Préparez un sirop de sucre: dissoudre 1/4 tasse de sucre dans 1 tasse d'eau, à feu doux. Laisser refroidir.
Etalez la pâte et foncez des moules à tartelettes. Faites cuire environ 20 minute à blanc, à environ 180C (360F).
Démoulez les tartelettes et laissez-les refroidir.
Pendant ce temps: épluchez les mangues et mettez la chair dans un mixeur ou un blender. Ajoutez environ 10 cuillerées à soupe de sirop de sucre (ou plus, selon votre goût) et mixez.
Mettez le jus de citron dans une casserole et dissolvez la poudre d'agar-agar. Portez à ébullition et laissez frémir 30s à 1 min.
Ajoutez ce liquide au contenu du blender. Mixez à nouveau.
Versez la préparation à la mangue dans les tartelettes et laissez refroidir au moins une heure avant de servir.
Remarque: Je pense qu'il faut réserver cette préparation à des tartelettes et non une tarte, car la garniture reste assez molle et la tarte ne serait pas présentable une fois coupée en parts.
———————————————————————————————————————————————-
Friday evening, friends of us organized a Mexican dinner. Margaritas, salsa, guacamole and "Drunken chicken" with a Tequila sauce. Excellent ! A good meal, with good wine (the chicken was not the only one to feel slightly drunk!) , and good friends, what more could you ask for to start the week end?
Even if I like typical Mexican desserts that you get in restaurants around Houston (Flans, cake "tres leches"…), I wanted to bring something light and fresh. I decided to bake individual mango tarts, because it is the beginning of the season for the very tasty, little Ataulfo mangoes imported from Mexico.
I served the tarts with fresh raspberries (and not with the strawberry candies that you see on the picture). The recipe for the mango filling comes from a French cookbook about Agar-agar. I slightly modified the recipe, by replacing corn syrup with simple syrup. (I have a deep psychological aversion for corn syrup and everything "corn", especially as corn is generally GMO here in the US).
Everyone enjoyed the tartlets, even Carmentxu, who is not supposed to like mangoes (!).
Note: You will love this dessert if you like sour flavors. If you don't, this is not for you…
INGREDIENTS (for 12 individual tarts):
– 2 tart crusts, for example this one
– 4 small mangoes mangoes, very ripe
– juice of 3 to 4 lemons
– 4 g of agar-agar powder (1 Tsp)
– 1/4 cup cane sugar
– 1 cup water
– a few raspberries
DIRECTIONS:
Prepare simple syrup by dissolving 1/4 cup sugar in 1 cup water, and heating gently. Let the syrup cool down.
Roll the dough and place it in individual tart pans. Pre-bake the crust for app.20 min, at 360F.
Remove the crusts from the pans and cool down.
In the meantime: peel the mangoes and put the pulp in a blender or mixer. Add 8 to 10 Tbs (or more, depending of your taste) of simple syrup and mix.
In a saucepan, dissolve the agar agar in the lemon juice. Bring to a boil, and simmer for 30s to 1 min.
Add this liquid to the mixed mango. Mix again.
Pour the mango filling in the tart crusts and let cool down for 1 hour minimum.
Serve with raspberries.
Note: I don't recommend using this mango filling for a large tart but for individual tartlets, as the filling will still be very soft and might not hold its shape when sliced.
---
---