Les baguettes, c'est facile —- Easy baguette bread
Scroll down for English version
Quand on est Français et qu'on vit à l'étranger, une des choses qui manque le plus est une bonne baguette bien croustillante. Un crouton à grignoter en revenant du marché… une bonne odeur de pain chaud… Ici à Houston, il est difficile de trouver du pain qui corresponde à nos habitudes gustatives, et même quand le pain a un bon goût,  la liste des ingrédients qui entrent dans sa composition est souvent inquiétante pour notre santé (corn syrup, conservateurs…)
Alors j'ai commencé à faire mon pain. Tout d'abord des boules, type "pain de campagne".  Et puis, Marie-France est arrivée et a montré à Laurence comment elle faisait ses baguettes.  Laurence m'a transmis ce savoir-faire.  J'ai à mon tour fait des "ateliers baguettes" pour Sharon, Valérie , Etienne, Chanthy, Didier, Julie …  On m'a demandé de tenir un stand lors de la fête de la Francophonie à l'école de mon fils.  Ce jour là, 8 boulangères amateur ont préparé dans leurs cuisines suffisamment de baguettes pour qu'environ 800 enfants puissent goûter une tranchette de pain bien Français. Un bel exploit, non?
Bref, les demandes se succédant, il devenait nécessaire de pouvoir proposer une recette détaillée et surtout une vidéo, afin de transmettre ma passion pour la baguette maison.
Grâce à Valérie, qui s'est gentiment proposée pour être derrière la caméra, ce projet est devenu une réalité.
J'avais toujours cru qu'il était difficile de faire du bon pain, qu'il fallait être un professionnel avec beaucoup de matériel. En fait, il faut juste que quelqu'un vous transmette son savoir-faire. Et pour la baguette, même pas besoin de robot, pétrin ou autre machine à pain!
Alors n'hésitez-pas, lancez-vous !
Accessoire:
– Moule à baguettes  (facultatif)  lien affiliate pour plus d'info : http://cooking.butre.fr/tips/Moule_a_Baguettes/

INGRÉDIENTS Pour 4 baguettes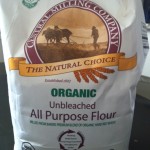 – 4 cups de farine –640g
– 2 cups d'eau à température ambiante– 50cl
– 4 cuillères à café de sel — 10g
– 4 cuillères à café de levure de Boulanger déshydratée (active dry yeast) — 8g
Pour mes amis de Houston: j'achète la farine référencée ci-dessus chez Costco.
Toute farine "Unbleached all purpose" or "bread flour", bio (organic) ou pas, doit pouvoir convenir.
SAVOIR-FAIRE
Dans un grand bol, dissoudre le sel dans l'eau, puis ajouter la levure et la dissoudre complètement.
Ajouter la farine petit à petit, et la mélanger grossièrement (J'utilise la queue d'une cuiller en bois), jusqu'à ce qu'elle commence à former une boule. Il ne faut pas trop travailler la pâte à ce stade, je ne recommande pas l'utilisation d'un Kitchen Aid, ou machine à pain.
Verser la pâte sur le plan de travail ou sur un tapis en silicone fariné, la mettre en forme de boule avec les mains farinées. La pâte est encore très humide et collante, c'est normal!
Faites des trous dans la pâte avec vos doigts farinés pour l'aérer. Repliez la pâte, et recommencez 4-5 fois.
Remettez la pâte dans le bol, couvrez-là avec un torchon humide et laissez lever 3-4 heures (la pâte doit avoir doublé de volume).
Mettez un récipient remplit d'eau dans votre four et préchauffez à 400-420F.
Façonnez la pâte pour lui donner la forme de baguettes, posez-les sur du papier cuisson, ou mieux, dans un moule à baguettes. Vous pouvez fariner et scarifier (j'utilise des ciseaux) la pâte.
Jetez un peu d'eau dans votre four et enfournez pour 20-25 minutes environ.
———————————————————————————————————————————————————————————————
Something French people miss a lot when they live abroad is a crispy baguette bread. Munching on a piece of bread while walking back home from the farmers market…The smell of fresh hot bread in a French bakery… Here in Houston, it is difficult to find bread that is similar to our taste habits, and even when the bread does taste good, the list of its ingredients is often too long to be good for our health (corn syrup, preservatives …)
This is why I started to bake bread. Initially, I was baking loaves of bread. Then Marie-France arrived and she explained to Laurence how she made her baguettes. Later on,  Laurence transmitted her technique to me.  I started to organize baguette making sessions for my friends Sharon, Valérie , Etienne, Chanthy, Didier, Julie … I was asked to talk about and show bread making during the "Francophonie festival" at my son's International School.  That day, 8 moms prepared in their home kitchen enough bread for 800 children to get a taste of French bread. Impressing, isn't it?
Anyway, because so many people were asking me to share my know-how, I decided to write a detailed recipe and prepare a video, to show how easy it is to bake a good baguette at home and share my new passion for bread making.
This project is now a reality, thanks to Valérie who volunteered to be my camera operator!
For the longest time I believed making bread was a difficult task, for professionals, and requiring special equipment. In fact, you just need someone to show you how to do it. This baguette recipe is extremely easy, you don't even need a mixer or bread machine!
Don't hesitate, just try and you will be surprised how easy it is!
Tool:
– baguette pan  (optional) affiliate link for more info : http://cooking.butre.fr/tips/Moule_a_Baguettes/

INGREDIENTS   Makes 4 baguettes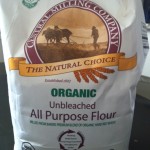 4 cups white  – 640g
2 cups water – 50cl
2 teaspoons salt
2 teaspoons active dry yeast
For my friends who live in Houston: I buy this flour at Costco.
Any other brand of flour, "Unbleached all purpose" or "bread flour", organic or not, should work.
DIRECTIONS
In a large mixing bowl, mix water at ambient temperature with salt. When salt is fully dissolved, add the yeast and mix it in.
Add the flour little by little, and mix gently with a stick (the handle of a wooden spoon for example), until it is well mixed and starts to form a ball. I don't recommend the use of a Kitchen Aid or bread machine.
Pour the dough on a nonstick mat and shape it into a ball with floured hands. The dough will still be wet and sticky, this is fine!
With your floured fingers, aerate the dough (i.e. stick your five fingers in the dough to punch holes), fold the dough, and do it again 4-5 times.
Put the dough back in the mixing bowl, and let the dough rise under a humid dishtowel for 3 to 4 hours. The dough should double in size.
Put a dish of water in your oven, and pre-heat the oven to 400-420 F.
Shape the dough into 4 "baguettes", line them on parchment paper, or better in a baguette pan. You can sprinkle some flour, and scar the dough (I use kitchen scissors).
Sprinkle water in your oven, then bake for 20-25 minutes approximately.
---
---