Pâte à tartiner choco-noisettes sans cochonneries / Healthier chocolate-hazelnuts spread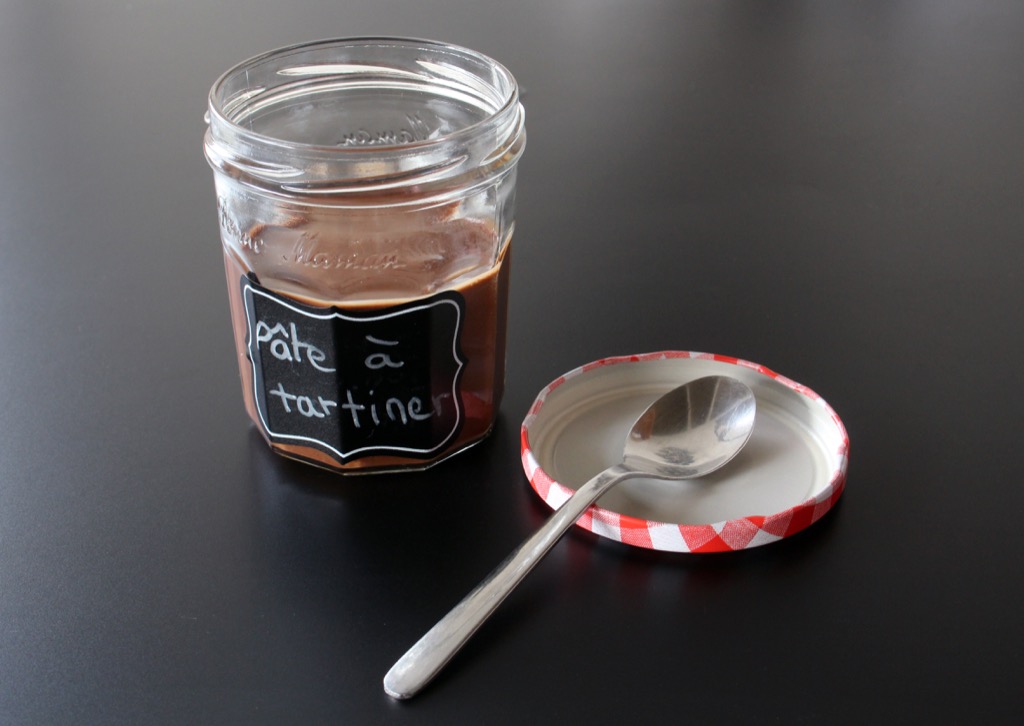 Scroll down for English
Après avoir essayé plein de variantes, voici ma version préférée de pâte à tartiner chocolat-noisettes maison. C'est délicieux, il n'y a que de bons ingrédients, et surtout c'est très facile et rapide à préparer, mais ce n'est bien entendu pas exactement la même chose que le "N…..A" .
INGREDIENTS: (pour un petit pot)
Chocolat au lait 65g
Purée d'amandes: 50g
Purée de noisettes: 30g
1 CàS de poudre de cacao amer
3 CàS d'huile (vous pouvez choisir une huile au goût neutre, colza ou tournesol par exemple, ou au contraire de l'huile de coco pour varier les plaisirs)
1/4 càc extrait de vanille
1 pincée de sel
METHODE:
Faites fondre le chocolat au bain marie. Lorsque le chocolat est fondu, ajoutez le reste des ingrédients et mélangez jusqu'à obtenir une pâte bien lisse.
Attention à ne pas trop chauffer le chocolat et les autres ingrédients, la consistance de votre pâte à tartiner en dépend.
Versez dans un pot à confiture. Vous pouvez mettre le pot quelques heures au réfrigérateur pour que la pâte se solidifie, mais ensuite conservez le pot à température ambiante.
A manger très vite, car la consistance évolue au cours du temps (la pâte à tendance à se solidifier et se dessécher, mais c'est le prix à payer pour éviter l'huile de palme et les additifs !)
---
I tried many variations and settled on this one: here is my preferred recipe for a home-made chocolate-hazelnut spread. It is really good, there are no weird ingredients, and it is very easy and quick to prepare, but don't expect it to be exactly the same thing as "N….. A".
INGREDIENTS: (for a small jar)
Milk chocolate 65g
Almond butter: 50g
Hazelnut butter: 30g
1 TbS unsweetened cocoa powder
3 Tbs oil (you can use an oil with little taste such as canola oil, or to the contrary some coconut oil to add a different flavor)
1/4 tsp vanilla extract
1 pinch of salt
DIRECTIONS:
Melt the chocolate in a water bath. When the chocolate is melted, add the rest of ingredients and stir until you obtain a very smooth mixture.
Be careful not to overheat the chocolate and other ingredients to preserve the smoothness of your spread.
Pour the spread into a jam jar. You can put the jar for a few hours in the refrigerator so that the spread thickens, but not for too long.
Store the jar at room temperature.
Eat ASAP, because the consistency changes as time goes by (the spread with tend to solidify and to dry out a bit, but it is the price to pay if you don't want to use palm oil or additives!)
---
---