Galettes de maïs – Corn pancakes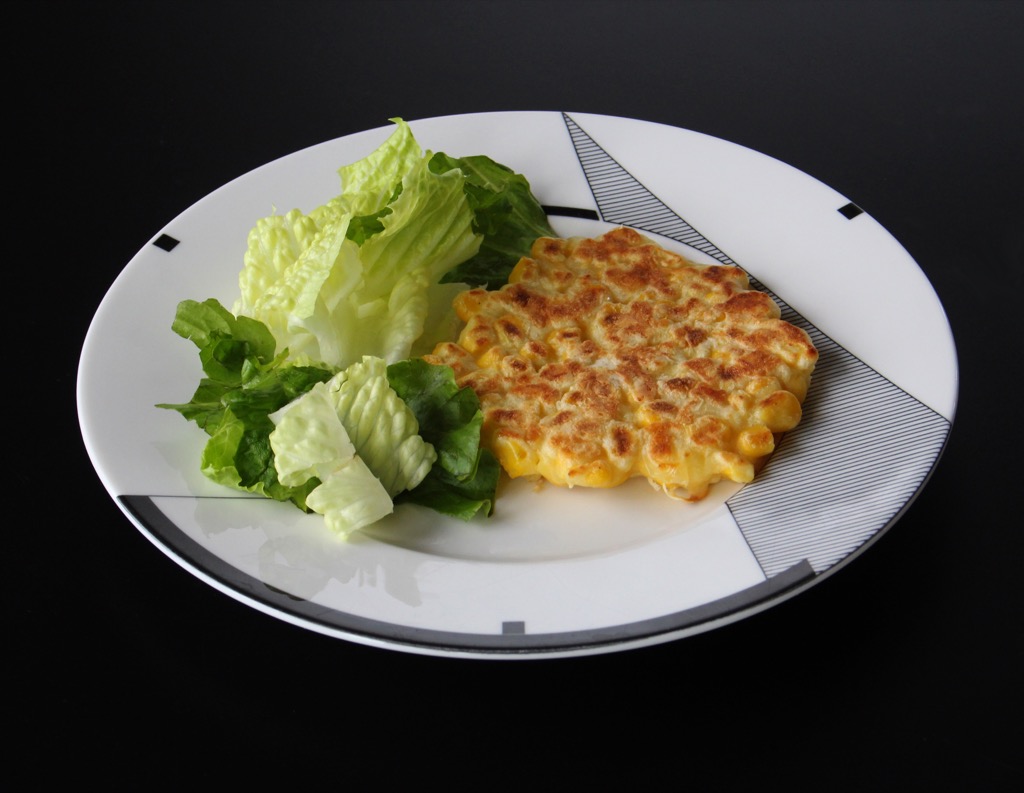 Scroll down for English
Encore une recette datant de notre période Australienne. Célian réclame régulièrement que je lui prépare ces petites galettes, qu'il avait apprises à faire dans son école, Chrysalis Montessori à Perth, alors qu'il devait avoir environ 6 ans: c'est dire si c'est facile! Accompagnées d'une salade verte, voici un petit plat rapide pour faire plaisir aux grands comme aux petits. Et s'il y a des restes, c'est parfait pour la lunch box du lendemain :+)

INGREDIENTS: pour 8 galettes d'environ 10cm de diamètre
300g de maïs (en boîte ou congelé, mais pas OGM!)
2 oeufs
sel, poivre
65g farine
1 càc de levure
50g fromage rapé
1 CàS d'huile d'olive.
INSTRUCTIONS:
Egouttez le maïs.
Cassez les oeufs dans un grand bol, battez-les en omelette, salez, poivrez à votre goût.
Ajoutez la farine, la levure et mélangez jusqu'à obtenir une pâte lisse.
Ajoutez le fromage râpé, mélangez.
Ajoutez enfin le maïs égoutté, mélangez sans écraser les grains de maïs.
Vous obtenez une préparation assez épaisse, ce qui est normal.
Chauffez à feu moyen une (grande) poêle anti-adhésive avec 1 càS d'huile.
Lorsque la poêle est chaude, versez de grosses cuillères de la préparation, que vous étalerez tant bien que mal… les galettes ne seront pas très rondes, on va dire que c'est plus artistique!
Après quelques minutes, lorsque les galettes sont dorées (vérifiez le dessous), retournez-les et faites cuire le deuxième côté.
NB: dans ma grande poêle, je peux faire cuire jusqu'à trois galettes en même temps, du coup la phase de cuisson ne me prend pas longtemps.
Bon appétit!
---
Célian often asks me to prepare these corn "pancakes", that he learnt to prepare a long time ago, when he was at school at Chrysalis Montessori, in Perth.  I think he was approximately 6 years old at the time, this shows how easy the recipe is! With a side of salad, this makes an easy dinner that pleases adults as well as kids (it's also great as a lunch box item).
INGREDIENTS: for about 8 corn pancakes , 4″ in diameter
300g / 10 oz corn (canned or frozen, but please not GMO !)
2 eggs
salt, pepper
1/2 cup flour
1 tsp baking powder
1/4 cup grated cheese
1 TbS olive oil.
DIRECTIONS:
Drain the corn.
Put eggs in a large bowl, beat well, add salt and pepper to your taste.
Add the flour + the baking powder and whisk until smooth.
Add the grated cheese, stir.
Finally add the drained corn, stir without crushing the corn.
You obtain a rather thick preparation, which is fine.
Heat over medium heat a (large) anti-adhesive frying pan with 1 càS of oil.
When the frying pan is hot, drop spoonsfuls of the mixture in.  You might try to spread the mixture a bit, the pancakes might not be very round and this is fine, let's say that it is more artistic this way!
After a few minutes, when pancakes are golden (check the color of the bottom side), turn them over and cook the second side.
Note: in my frying pan, I can cook up to three small pancakes at the same time, this way it doesn't take very long to cook them all.
Enjoy!
---
---