Cabillaud japonisant sur lit de chou et carottes – Japanese style cod fish on a bed of cabbage and carrots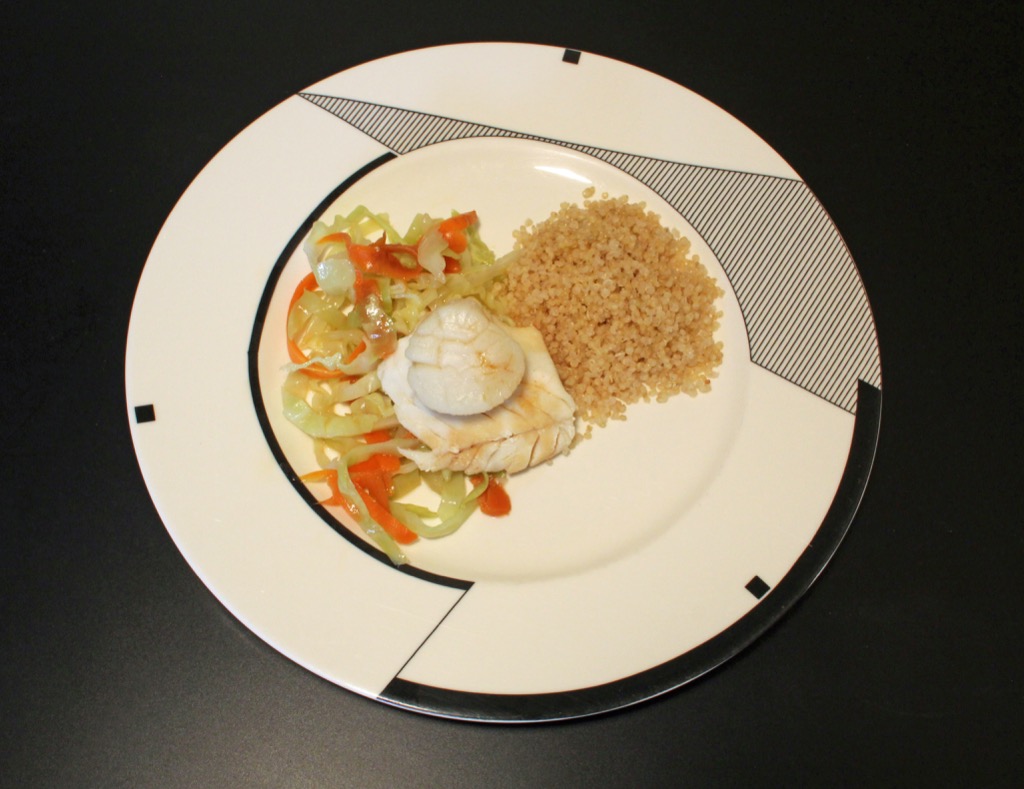 Scroll down for English
Pour les vacances de Noël, nous sommes allés aux sports d'hiver à Santa Fe au Nouveau-Mexique. 13 h de route non-stop quand même! Quand on habite à Houston, la neige ça se mérite. Kristin, une amie américaine dont les parents habitent au Nouveau-Mexique, m'avait donnée une liste de restaurants recommandés par ceux-ci. Il y avait notamment dans la liste un restaurant Japonais (qui fort sagement ne sert pas de poisson car on est trop loin de la mer), que nous avons vraiment apprécié. Cadre sympa, on se serait cru au Japon (enfin… comme je n'y suis encore jamais allée, je ne suis peut être pas bon juge, mais le lieu était joliment décoré et dépaysant), et excellents petits plats que nous avons partagé à la manière de tapas. Le Nouveau-Mexique rencontre le Japon qui rencontre l'Espagne, on est vraiment des citoyens du Monde .
Ce restaurant avait une section "boutique" où j'aurais eu envie de tout acheter: vaisselle, thés, livres… comme nous étions à quelques jours de Noël, j'ai choisi mon cadeau: un livre de cuisine japonaise intitulé "Healthy Japanese Cooking", de Makiko Sano. Préparez-vous donc à découvrir des recettes japonisantes sur ce blog dans les mois à venir.
Pour bien commencer l'année, voici du cabillaud sur lit de légumes, une vraie recette santé équilibrée (du poisson, des légumes, une touche de "bonne" matière grasse , du riz pour accompagner, vraiment je ne peux pas mieux faire!), et en plus c'est facile et rapide car cuit au micro-onde.
Les grands ont apprécié, le petit Célian pas du tout… à cause de la marinade au saké peut-être?
INGREDIENTS: (pour 2 personnes)
2 filets de cabillaud (120g/filet)
2 CàS de saké ou à défaut de vin blanc sec
4 feuilles de chou, émincées en petites languettes très fines
1/2 carotte découpée en rubans à l'économe
4 noix de st Jacques congelées (décongelées)
2 CàS d'huile de pépins de raisins (je n'en avais pas, j'ai utilisé de l'huile de colza , et même de l'huile d'olive)
1 Càc de jus de citron (ou mieux: jus de yuzu)
1 Pincée de sel de mer
Sauce:
2 CàS vinaigre de riz
2 CàS Mirin
2 CàS sauce soja
INSTRUCTIONS:
Sauce:
Mettez les ingrédients de la sauce dans une petite casserole et amenez à frémissement, puis laissez refroidir.
Plat:
Arrosez le poisson avec le saké et laissez mariner 15 min, puis essuyez le poisson avec de l'essuie-tout.
Dans un plat allant au microonde, répartissez les légumes émincés (choux et carottes).
Posez le cabillaud sur le lit de légumes et les noix de st Jacques sur le cabillaud.
Arrosez poisson et légumes avec un peu d'huile et le jus de citron (ou yuzu). Salez.
Couvrez le plat de film plastique et mettez le au micro-onde pour 4 minutes à pleine puissance dans un four 800W – en fait j'ai dû prolonger la cuisson et cuire  5 min dans mon four dont je ne connais pas la puissance. Laissez reposer 4min avant de retirer le plastique. Attention à la vapeur qui se dégage!
Servez avec la sauce ci-dessus, accompagné de riz blanc (ou moins japonisant, de quinoa, comme j'ai fait le jour de la photo)
---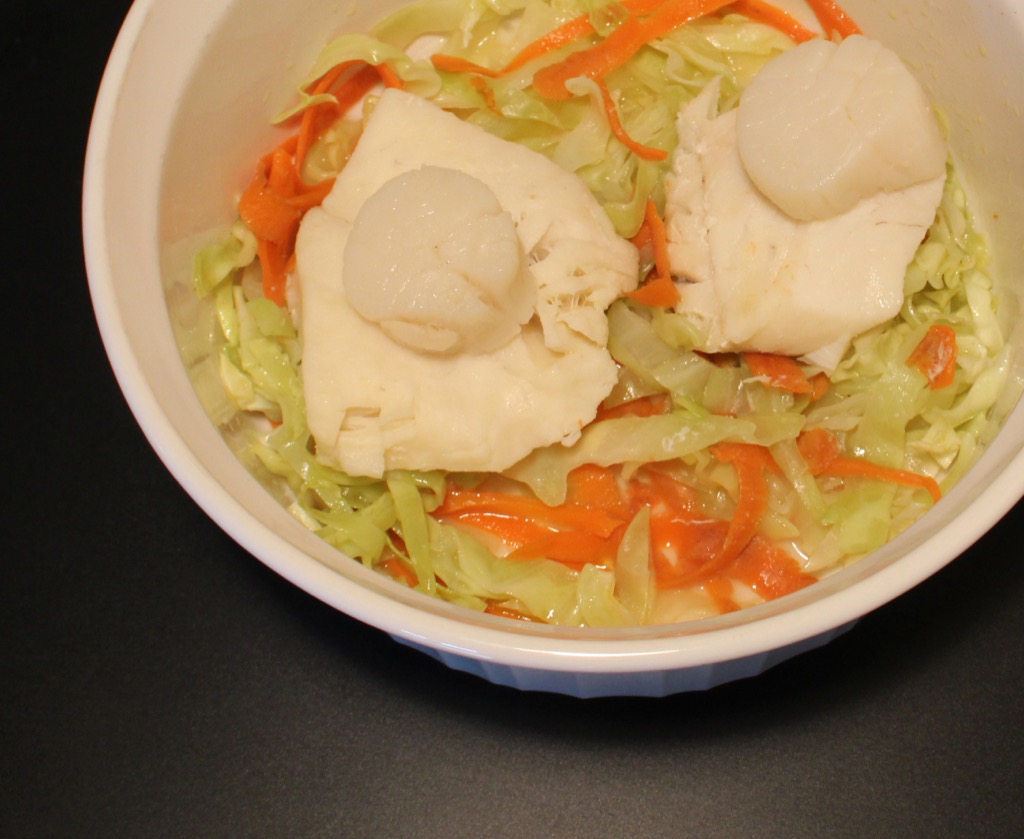 For our Christmas vacations, we decided to go snow-boarding in Santa Fe, New Mexico. This is a 13 hour drive, if you don't stop at all. Well… when you live in Houston, snow is hard to get to! .
Kristin, an American friend whose parents live in New Mexico, had given me a list of restaurants they recommended. There was in particular a Japanese restaurant, which very wisely did not serve fish because Santa Fe is too far from the ocean, that we really enjoyed. A very nice place, we could have imagined we were in Japan ( I may not be a good judge as I never been there, but the place was nicely decorated and different). Excellent small dishes that we shared in the style of tapas. New-Mexico meets Japan meets Spain, we definitely are citizens of the World!
This restaurant had a "shop" where I could have bought everything: dishes, teas, books … Because we were there just a few days before Christmas, I decided I could choose a present: a cooking book "Healthy Japanese Cooking", by Makiko Sano. So my friends, get ready to discover Japan inspired recipes on this blog in the coming months.
For a healthy start to 2017 , here is a recipe of cod on a bed of vegetables.  It really can't get any better:  fish, vegetables, a touch of "good fat", some rice, really this is a balanced meal, and furthermore it is easy and quick, since it is cooked in the microwave.
The adults appreciated, little Célian not at all… because of the sake marinade maybe?
INGREDIENTS: (2 servings)
2 4-oz cod fillets
2 Tbs sake or dry white wine
4 cabbage leaves, cut into ribbons
1-oz carrots, sliced into ribbons with a peeler
4 frozen scallops, defrosted
2 Tbs grapeseed oil (I don't have any, so I have used canola oil and even olive oil)
1 tsp yuzu juice (I used lemon juice)
pinch of sea salt
Dressing:
2 Tbs rice vinegar
2 Tbs Mirin
2 Tbs soy sauce
DIRECTIONS:
Dressing:
Pour all the ingredients in a small saucepan and heat to a simmer, then allow the pan to cool completely.
Fish:
Lay the cod in a pan and sprinkle with the sake. Leave for 15 minutes, then pat dry with paper towels.
In a microwaveable pan, add the cabbage and carrots and sit the cod on the vegetables. Put the scallops on top and drizzle;e everything with the oil and yusuf (or lemon) juice, sprinkling with sea salt.
Cover with plastic wrap. Microwave for 4 minutes at full power (for a 800W oven) – in my oven, whose power I don't know, I increased the cooking time to 5 min. Then leave, still wrapped in plastic wrap for another 4 minutes. Carefully unwrap (be careful not to scald your hands in the steam).
Serve with the dressing prepared earlier, with white rice (or, even if it's far less typical from Japan, with quinoa, as I did the day I took the photograph).
---
---