Parmentier de panais et céleri – Parsnip and celery root, Parmentier style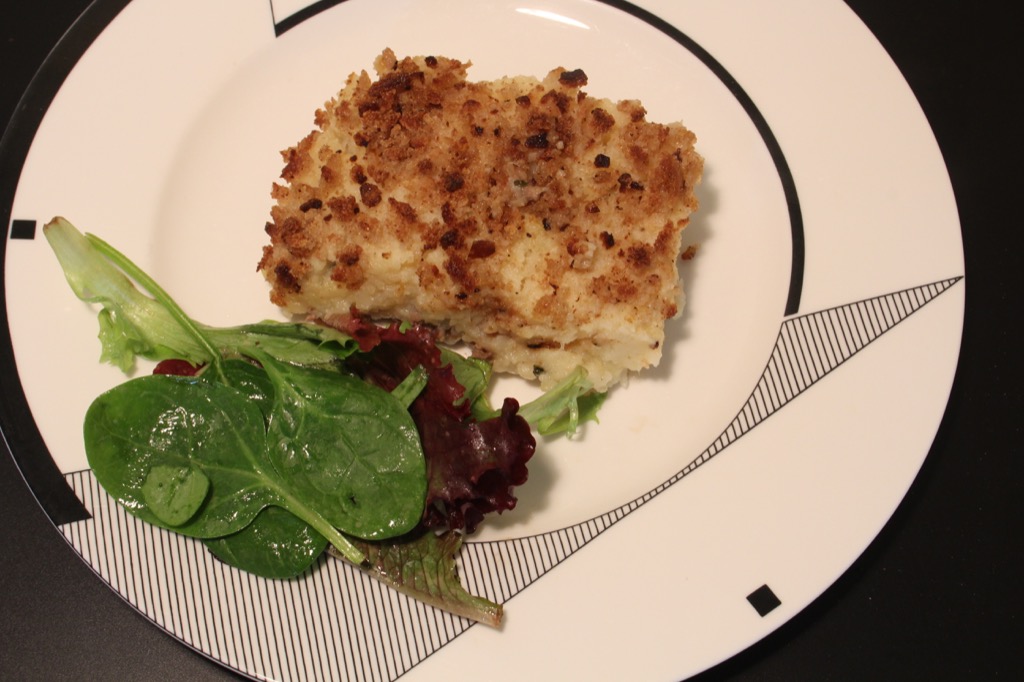 Scroll down for English
Le mois prochain, je vais recevoir chez moi pour le cours de cuisine de SSA (une association de conjoints expatriés). Lasse de me creuser la tête pour trouver une idée de recette si possible typiquement française, je surfais les sites recensant des recettes traditionnelles et m'arrêtai sur des recettes de hachis Parmentier.
Il y avait bien sûr le "vrai" hachis Parmentier à la pomme de terre mais aussi des variantes avec d'autres légumes. Voici donc ma version, un "mix" de différentes recettes trouvées sur marmiton et autres sites de cuisine.
Je n'étais vraiment pas certaine que mon fils allait apprécier ce plat, du fait de la présence de céleri. En fait, il s'est avéré que l'association avec le panais, qui apporte une note douce, a remporté un grand succès auprès de ma famille. A vous d'essayer!
Ingrédients (pour 4 à 6 personnes) :
– 4 panais (environ 400g)
– 2 pommes de terre de taille moyenne (200g)
– 1 morceau de céleri rave (120g)
– 1 oignon (1/2 oignon Texan)
– 450 g de boeuf haché (la prochaine fois je testerai une version low-cholesterol, en utilisant de la dinde hachée à laquelle j'ajouterai des petits morceaux de bacon de dinde)
– lait
– un petit peu de beurre (ou de "beurre végétal")
– sel
– poivre
– persil
– huile d'olive (ou autre huile)
– chapelure (2 tranches de pain au levain maison grillées au four puis passées au mixeur)
Instructions:
Préchauffez le four à 250°C /500F.
Pelez et lavez les panais, les pommes de terre, le céleri puis coupez-les en morceaux.
Faites-les cuire une trentaine de minutes dans de l'eau bouillante (ou si comme moi vous avez une cocotte minute, recouvrez d'eau et faites cuire à petit feu 15min après rotation de la soupape).
Pendant ce temps, émincez l'oignon.
Faites chauffer un peu d'huile dans une poêle et y faire revenir l'oignon et la viande hachée puis salez et poivrez.
Ajoutez du persil haché et versez le contenu de la poêle dans un plat à gratin. Réserver
Quand les légumes sont cuits, sortez-les de l'eau et écrasez-les au presse-purée avec quelques cuillerées d'eau de cuisson. Ajoutez du lait pour détendre la purée. Salez et poivrez.
Versez la purée sur la viande dans le plat à gratin. Saupoudrez de chapelure et mettre des petits morceaux de beurre sur le dessus.
Enfournez environ 25 min à 250°C /500F.
---
Next month, I am going to host the cooking club of SSA (an association of expat spouses). Tired of looking for an idea of a typical French dish, I surfed websites with lists of traditional recipes and stopped on recipes of "hachis Parmentier" (a dish similar to a Sheperd's pie). There was of course a "true" Parmentier recipe, made with potatoes but also some variants with other vegetables. Thus here is my version, a "mix" of various recipes published on French cooking websites.
I was not really certain that my son was going to appreciate this dish, because of the presence of celery. In fact, the association with parsnip, which brings a sweet note, made it a big success with my family! Now it's your turn to test!
Ingredients ( 4 to 6 servings) :
– 4 parsnips
– 2 medium size potatoes
– 1/3 celery root
– 1/2 onion
– 1lb ground beef (next time I shall test a low-cholesterol version, replacing beef with ground turkey and small pieces of turkey bacon)
– milk
– butter (or a plant-based alternative)
– salt
– pepper
– parsley
– olive oil (or other vegetable oil)
– bread crumbs (2 loaves of home made sourdough bread toasted in the oven, that I crushed)
Directions:
Preheat the oven to 500F/250°C.
Peel and wash parsnips, potatoes, celery, then cut them in pieces.
Cook them approximately thirty minutes in boiling water (or if you have a pressure cooker, cover the vegetables with water and cook 15min after rotation of the valve). Meanwhile, dice the onion.
Heat a tablespoon of oil in a frying pan and cook the onion and the minced meat, then season with salt and pepper.
Add the chopped parsley. Transfer the meat preparation to a gratin dish.
When the vegetables are cooked through, take them out of the water and mash them with a potato-masher, adding a few tablespoons of the cooking water.
Add some milk to thin the purée. Season with salt and pepper.
Pour the purée on top of the meat into the gratin dish.
Sprinkle with bread-crumbs and add small pieces of butter on top.
Put in the oven for approximately 25 min at 500F/250°C.
---
---