Citrouille, pommes de terre et petits pois au curry – Pumpkin, potatoes and peas with curry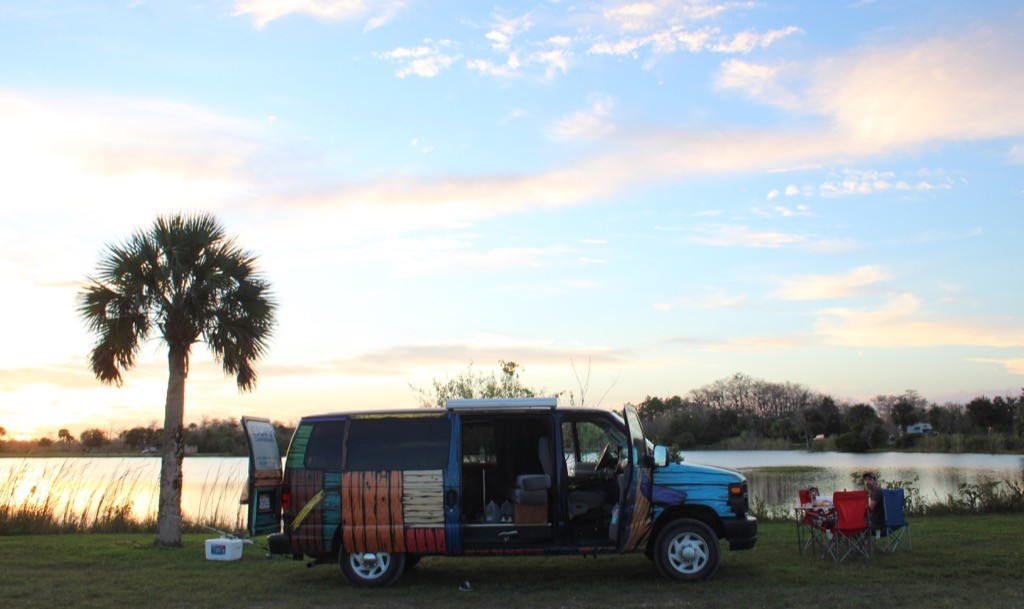 Bonne année ! / Happy New year !
Scroll down for English
Nous sommes rentrés ce week end de nos vacances en Floride, après 2 semaines de camping avec un tout petit "camper van" très coloré qui nous a fait passer pour de bon vieux hippies (pas du tout le RV typique Américain, mais pratique pour engager la conversation avec d'autres voyageurs!). La météo était estivale, et les repas très simples: sandwiches, pâtes, conserves… avec quand même du champagne et une conserve de foie gras emportée dans nos valises pour fêter Noël et le Nouvel an comme il se doit (hippies tendance bobo!).
Du coup, de retour à Houston, avec des températures qui nous semblent hivernales (10-15 C, comme quoi tout est relatif!) nous avons envie de plats chauds, réconfortants, avec plein de légumes.
Une citrouille détaillée en cube me faisant de l'oeil quand j'ai ouvert mon congélateur, me voici partie à la recherche d'une recette qui ne soit ni une soupe, ni une tarte, histoire de changer un peu.
Je n'ai exceptionnellement pas de photo de ce plat à vous montrer (Trop tard, on a tout mangé!) mais j'espère que la recette vous mettra quand même l'eau à la bouche.  Laurent a tellement aimé qu'il a même emporté les restes dans sa "lunch box", c'est dire!
Ingredients
huile d'olive
1/2 oignon Texan (ou 1 oignon français de taille normale), émincé
1 gousse d'ail émincée
3 càc de poudre de curry
1/2 càc de sel
poivre du moulin
800g de citrouille, détaillée en gros cubes
6 petites pommes de terre rouges (ou autres), détaillées en gros cubes
375 ml de bouillon de poulet
2 poignées de raisins secs, ou des "cranberries" séchées (canneberges), ou un mélange des deux
2 belles poignées de petits pois congelés
coriandre fraîche
Méthode
Faites chauffer un peu d'huile d'olive dans une grande sauteuse, y ajouter l'oignon et faire cuire à feu moyen environ 5min, jusqu'à ce que l'oignon soit doré. Ajoutez l'ail et faire cuire encore 1 min. Ajoutez la poudre de curry, salez, poivrez. Ajouter les pommes de terre et faire cuire 5 min en remuant fréquemment. Versez le bouillon, ajoutez les raisins secs et couvrez. Faites cuire 10 minutes environ puis ajoutez les cubes de citrouille. Couvrez et faites cuire 5 min. Ajoutez ensuite les petits pois congelés et continuez la cuisson jusqu'à ce que les pommes de terre et la citrouille soient tendres, environ 10 minutes.
Servez avec du riz ou de la semoule de couscous, et garnissez de coriandre.
Mise à jour du 10 janvier: Ghislaine a profité du week end pour réaliser la recette, et m'a autorisée à publier sa photo. Merci!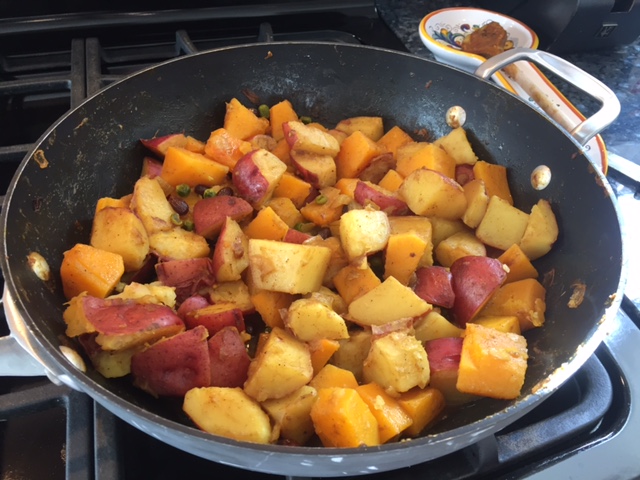 ---
We came back on Sunday from our Christmas holidays in Florida:  2 weeks of camping with a small colorful "camper van",  which made us look like hippies (not at all the typical American RV but very convenient to strike up a conversation with other travelers!). The weather was summer-like, and the meals very simple: sandwiches, pastas, canned food … except on Christmas and New year's eve when we had a picnic with champagne and  "foie gras". 
As a result, returning to Houston, with "chilly" temperatures  (relatively speaking!) we craved for some warm, comforting dishes, with a lot of vegetables.
A pumpkin detailed in cubes caught my eye when I opened my freezer, so here I was,  searching for a recipe which would neither be a pumpkin soup, nor a pumpkin pie, for a change.
Exceptionally , I have no photo of this dish to show you (Too late, we ate everything!). Laurent liked it very much and  he even asked to have the leftovers for his "lunch box". 
Update January 10, 2016: Ghislaine already tested the recipe this week end and was kind enough to provide a picture. Thanks!
Ingredients
olive oil
1/2 to 1 diced onion, depending on size
1 garlic clove, minced
2½ tsp curry powder
½ tsp salt
Freshly ground pepper to taste
2 lb. pumpkin, diced in large cubes
6 small red potatoes, diced in large cubes
1½ c chicken broth
2 handfuls of raisins or cranberries, or a mix
2 handfuls of frozen green peas
fresh cilantro
Directions
Heat olive oil in a large pan over medium-high heat, add onion, and cook until golden-brown, about 5 minutes. Add garlic and cook 1 minute more. Stir in curry powder, salt, and pepper. Add the potatoes and cook for 5 minutes, stirring frequently. Pour in broth and raisins, cover, and reduce heat to medium. After 10 minutes, add the pumpkin cubes, cover, and cook for 5 more minutes. Add the peas. Replace cover and continue to cook until pumpkin and potatoes are tender, 5 to 10 minutes more.
Serve with rice or couscous and garnish with cilantro.
---
---