Coquilles St Jacques et fondue de poireaux au vin blanc – Scallops with leeks sautéed in white wine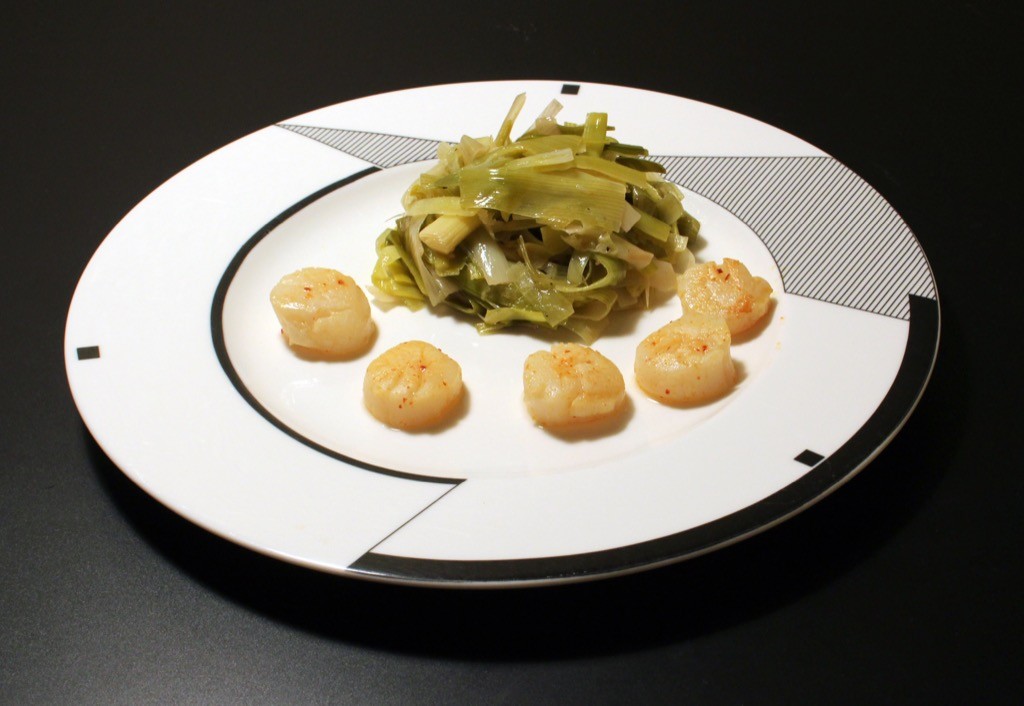 Scroll down for English
Mon premier projet culinaire 2016, motivé par le message non-subliminal de mon gentil mari qui m'a offert un tapis à sushi en silicone à Noël,  était de me lancer enfin dans la réalisation de makis.
Après un premier échec à Ranch99 (supermarché Asiatique) où j'avais désespérément cherché du Daikon mariné, j'ai décidé de jouer l'efficacité en passant un coup de fil à ma "Hot Line Sushis", à savoir ma copine Chanthy, qui m'a conseillé d'aller au supermarché Coréen HMart et m'a téléguidée vers le rayon des légumes marinés (Elle: "Tu entres dans le magasin par les "Fruits et Légumes", OK? . Tu tournes à gauche puis encore à gauche et là tu es dans l'allée des légumes marinés,  et voilà!. Moi: "Et ça se présente comment ce truc? C'est dans un frigo? C'est sous plastique? "). J'ai finalement trouvé le bon rayon, choisi le plus petit conditionnement, qui me paraissait déjà bien gros, et toute contente de mon succès ai continué à parcourir un à un tous les rayons de ce qui est pour moi une véritable caverne d'Ali-baba et à m'émerveiller devant tous ces jolis paquets dont je ne peux pas déchiffrer les étiquettes. Un petit arrêt au rayon "poudre de thé matcha" (voir la recette de glace au thé vert), une pensée pour ma copine Kyeong devant le rayon Kimchi, et on est déjà en début d'après midi et je me dis que je ne vais pas avoir le temps de préparer mes sushis (vu que je débute, il faut que je prévois large!). Tout cela pour vous dire que finalement j'ai changé mes plans, acheté des coquilles Saint-Jacques pas congelées (en fait, je devrais sûrement dire "pétoncles"…va savoir…) et des  poireaux. Tant pis, les makis attendront…
Note: Adresse du supermarché H Mart:  1302 Blalock Rd Houston, TX 77055 – ce magasin mérite vraiment une visite!
INGREDIENTS pour 2 personnes:
10 noix de coquilles Saint-Jacques
Huile d'olive
4 à 6 poireaux (selon leur taille)
1 échalotte ciselée
1 petit verre de vin blanc sec – alternative : 1 petit verre de  Noilly Prat (à Houston: se trouve chez Spec's)
1 pincée de poudre de gingembre
Sel, Poivre
facultatif: 1 peu de piment (d'Espelette, merci Carmentxu!)
METHODE:
Fondue de poireaux:
Nettoyez les poireaux et coupez les blancs en lamelles fines.
Faites chauffer un peu d'huile d'olive dans une grande sauteuse. Ajoutez l'échalote, faites la fondre. Ajoutez les poireaux et faites cuire à feu doux quelques minutes. Salez, poivrez, et ajoutez un peu de poudre de gingembre. Ajoutez le vin blanc, couvrez, et laissez fondre une vingtaine de minutes.
Coquilles: Poêlez les coquilles Saint-Jacques dans une cuillère à soupe d'huile,  environ 3 min de chaque côté, pas plus sinon elles durcissent.
A déguster accompagné de vin blanc (normalement à ce stade il en reste encore dans la bouteille!)
---
My first culinary project in 2016, motivated by the non-subliminal message from my sweet husband who offered me a silicone sushi mat for Christmas, was to try and prepare makis.
After an initial failure at Ranch99 (Asian supermarket) where I desperately searched for pickled Daikon, I decided to be efficient and place a phone call to my "Sushi Hot Line", namely my friend Chanthy , who advised me to go to the Korean supermarket "HMart". She guided me towards the pickled vegetables aisle (She: "You go into the store by the " Fruits and Vegetables ". OK ? You turn left and then left again. OK? And there you are, surrounded by all kinds of pickled vegetables, and voila !. Me:  "And how does this stuff look like? Is it in a fridge? Is it  packaged? ") I finally found the correct shelf, chose the smallest packaging, which already seemed pretty large, and happy with my success continued to visit one by one all the aisles filled with products which seem very exotic to me, and marveled at all the pretty packages whose labels I couldn't decipher. A quick stop to purchase some "matcha tea powder" (see the recipe for green tea ice cream), a thought for my friend Kyeong in front of the Kimchi shelves and I realize it is already early afternoon and  I will not have enough time to prepare my sushi (as I am a beginner, I must plan plenty of time to prepare them!). So,  in the end I changed my plans, bought some scallops and some leeks, because this is a dish I can prepare quickly. Too bad for the makis! … I will make them another day…
Note: H Mart supermarket:  1302 Blalock Rd Houston, TX 77055 . It is really worth a visit!
INGREDIENTS for 2 servings:
10 scallops
Olive oil
4 to 6 leeks (according to their size)
1 chiselled shallot
1 small glass of dry white wine  – or : a small glass of Noilly Prat (in Houston, you will find it at Spec's)
1/4 tsp ginger powder
Salt, Pepper
Optional: a dash of finely crushed Espelette hot pepper (a special kind of hot pepper from the southwest of France) or other hot pepper
DIRECTIONS:
Sautéed leeks (aka : "fondue de poireaux" in French, which literally means "melted leeks", I promise you this side dish will melt in your mouth!)
Clean the leeks and cut the white part in fine small strips.
Heat a little olive oil in a large frying pan. Add the shallot, cook them until they're soft and transparent. Add  the leeks and cook over a low heat a few minutes. Add Salt, pepper, and some ginger powder. Add the white wine, cover, and let cook for about twenty minutes.
Scallops: Fry the scallops in 1 TBS  of oil for 3 minutes on each side (Do not cook them longer or they will become tough).
Enjoy with the rest of the bottle of white wine!
---
---