Steak de thon aux câpres – Tuna steak with capers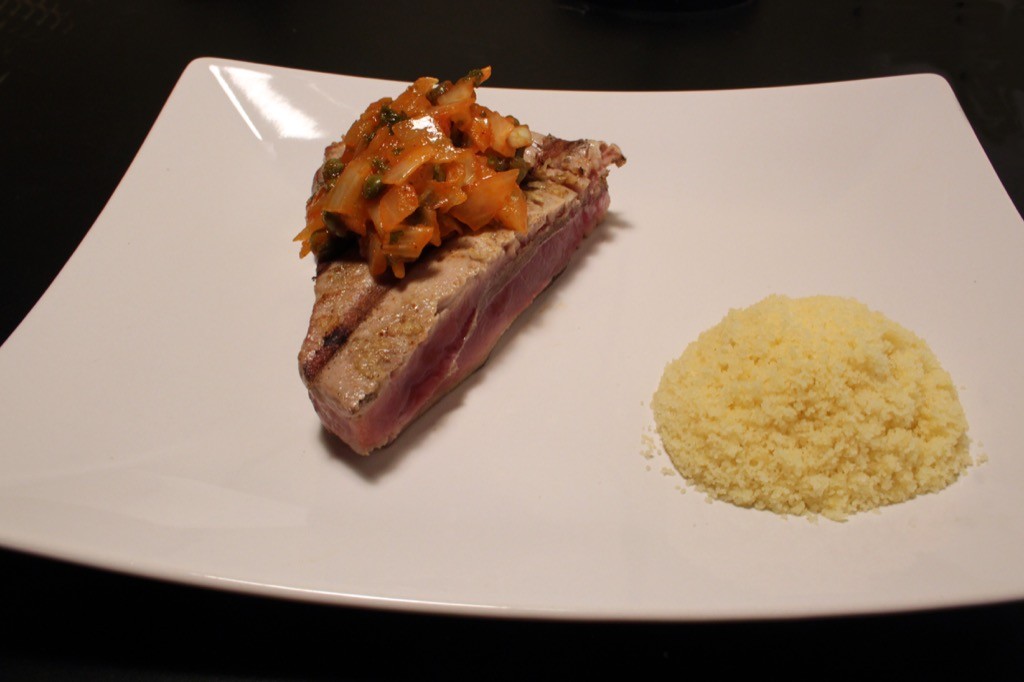 Scroll down for English version
Hier, pour fêter mon anniversaire, nous avons ouvert une bouteille de champagne et un pot de rillettes de canard rapportées de France dans mes valises et précieusement gardé pour une "grande occasion".  Alors aujourd'hui, je vais essayer de faire baisser le niveau de cholestérol, car les rillettes, c'est pas top dans ce domaine!
Ça tombe bien,  j'ai trouvé de superbes steaks de thon frais (poisson gras, qui contient du "bon-cholestérol", youpi!) au grand HEB de Bunker Hill.
Petite parenthèse pour les non Texans: HEB est une chaîne de supermarchés au Texas , HEB = Here Everything is Better, un peu comme s'il y avait en France une chaîne de  supermarchés ITM = Ici Tout est Meilleur !
Oui, oui, je m'enthousiasme un peu excessivement mais il faut vous dire, amis Français, qu'il est difficile ici de trouver du poisson qui n'ait pas été congelé… pour une fois, l'étiquette n'indiquait pas  "previously frozen" … il n'y a que la foi qui sauve…
Bref, je ressors donc du fin fond de mon classeur une recette que je faisais souvent lorsque nous habitions Paris et que je pouvais facilement acheter du thon frais au marché d'Alésia.(ah, les marchés, un des petits plaisirs parisiens qui manque ici…)
Pour la sauce, j'ai remplacé le beurre que j'utilisais traditionnellement par de l'huile d'olive,  ce plat est ainsi plus sain et tout aussi bon.
INGREDIENTS: pour 4 personnes
Steaks de thon  (600 à 800g)
Marinade:
2 cas d'huile d'olive
1/2 càc de cumin en poudre
1/2 càc de poivre de cayenne
4 gousses d'ail écrasées
1/2 càc de sel
Sauce:
4 càs d'huile d'olive
1 gros oignon
4 càs de coulis de tomate
1 bouquet de persil
50g de câpres
sel, poivre
INSTRUCTIONS:
Dans un bol, mélangez bien l'huile, le cumin, le poivre de cayenne, l'ail et le sel, puis enduisez-en le poisson et laissez mariner au frais pendant au moins 1 heure.
Faites cuire rapidement le thon au barbecue (ou à la poêle, dans un peu d'huile chaude), environ 2 à 3 min de chaque côté. Le thon doit rester rouge à l'intérieur. Réservez-le au chaud si votre sauce n'est pas encore prête.
Pendant que le thon cuit, mettez l'huile avec les oignons émincés, le coulis de tomate, le persil haché, les câpres, le poivre et le sel dans une poêle. Faites revenir à feu doux pendant environ 5 min.Dressez les steaks de thon bien dorés dans les assiettes et nappez de sauce aux câpres.
J'ai servi ce plat accompagné de semoule de couscous.
Miam!
---
Yesterday, to celebrate my birthday, we opened a bottle of champagne and a jar of duck rillettes imported from France in my suitcase and treasured for a "great opportunity". So, today I'm going to try to lower the cholesterol level of our dinner (Rillettes are not really the perfect choice for cholesterol-conscious folks!)
Luckily, I stumbled upon beautiful fresh tuna steaks (oily fish, which contains the "good cholesterol", yay!) at the HEB on Bunker Hill road.
Digression for non-Texans: HEB is a supermarket chain in Texas, HEB = Here Everything is Better.
Yes, yes, I am a little too enthusiastic, but I must tell you, it is almost unusual here to find fresh fish which has not been previously frozen … for once, the label didn't mention "previously frozen"… I decided to believe it … Faith is a wonderful thing!
Anyway,  I searched through my recipe binder and dug out a recipe I used to do often when we were living in Paris and could easily buy fresh tuna at the Alesia farmers' market, just a few hundred yards from our apartment (Farmers markets are one thing I miss about life in Paris!)
Finally, I simply substituted the butter from my old recipe by olive oil. The dish is just as good this way and healthier.
INGREDIENTS: 4 servings
Tuna steaks  (1.5 to 2 lbs)
Marinade:
2 TbS  olive oil
1/2 tsp cumin powder
1/2 tsp cayenne pepper
4 garlic cloves, crushed
1/4 tsp salt
Sauce:
3 Tbs olive oil
1 large onion
4 tbs tomato sauce
1 bunch of parsley
1.5 oz capers
salt, pepper to taste
DIRECTIONS:
In a bowl, mix carefully the oil, cumin, cayenne pepper, garlic and salt, then baste the fish with this marinade and leave in the fridge for at least 1 hour.
Cook the fish shortly on the barbecue (or fry in a saucepan with hot oil), 2 to 3 minutes on each side, the tuna fish meat should still be red inside. Keep the fish warm until the sauce is ready.
Meanwhile, place the oil, chopped onions, tomato sauce, chopped parsley, capers, pepper and salt in a pan. Fry over a low heat for about 5 min.
Arrange the tuna steaks on plates and cover with the capers sauce.
I served this dish  with plain couscous.
Yum!
---
---