Petits pots au chocolat et épices – Spicy chocolate mousse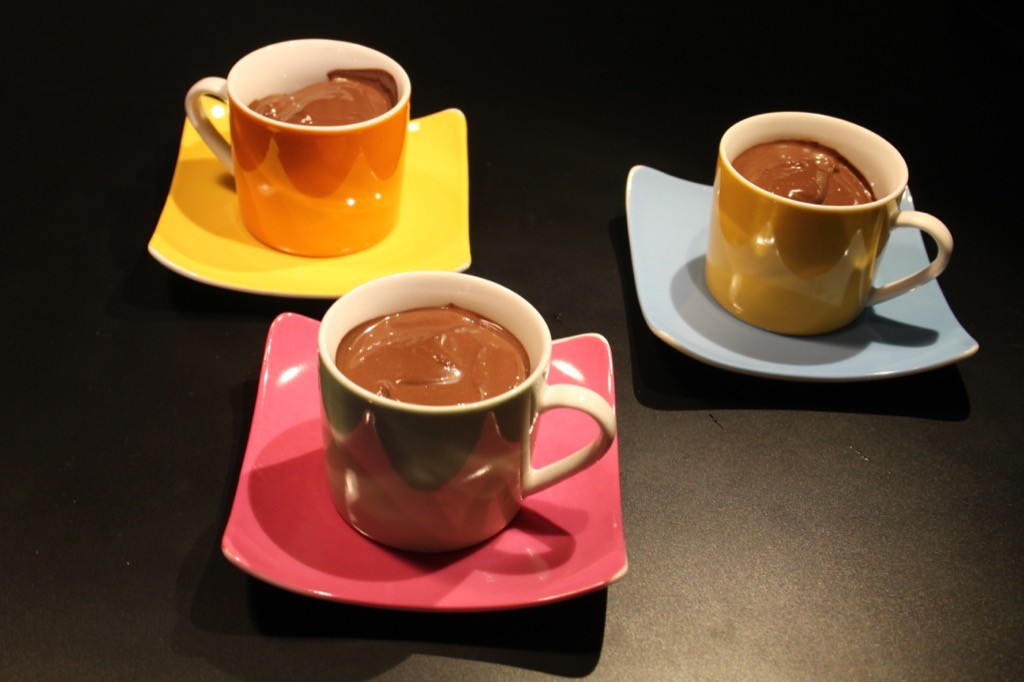 Voici une recette de dessert au chocolat sans crème fraîche, sans beurre et sans oeufs (parfait pour le régime low-cholestérol de mon homme!) et qui devrait plaire aux amoureux de chocolat bien noir. Je fais souvent ces petites "mousses", en version pur chocolat ou en version épicée (une variante inspirée par une délicieuse tarte au chocolat dégustée lors d'un dîner chez ma copine Stéphanie). D'ailleurs, allez voir les splendides gâteaux qu'elle réalise en cliquant ici.
L'une des épices utilisées est la fève Tonka. Cet épice à la mode en France depuis quelques années, au parfum "coumariné, vanillé-amandé" est assez difficile à se procurer. J'en ai rapporté de France l'été dernier, après avoir écumé toutes les épiceries fines de Paris: rupture de stock au Bon Marché, au Lafayette Gourmet. Pour finir, j'en ai trouvé chez Thiercelin (un superbe magasin dédié aux épices dans le 4ème, je vous recommande la visite, j'aurais tout acheté!). Et ne cherchez pas cet épice à Houston, ou ailleurs aux USA, sa vente y est interdite depuis les années 60, à cause de la présence de coumarin. (Je ne vais pas vous faire un long discours sur le sujet, il est facile de trouver des informations sur internet. En quelques mots: un dérivé du coumarin étant utilisé dans des médicaments anticoagulants, la fève tonka a été interdite pour éviter les surdosages. D'après les informations que j'ai pu lire, vous ne courrez aucun risque en mettant une pincée dans une petite crème une fois de temps en temps!).
Et si vous n'avez pas de fève Tonka , essayez la version pur chocolat!
INGREDIENTS: (pour 6 tout petits ramequins ou 6 verrines)
1/2 paquet de tofu soyeux (6oz, 180g)
1 càc de cacao amer (style Van Houten)
100g de chocolat à cuisiner (j'aime tout particulièrement le Lindt à cuisiner 70%, que je ramène dans mes valises)
1 petite càc d'extrait de vanille
1-2 càs de lait
une belle pincée de sel
facultatif, pour la version épicée:
1 pincée de cayenne en poudre
1 pincée de noix de Tonka râpée
REALISATION:
Faire fondre le chocolat avec le lait dans une casserole ou au micro-onde.
Mettre tous les ingrédients dans un petit blender ou dans un robot ménager de petit volume (si vous avez un blender ou robot de taille standard, il faut doubler la quantité, sinon il n'y a pas assez de volume pour mixer convenablement) et mixer jusqu'à ce que le mélange soit tout à fait lisse.
Répartir dans des petits ramequins,  ou des verrines, et mettre au frais en attendant de servir.
Remarque: la texture et le goût de ce dessert sont très riches, c'est pourquoi je recommande de le servir en petite quantité.
———————————————————————————————————————–
Today, a recipe for a chocolate dessert with no cream, no butter, no eggs (great for my husband's low cholesterol diet!). Dark chocolate lovers will love it!I often prepare those small "mousses, either the pure chocolate version or the spicy version (a twist to the original recipe inspired by a delicious chocolate tart that I ate at my friend Stephanie's ). BTW, click here to have a look at the amazing cakes she bakes and decorates.
One of the spices used in this recipe is the Tonka bean. This spice produced in South America, with a "coumarin, vanilla-amaretto scent" has been very trendy in France for the past few years, but is still a bit difficult to source. Last summer when I was in Paris, the main suppliers of fine products (Le Bon Marché, Les Galeries Lafayettes…) were out of stock. Finally, I found some at a specialty store called "Thiercelin". This little shop dedicated to spices is worth the trip, it has all kind of spices, from all over the world. Anyway, don't waste time trying to buy some in Houston, or elsewhere in the USA for that matter, because its sale has been forbidden since the 1960s. The reason is the presence of "coumarin". It is easy to find detailed information on the subject on the Internet, so I am simply to summarize shortly:  a chemical derivative of coumarin being used in many anticoagulant drugs, the Tonka bean has been banned to avoid excess consumption. My understanding is that there is absolutely no risk to consume it when used as a spice one in a while  (i.e. in small quantities)!
And if you can't source any Tonka beans, just try the pure chocolate version!
INGREDIENTS: (for 6 small cups)
1/2 package silken tofu (6 oz, 180g)
1/2 tsp cocoa powder
100g baking chocolate (I like to use a very dark chocolate, 70% cacao)
1/2 tsp vanilla extract
1 Tbs milk
a pinch of salt
For the spicy option:
1 pinch of cayenne powder
1 pinch of grated Tonka bean
DIRECTIONS:
Melt the chocolate with milk, either on the stove  or in the microwave.
Throw all the ingredients in a small blender or food processor, and blend until very smooth (if your blender is too big, you will have to double the quantity for the content to blend correctly)
Divide the mousse in 6 small cups or glasses, and reserve in the fridge before serving.
Note: Both texture and taste of this dessert are very rich, this is why I recommend to serve it as small portions.
---
---