Cole Slaw asiatique – Asian Slaw with Ginger-Peanut dressing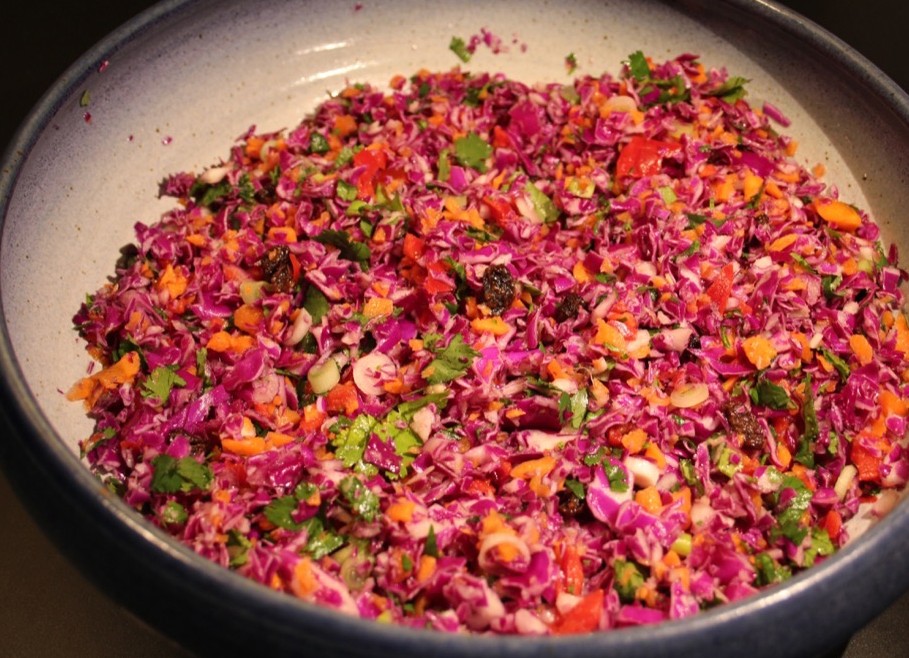 version "chou rouge et raisins secs" – "red cabbage and raisins"
Please scroll down for English recipe
J'ai déjà dû vous le dire, je vais régulièrement chercher des paniers de fruits et légumes bio que vend l'association http://www.rawfullyorganic.com. Le contenu du panier dépend de la saison, et en plus du panier déjà rempli,  on dispose de 3 "points",  à dépenser parmi un choix de légumes. La semaine dernière j'ai choisi un chou. Sauf que… je n'avais pas vu qu'il y en avait déjà un dans le panier! Alors, je cherche toutes les façons d'accommoder le chou. Pas nécessairement facile…
Une bonne façon de manger du chou est le "cole slaw". J'aime bien la version traditionnelle à la mayonnaise, mais ce n'est pas conseillé pour le régime anti-cholestérol. Alors, voici une version asiatisante (ça se dit?), beaucoup plus légère et digeste, qui a enchanté nos papilles. Si, si, j'exagère à peine !
Avertissement spécial pour Maud: Désolée, cette recette n'est PAS pour toi. Il y a du gingembre, beaucoup de gingembre…
pour 6 personnes
SAUCE:
1/4 cup – 60 ml miel
1/4 cup – 60 ml huile végétale neutre
1/4 cup – 60 ml de vinaigre blanc
1 belle CàS de sauce soja
1 belle càc d'huile de sésame
1 belle CàS de beurre de cacahuète (peanut butter)
1/2 càc de sel
un peu de sauce épicée (Sriracha, ou Tabasco, ou…)
1 belle CàS de gingembre frais râpé ou finement haché
1 belle gousse d'ail, finement hachée
Mettre tous les ingrédients dans un pot à confiture, bien fermer le couvercle, secouer, secouer, secouer, jusqu'à ce que le beurre de cacahuète soit bien dissous. La sauce est prête!
SALADE:
1/4 à 1/2 chou blanc ou chou rouge
2-3 carottes
1/2 poivron rouge
2 oignons verts
1 poignée de cacahuètes salées ou 1 poignée de raisins secs
1/2 bouquet de coriandre (je n'en avais plus le jour où j'ai pris la photo du bas, mais c'est plus joli et encore meilleur avec!)
-A l'aide d'un couteau bien aiguisé, découper le chou en très fines lamelles.
-Râper la carotte à la râpe gros trous pour obtenir des morceaux à peu près de la même épaisseur que le chou.
Méthode alternative rapide: Je mets le chou coupé en morceaux grossiers dans mon blender Vitamix, que je remplis d'eau aux 3/4. Je pulse 5-6 fois à mi-puissance et le chou est "hâché". Il ne reste plus qu'à l'égoutter.
Répéter l'opération pour les carottes, et le poivron.
(J'ai essayé de mettre tous les légumes en même temps dans le blender, ça marche moins bien)
-Emincer le poivron en petits morceaux.
-Ciseler les oignons verts.
Combiner tous les ingrédients dans un grand saladier. Ajouter la sauce et bien mélanger.
Préparer ce plat au minimum 15 min à l'avance pour que les légumes s'imprègnent de la sauce (c'est encore meilleur après une nuit au réfrigérateur).
Servir froid.
————————————————————————————————————————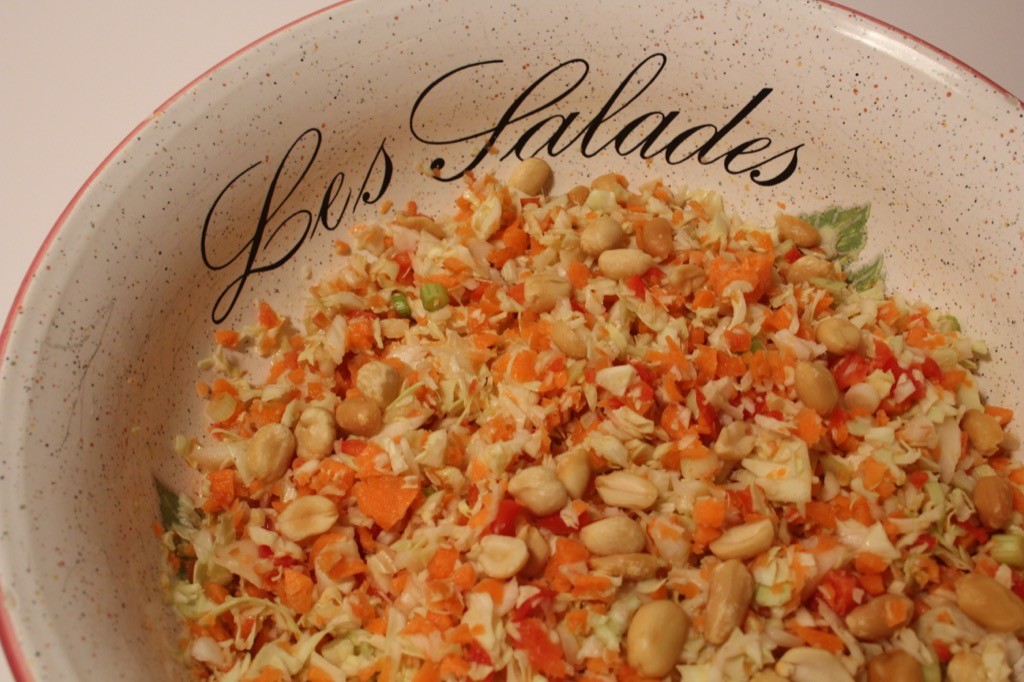 version "chou blanc et cacahuètes" – "white cabbage and peanuts"
Dommage, plus de coriandre ce jour là – no cilantro that day, such a pity !
I might already have told you, I buy fairly often organic boxes filled with fruits and vegetables from "Rawfullyorganic", a local coop here in Houston. What's in the box depends on the season, and in addition to the content of the box, you can spend 3 "points" to get some additional vegetables. Last week, I chose a cabbage. But… I didn't notice there was already one cabbage in the box! So, I am trying to find all the possible ways to eat those two cabbages. Not really easy…
One way I like to eat cabbage is as a coleslaw. I like the traditional recipe, with a mayonnaise dressing, but it is not really a good choice for someone supposed to follow a low-cholesterol diet. So, here is a twist on coleslaw recipe, inspired by Asian food. It feels light, fresh, and was an enchantment to our taste buds. (OK, I might get a bit over-excited here!)
For 6 servings:
DRESSING:
1/4 cup honey
1/4 cup vegetable oil
1/4 cup white vinegar
1 tbs soy sauce
1 tsp sesame oil
1 tbs peanut butter
1/2 tsp salt
spicy sauce (such as Sriracha or Tabasco, etc…) to taste
1 Tbs minced or grated fresh ginger
1 large garlic clove, minced
Put all the ingredients in a jar with a cap (I use marmelade jars), screw the cap tightly, and shake, shake, shake, until the peanut butter is dissolved. That's it, the dressing is ready!
SLAW:
4 cups shredded cabbage (white or red)
2 cups shredded carrots
1 red bell pepper, thinly sliced.
2 scallions, finely sliced
1/2 cup salted peanuts (whole or chopped, you decide!) or raisins
1/2 cup chopped fresh cilantro
Combine all of the slaw ingredients in a large bowl. Add the dressing and toss well. Let sit at least 15 min so vegetables soak up the dressing. (It is actually even better after sitting a whole night in the fridge). Serve cold.
---
---