Curry de légumes aigre-doux – Sweet and sour vegetable curry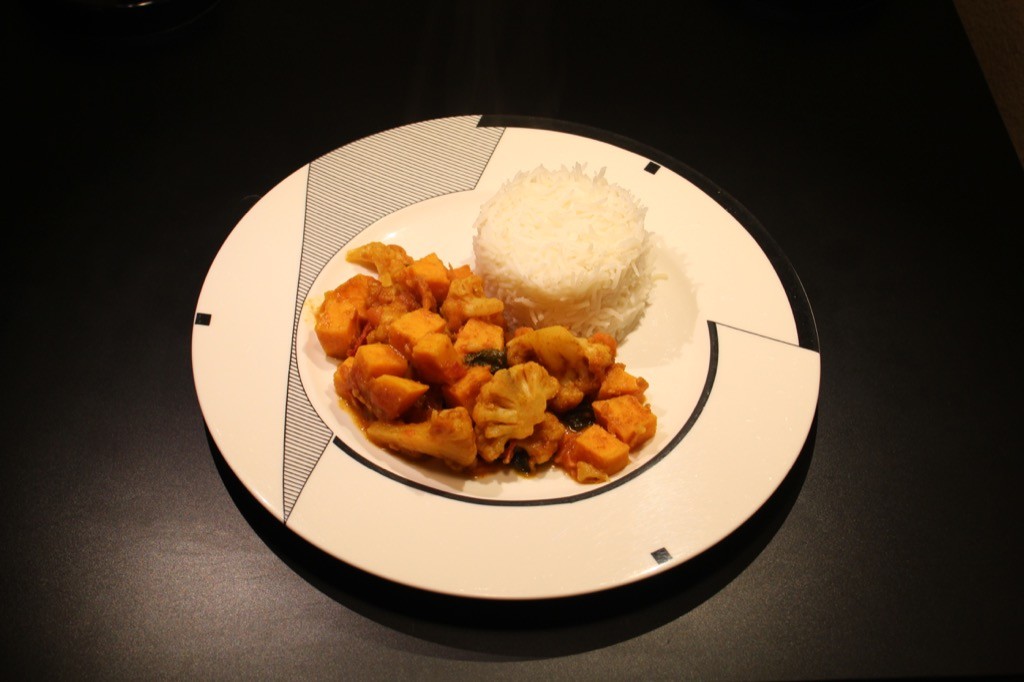 Scroll down for English version
Un curry végétarien… sans curry ! La recette originale faisait appel à des feuilles de curry, et je n'en avais pas. Une rapide recherche sur Internet m'a donné l'idée de remplacer les feuilles de curry par des feuilles de basilic et un filet de ciron. Je ne sais pas si le goût se rapproche ou non de la version typique mais c'est très bon comme ça. Et au moins, je trouve facilement les ingrédients et pourrait refaire facilement la recette (et vous aussi). Les proportions ci-dessous, soi-disant pour 4 à 6 personnes, sont à mon avis parfaites pour 3! (Laurent et moi nous sommes vraiment régalés avec ce plat et, si nous ne nous étions pas retenus, nous aurions pu tout finir.)
INGREDIENTS: (pour 3 personnes)
huile végétale
250g de patates douces, épluchées et détaillées en cubes
250g de chou-fleur détaillé
200g de tomates détaillées en cubes
1 càc de sel
1 càc de chili fort(ou moins… pour ceux qui n'aiment pas le piment, comme mon fils, je pense qu'on peut omettre le chili et malgré tout avoir un plat très parfumé. A tester…)
1/2 càc de curcuma
1 càc de graines de coriandre moulues
1 càc de poudre de cumin
5 grosses feuilles de basilic, déchirées
un filet de jus de citron
1 CàS de concentré de tamarin – indispensable
1 CàS de sucre roux
REALISATION:
Mélangez les épices dans un saladier. Ajoutez les patates douces et le chou-fleur, puis mélangez soigneusement les légumes et les épices
Chauffez de l'huile dans une sauteuse et faites-y revenir les légumes 5 minutes, jusqu'à ce qu'ils soient bien dorés.
Ajoutez les feuilles de basilic, le tamarin, les tomates et le sucre.
Mouillez avec 25cl d'eau et laissez mijoter sans couvrir 20 minutes, jusqu'à ce que les légumes soient tendres et que la sauce ait épaissi (il est normal de ne quasiment plus avoir de liquide en fin de cuisson, il doit y avoir juste assez de sauce pour enrober les légumes.)
Servir avec du riz basmati.
——————————————————————————————————————————————-
A vegetarian curry…with no curry in te recipe! The original recipe included curry leaves, but I didn't have any. A quick google search gave me the idea to try and replace them with basil leaves and lemon juice. I have no idea if the taste is similar or not, but it is very good this way. And, last but not least, it is a lot easier to get the ingredients and will be able to do this recipe again (and it will be easier for you too!). The quantities listed below were supposed to be for 4 to 6 persons. Maybe as a side dish, but as a main course they are perfect for 3 persons. (Actually, Laurent and I enjoyed it so much that we could have finished it all, just the two of us!)
INGREDIENTS: (3 servings)
vegetable oil
9oz sweet potato
9oz cauliflower in florets
8oz diced tomatoes
1 tsp salt
1 tsp hot chili powder (or less… for those who don't like spicy food, I think chili could be omitted and the dish would still be very tasty thanks to all the other spices.It's certainly worth a try…)
1/2 tsp turmeric powder
1 tsp coriander powder
1 tsp cumin powder
5 large basil leaves, shredded
a dash of lemon juice
1 Tbs Tamarin concentrate – essential
1 Tbs brown sugar
DIRECTIONS:
Mix the spices thoroughly in a ;are bowl. Add the sweet potatoes and cauliflower florets, then delicately cover the vegetables with spices.
Heat some oil in a large saucepan and cook the vegetables at medium heat for 5 minutes, until golden.
Add the basil leaves, tamarin concentrate, tomatoes and sugar.
Add 1 cup of water and simmer, uncovered, for 20 minutes, until the vegetables are tender and the sauce has thickened. (Don't worry if there is almost no liquid left at the end, there should be just enough sauce to cover the vegetables).
Serve with basmati rice.
---
---