Soupe de légumes et cacahuètes – Vegetables and peanut soup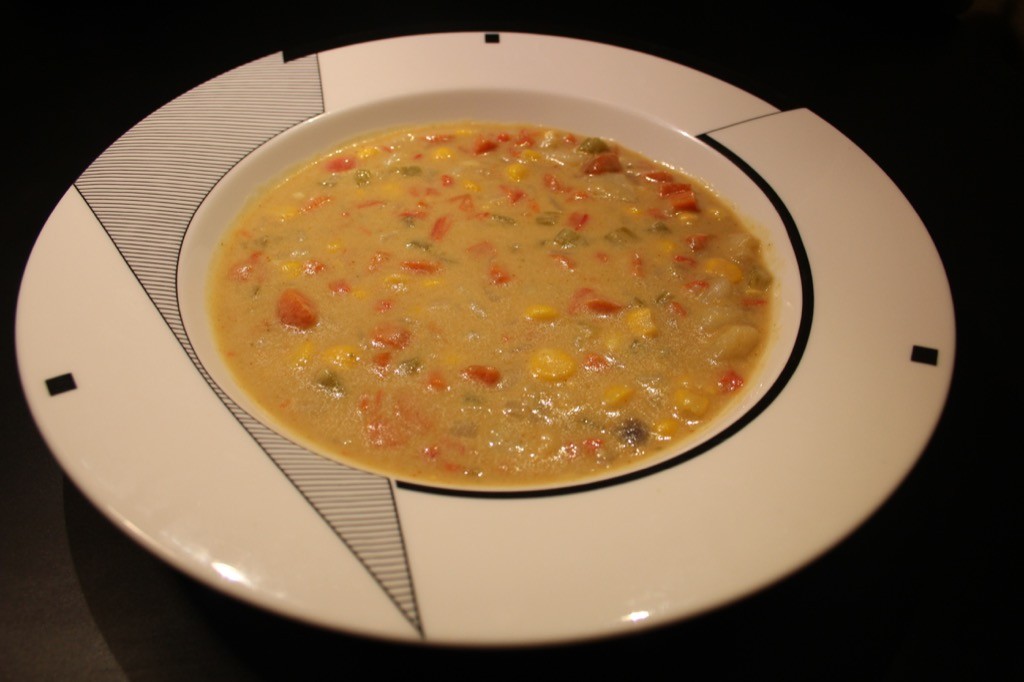 Scroll down for English version
23 degrés Celsius hier matin , 2 aujourd'hui ! La météo Texane dans toute sa splendeur!
Alors évidemment, ce soir j'ai encore eu envie d'une soupe… Après consultation du contenu de mon frigo et feuilletage intense d'un livre de cuisine dédié aux "Soups, Chowders, Consommés & Broths", mon choix s'est arrêté sur une soupe de légumes au beurre de cacahuètes. Ça m'a intriguée, j'ai décidé d'essayer. J'ai préparé deux versions, une sans chili pour mon fils et une épicée pour les adultes. J'aime bien les deux versions, avec une préférence pour la version épicée. Et vous?
INGREDIENTS (pour 3 personnes):
un peu d'huile
1/2 gros oignon Texan (1 oignon normal!), émincé
1 gousse d'ail, écrasée
1 cuiller à café de poudre de chilli (facultatif)
1 poivron rouge émincé
2 carottes émincées
1 pomme de terre coupée en petits cubes
1-2 tiges de céleri, émincées
500 ml de bouillon de légumes ou d'eau
4 cuillers à soupe de beurre de cacahuète, croquant ou lisse, au choix (le mien est lisse et fait maison! mais c'est pas obligatoire…)
50 g de maïs
sel, poivre
cacahuètes brisées, pour garnir
INSTRUCTIONS:
Chauffer l'huile dans une casserole, y ajouter les oignons et l'ail et cuire à feu moyen environ 3 min. Ajouter la poudre de chili et cuire encore 1 min.
ajouter les légumes (poivron, carotte, pomme de terre, céleri). Bien mélanger et cuire environ 4 min, en remuant de temps en temps.
Ajouter le bouillon de légumes, puis le beurre de cacahuètes et le maïs. Bien mélanger.
Assaisonner (sel, poivre) si nécessaire. Apporter à ébullition, couvrir et laisser mijoter à feu doux 15-20 min, jusqu'à ce que les légumes soient tendres.
Rectifier l'assaisonnement et servir parsemé de brisures de cacahuètes (dommage, je n'en avais plus…)
—————————————————————————————————————————————–
73F yesterday morning, 36F today! Texas weather is so weird !
Of course, with this kind of weather, I felt like eating a soup tonight (again!) … After checking the content of my fridge and intensely perusing a cookbook dedicated to "Soups, Chowders, Consommés & Broths", I settled on a recipe for a vegetable and peanut butter soup. I really wanted to try and test this unusual combination. I prepared two versions: one without chili for my son, and a spicy one for the parents. I enjoyed both, but I prefer the spicier version. Which one will you make?
INGREDIENTS (3 servings):
oil
1/2 large onion , finely chopped
1 garlic clove, crushed
1/2 tsp chili powder (optional)
1 red pepper, finely chopped
2 carrots, finely chopped
1 potatoe, finely chopped
1 or 2 celery sticks, finely chopped
2 Cups vegetable stock or water
3 Tbs peanut butter, crunchy or not, your choice (mine was smooth and home made, yum…)
1/3 cup sweetcorn
salt, pepper
roughly chopped roasted peanuts, to garnish
DIRECTIONS:
Heat the oil in a large pan and cook the onion and garlic for about 3 minutes. Add the chili powder and cook for a further 1 min.
Add the vegetables (red pepper, carrots, potatoes and celery). Stir well, then cook for a further 4 min, stirring occasionally.
Add the vegetable stock, followed by the peanut butter and sweetcorn. Stir until thoroughly combined.
Season to taste (salt, pepper). Bring to the boil, cover and simmer for 15-20 min until all the vegetables are tender.
Adjust the seasoning before serving, sprinkled with chopped peanuts (too bad, I didn't have any left…)
---
---