Tartare de thon – Tuna Tartare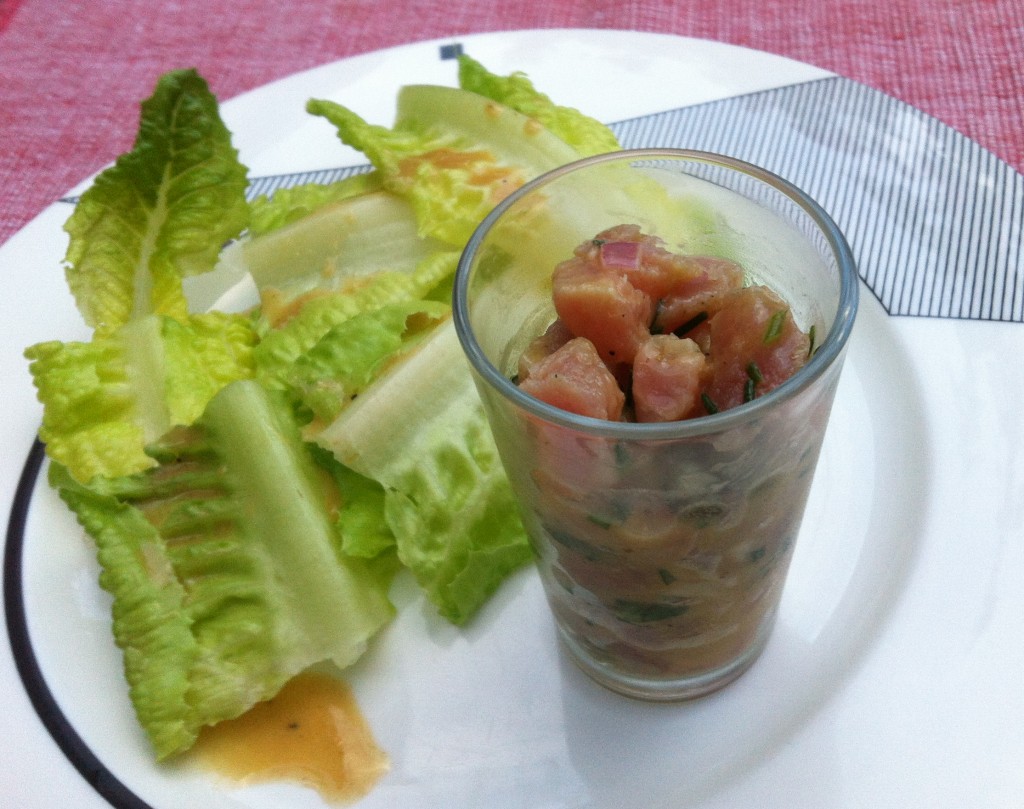 English version at the bottom
Encore une petite recette santé estivale, facile et fraîche !
INGREDIENTS: pour 4 belles portions ou 6 à 8 verrines.
500g de chair de thon crue, coupée en petits dés
2 échalottes ciselées
1 C.à S de ciboulette hachée
2 filets d'anchois rincés sous l'eau froide, hachés
1 jaune d'oeuf
1 c.à thé de moutarde de Dijon
le jus de 2 citrons verts
75 ml d'huile d'olive
1 C. à S de câpres hachées
2 C.à S de persil ou coriandre haché(e)
METHODE:
Dans un bol, mettez les échalotes, la ciboulette, les filets d'anchois, le jaune d'oeuf. Mélangez.
Ajoutez la moutarde et le jus des citrons verts. Mélangez.
Versez l'huile en filet. Mélangez.
Ajoutez les câpres.
Assaisonnez de poivre et de persil/coriandre.
Ajoutez le thon et mélangez bien.
Mettre au froid quelques heures pour permettre aux parfums de se mélanger.
Vous pouvez servir en plat principal, accompagné d'une salade ou en verrines pour l'apéro.
—————————————————————————————————————————–
A perfect recipe for summer, healthy, easy and fresh !
INGREDIENTS: for 4 as a main dish, for 6 to 8 as appetizer.
2 lbs of raw tuna flesh, diced.
2 shallots, minced
1 Tbs chives, minced
2  anchovy fillets, rinsed with cold water
1 egg yolk
1 tsp Dijon Mustard
2 limes (juice only)
1/3 cup olive oil
1 Tbs  capers, chopped
2 Tbs parsley or cilantro, minced
METHOD:
In a mixing bowl, combine the shallots, chives, anchovy fillets, egg yolk and mix.
Add the Dijon mustard and lime juice. Mix.
Add the oil and mix well.
Add the capers.
Dress with pepper and parsley or cilantro.
Add the tuna and mix well.
Allow the mixture to sit in the refrigerator for a few hours for the flavors to blend
Enjoy as a main dish with a salad or in small portions as an appetizer.
---
---