Karpouzopita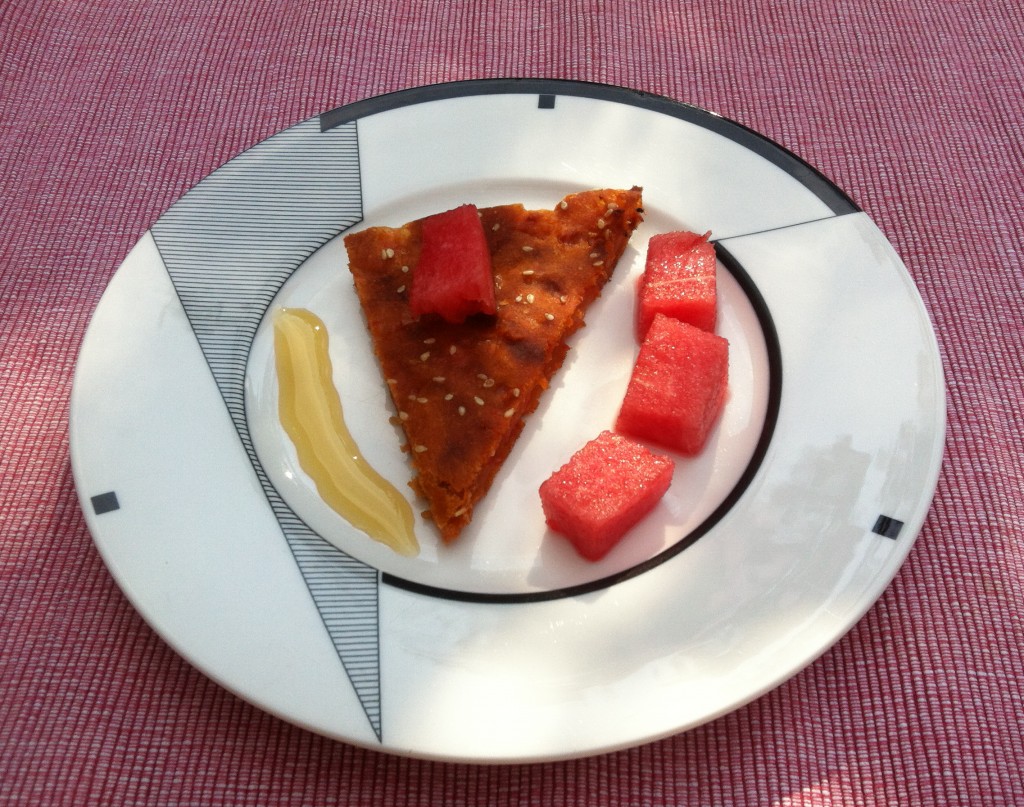 English version at the bottom
Gâteau grec à la pastèque (que je dédie à Christelle, qui me dira si c'est vraiment traditionnel dans ce beau pays!)
Comme j'ai déjà dû vous le dire, j'achète régulièrement le jeudi des paniers de fruits et légumes bio de "Rawfully organic" (pour les Houstoniens: http://rawfullyorganic.com   ). Cette semaine il y avait une énorme pastèque, Texas size. (J'aurais dû la prendre en photo car elle faisait dans les 10kg!).
Après avoir bu du jus de pastèque, mangé de la pastèque en entrée, en dessert, en salade avec de la feta, il en restait encore quasiment la moitié dans le frigo et notre enthousiasme commençait sérieusement à fléchir… alors j'ai surfé le web à la recherche d'idées et j'ai découvert l' existence d'un gâteau grec à la pastèque, dont voici la recette:
INGREDIENTS (6 parts)
350g de pulpe de pastèque (dans mon cas, obtenu à partir d'environ 1kg de pastèque écrasée – cf ci-dessous)
110g de farine
1/4 càc de cannelle (à doser selon votre goût)
2 càs d'huile d'olive
3 càs de miel liquide
graines de sésame
un plat d'environ 20X20cm max
METHODE
Coupez la pastèque en morceaux et retirez les pépins.
Pressez/ Ecrasez les morceaux de pastèque dans vos mains pour en extraire le jus.
Transférez la pulpe dans une passoire et laissez-là s'égoutter quelques heures (pensez à récupérer le jus pour en faire une boisson).
Mélangez la farine, l'huile, le miel à la pulpe que vous aurez écrasée en une purée grossière.  (Après avoir goûté le gâteau, je me dis que laisser des morceaux n'est pas gênant du tout.)
Huilez légèrement votre moule et parsemez le fond de graines de sésame avant d'y verser la préparation.
Parsemez la surface de graines de sésame.
Enfournez à four chaud (200 C/400F) pour 45 min environ.
Vous allez voir comme ça va sentir bon dans votre cuisine!
J'ai servi le gâteau refroidi avec des morceaux de pastèque fraîche et arrosé de miel. Miam!
———————————————————————————————————–
Watermelon cake from Greece (Dedicated to Christelle, who will tell if it is really a traditional dessert in this beautiful country).
I certainly have already told you that on Thursdays I often go and buy organic fruits and vegetable from a co-op (in Houston :http://rawfullyorganic.com ). The content is always a surprise, and this week I came back home with a huge, Texas size, watermelon, which must have weighted around 20 lbs, no kidding! I should have taken a photo :+(
We drank watermelon juice, ate watermelon as an appetizer, as a dessert, as a snack, in a salad with feta, but half of it was still in our fridge and our enthusiasm for this fruit was starting to dwindle seriously… So, I surfed the internet looking for new ideas and I discovered that Greeks make a cake with watermelon: the "Karpouzopita".
INGREDIENTS: (for 6)
350g of watermelon pulp (that I obtained by squeezing approximately 2.5 lbs of watermelon- see below)
3/4 cup flour
1/8 tsp cinnamon (or more, according to taste)
1 tbs olive oil
2 tbs liquid honey
sesame seeds
8″ X 8″ square pan or smaller.
METHOD:
Cut the watermelon in chunks and remove the seeds.
Squeeze the watermelon chunks in your hands to extract the juice.
Transfer the pulp in a colander and let it drain for a few hours. (Save the juice for a nice drink)
Crush the pulp. (Do not try to make it smooth, I believe it would be nice to still have small pieces of watermelon in the cake).
Add flour, oil and honey to the pulp.
Slightly grease your pan and sprinkle the bottom with sesame seeds before pouring the batter. Sprinkle sesame seeds on top of the batter as well.
Bake in the oven preheated to 400F (200C) for approximately 45 min.
It's gonna smell SOOO GOOD in your kitchen!
We enjoyed the cake at ambient temperature with some fresh watermelon and sprinkled with honey. Yum!
---
---