Mousse à la fraise – Strawberry mousse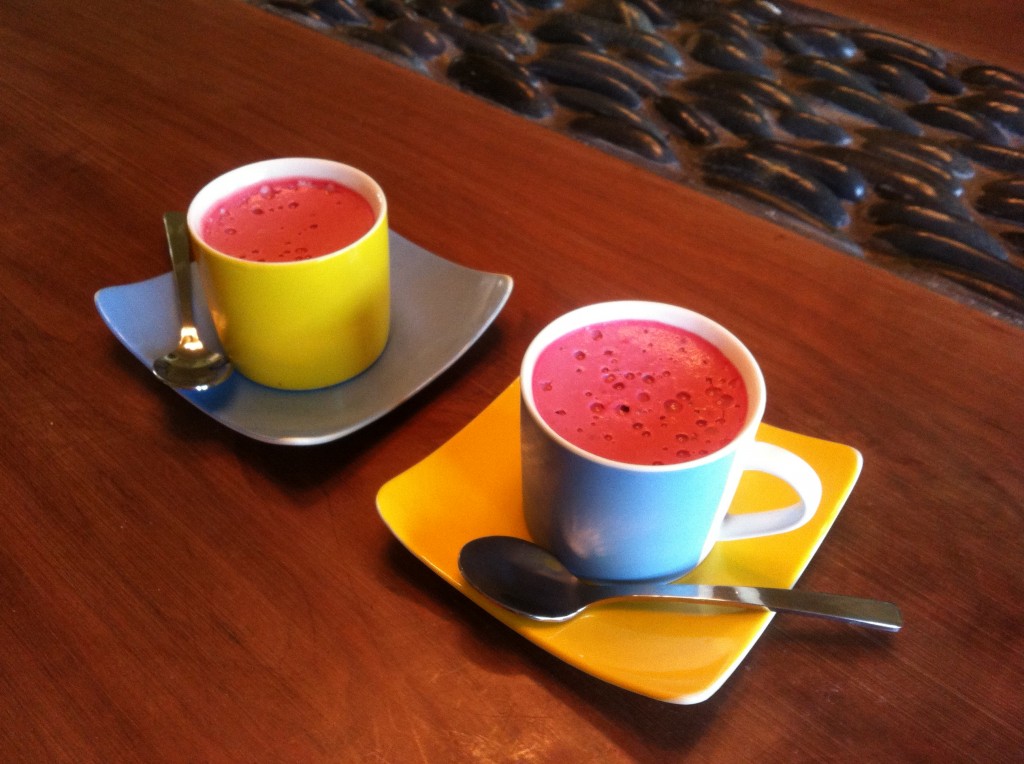 Scroll down for English version
Hier soir, j'étais de sortie: atelier "baguettes" chez une copine. Du coup mon petit mari recevait son copain Franck, avant une petite virée au "Shakespeare", un pub très (très) local et très (très) typique, comme son nom ne l'indique pas! C'est d'ailleurs une sortie à ne pas manquer pour mes amis expatriés à Houston, avec de la musique live quasiment tous les soirs, principalement du blues.
En parfaite femme au foyer, j'ai préparé un joli petit dessert fruité, low-cholesterol, de mon invention (inspirée il est vrai par la recette de crème au chocolat que je fais souvent. Promis, je la publierai à l'automne.) Laurent et Franck ont beaucoup aimé, je viens de goûter à midi et effectivement c'est une réussite!
INGREDIENTS (pour 6 verrines )
– 1/2 paquet de Tofu soyeux (6oz/150g) – non OGM, SVP
– 300g de fraises
– 1 ou 2 CàS de sucre roux
– 1 filet de jus de citron
– 1 pincée de sel
– 1g (environ 1/4 teaspoon, 1/2 càc) d'agar-agar en poudre
– facultatif: un trait de grenadine
METHODE:

– Mettre les fraises dans une casserole avec 2 CàS d'eau et le sucre et faire cuire quelques minutes, jusqu'à ce que les fraises soient bien ramollies et aient rendu du jus.
– Transférer les fraises dans un mixer (ou un blender) et conserver le jus dans la casserole.
– Ajouter le tofu, la pincée de sel, le jus de citron dans le mixer.
– Mixer jusqu'à ce que le mélange soit bien lisse et crémeux.
– Ajouter l'agar-agar au jus des fraises et le dissoudre. Faire frémir 30 secondes.
– Ajouter le jus au contenu du mixer, éventuellement le trait de grenadine. Mixer à nouveau.
– transférer dans des verrines et mettre au froid quelques heures avant de servir.
Note: la quantité de sucre et de grenadine est à doser selon votre goût.


———————————————————————————————————————————————————–
Yesterday evening, I was at a friend's to teach a few ladies how to make "baguettes bread". My husband was happy to have diner with his friend Frank and then go to the "Shakespeare", a local (very local) pub, where you can listen to live blues almost every evening.
Since I am working towards getting the award of "perfect homemaker" , I created a colorful, low-cholesterol dessert (inspired from a chocolate pudding I make very often, I will publish its recipe later on.)
INGREDIENTS (for 6 small servings)
– 1/2 package (6oz/150g) of organic, non GMO silken tofu.
– 300g strawberries
– 1 tbs cane sugar
– 1 tsp lemon juice
– a pinch of salt
– 1/4 tsp agar-agar powder
– optional: a dash of grenadine syrup*
METHOD:

– Put the strawberries in a saucepan with 1 tbs of water and sugar, and simmer until the strawberries are soft and a strawberry juice forms.
– Transfer the strawberries in a mixer (or blender) and keep the strawberry syrup in the saucepan.
– Add the tofu, salt, lemon juice to the mixer and puree until smooth and creamy.
– Dissolve the agar-agar powder in the strawberry juice. Bring to a boil for 30s.
– Add the strawberry juice and a dash of grenadine syrup (optional) to the mixer. Mix thoroughly again.
– Transfer into small cups or glasses and chill in the fridge before serving.
Note: the quantity of sugar and grenadine syrup is to be adjusted depending on your taste.
* grenadine syrup: it is a red fruit syrup made of a mix of berries (very difficult, maybe impossible, to find in Houston, I flew mine back from France).

---
---