Biscotti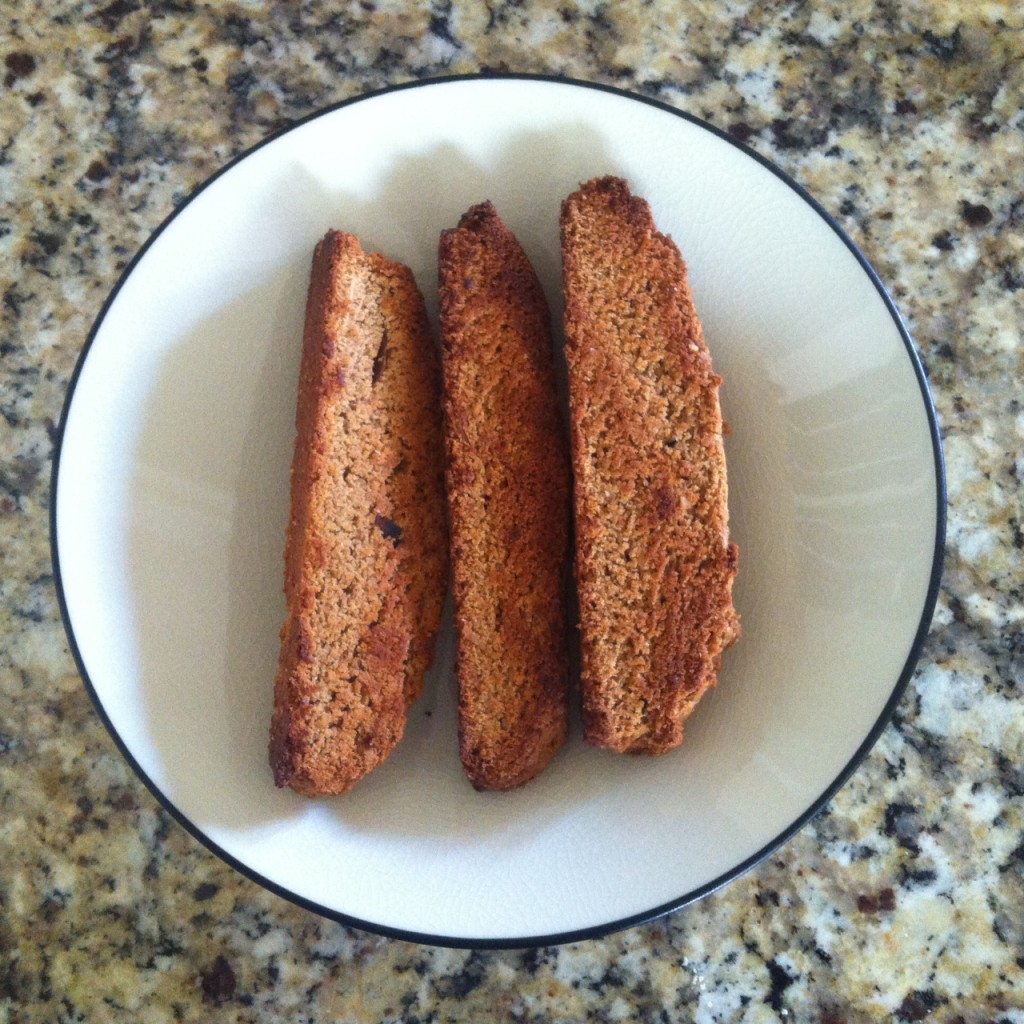 Biscotti Café-Amandes, à la farine complète.
Jeudi, c'était "cercle de lecture"… parfois, je me dis qu'on pourrait le rebaptiser "soirée dégustation", tant nous nous régalons des petits plats, fromages et autres vins apportés par chacune. Que voulez-vous,  il faut bien fournir de l'énergie à nos neurones ! Au programme, "Les hirondelles de Kaboul" de Yasmina Khadra, un très bon livre que je recommande, mais que je n'aurais sûrement pas lu s'il n'y avait eu l'objectif d'en discuter ensemble. Très dur et déprimant…
Ce mois-ci, j'étais en charge du dessert, et ai préparé une glace à la fraise accompagnée de biscotti maison. Mes invitées m'ont demandé la recette des biscotti, c'est bon signe!
Ma réalisation est largement inspirée d'une recette trouvée dans le livre "Whole grain vegan baking" (lien sponsorisé) que j'ai acheté récemment. Les livres de recettes végétariennes sont une bonne source d'idées pour éviter les graisses animales (beurre, crème…). De plus,  je n'avais pas tous les ingrédients sous la main, j'ai donc réalisé une version "à ma façon".
INGREDIENTS  (pour environ 15 Biscotti):
300g (2 1/2 cups) de farine de blé complète
105g (3/4 cup) de noix de cajou, grillées ou crues  (en fait j'ai fait un mélange noix de cajou et noix de macadamia, en fonction de ce que j'avais dans mon placard!)
144g (3/4 cup) de sucre de canne
2 1/2 tsp de café en granules
1/2 tsp de sel fin
1/2 tsp de cannelle (j'ai drastiquement réduit la cannelle par rapport à la recette du livre qui proposait 1 1/2 tsp!)
1 tsp levure chimique
1/4 cup (60ml) d'huile végétale au goût neutre
180g (3/4 cup) de yaourt
1 1/2 tsp d'extrait de vanille
1 tsp d'extrait d'amandes
une poignée d'amandes effilées ou non (facultatif)
REALISATION:
Préchauffer le four à 350F (180 C). Recouvrir une plaque de papier cuisson.
Combiner la farine, les noix de cajou, le sucre et les granules de café dans un blender ou un mixer, jusqu'à ce que les noix de cajou soient réduites en poudre fine.
Ajouter le sel, la cannelle, la levure et mélanger.
A ce stade, je transfère le mélange dans le bol du Kitchen Aid. Ajouter l'huile, le yaourt, les extraits de vanille et d'amande, et mélanger avec le batteur plat (la feuille) jusqu'à ce que la pâte se forme.
Ajouter les amandes et mélanger doucement, pour les répartir dans la pâte.
Etaler la pâte à la main sur la plaque de cuisson pour former un rectangle de 25X13cm environ.
Cuire 30min, jusqu'à ce que la pâte soit dorée sur les bords et en surface, et ferme à coeur. Sortir du four et baisser la température à 325F (170C).
Laisser refroidir sur une grille.
Après refroidissement couper dans la largeur, avec un couteau denté,  des tranches d'environ 1.3 cm d'épaisseur.
Placer les tranches sur le côté et les remettre au four pour une dizaine de minutes, puis les tourner et cuire l'autre côté une dizaine de minutes supplémentaires, jusqu'à ce que les deux côtés soient dorés et les biscuits croquants.
Laisser refroidir sur une grille et conserver à l'abri de l'humidité (étape la plus difficile de cette recette quand on habite à Houston!)
Variante: remplacer les parfums [café/extrait de vanille/extrait d'amande] par 3 tsp de fleur d'oranger. Très bon aussi!
Whole wheat coffee-almond biscotti
Thursday evening was our "Book Club" meeting. Sometimes, I think we could rename it "Food Club "! The dishes, cheeses, wine that each of us brings to share are so delightful! Well, our hard working brains do need some fuel! This month, we read the book  "The swallows of Kabul" by Yasmina Khadra, a very interesting book that I recommend, but that I most likely wouldn't have read if  I didn't have the objective to discuss it. Extremely sad and depressing…This time, I was in charge of dessert, and I made a strawberry ice cream with coffee-almond Biscotti. My friends asked for the biscotti recipe, so here it comes!My biscotti are inspired by a recipe from the book "Whole grain vegan baking" (affiliate link) that I recently bought. I am not a vegetarian, but vegetarian cook books are a good source of ideas for "low cholesterol" recipes as they don't use butter or cream. Also, I didn't have all the ingredients that the original recipe called for, so I modified it as follows:
INGREDIENTS  (for app. 15 Biscotti):
300g (2 1/2 cups) whole wheat flour
105g (3/4 cup) dry-roasted or raw cashews  (actually, I used part cashews and part macadamia nuts, and it worked well)
144g (3/4 cup) cane sugar
2 1/2 tsp instant-coffee granules
1/2 tsp fine sea salt
1/2 tsp cinnamon  (the original recipe called for 1 1/2 tsp!)
1 tsp baking powder
1/4 cup (60ml) neutral-flavored vegetable oil
180g (3/4 cup) yogurt
1 1/2 tsp vanilla extract
1 tsp almond extract
a handful of sliced or whole almonds (optional)
DIRECTIONS:
Preheat the oven to 350F (180 C). Line a baking sheet with parchment paper.
Combine the flour, cashews, sugar, and coffee granules in a food processor or a blender. Process until the cashews are finely ground.
Add the salt, cinnamon, and baking powder, pulsing a few times just to combine.
Transfer to a Kitchen Aid bowl. Add the oil, yogurt and extracts and mix with the flat beater until a dough forms.
Add the almonds and stir gently, to evenly distribute throughout the dough.
Pat the dough down into a rectangle of 10X5 inches (25 X 13 cm). Bake for 30min, until the dough is golden brown around the edges and on top and firm in the center.
Remove from the oven and lower temperature to 325F (170C).
Let cool on a wire rack. Once cool, use a serrated knife to cut widthwise into approximately 1/2 inch (1.3 cm) thick slices.
Place the cut slices on their side on the baking sheet and bake for 10 min, then flip the slices and bake for 10 min longer until both sides are light golden brown, or a bit longer for crispier biscotti.
Let cool on a wire rack. Store away from humidity (which, in Houston, might be the most difficult part of the recipe!)
 Option: replace the combination of [coffee/vanilla extract/almond extract] with 3 tsp of orange blossom water. Yummi!
---
---