Apéro Pastèque – Watermelon drink
SANS ALCOOL, FACILE ET RAPIDE!   ALCOHOL FREE, QUICK AND EASY!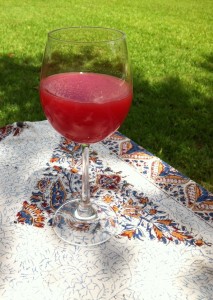 Lundi midi, après une belle ballade le long du bayou, les marcheuses de Houston Accueil se sont retrouvées pour un repas en plein air. J'ai eu envie de proposer à mes amies sportives un petit apéro que nous pourrions boire sans remords, coloré, délicieux et bon pour notre santé!
INGREDIENTS:
Pastèque sans pépins
Le jus d'un demi citron (ou citron vert)
4-5 feuilles de menthe (ou basilic)
METHODE:
Couper des morceaux de pastèque et remplir le blender aux 3/4.
Ajouter le jus de citron, les feuilles de menthe.
Mixer !
Vous pouvez ajouter quelques glaçons dans le blender, ou mettre au frais avant dégustation.
—————————————————————————————————————————————————————————————————————
Monday, after a nice walk along the bayou with my friends from Houston Accueil, we enjoyed a picnic lunch. Everybody brought a dish (lots of sweets!) and I decided to prepare a pretty, colorful, tasteful, guilt-free, healthy drink that we could enjoy without any second thoughts.
INGREDIENTS:
Seedless watermelon
Juice from 1/2 lemon (or lime)
4-5 mint leaves (or basil)
METHOD:
Fill 3/4 of your blender with chunks of watermelon.
Add the lemon juice, mint leaves.
Blend everything!
Feel free to add ice cubes in the blender, or chill in the fridge before drinking.
---
---