Tarte aux figues fraîches – Fresh figs tart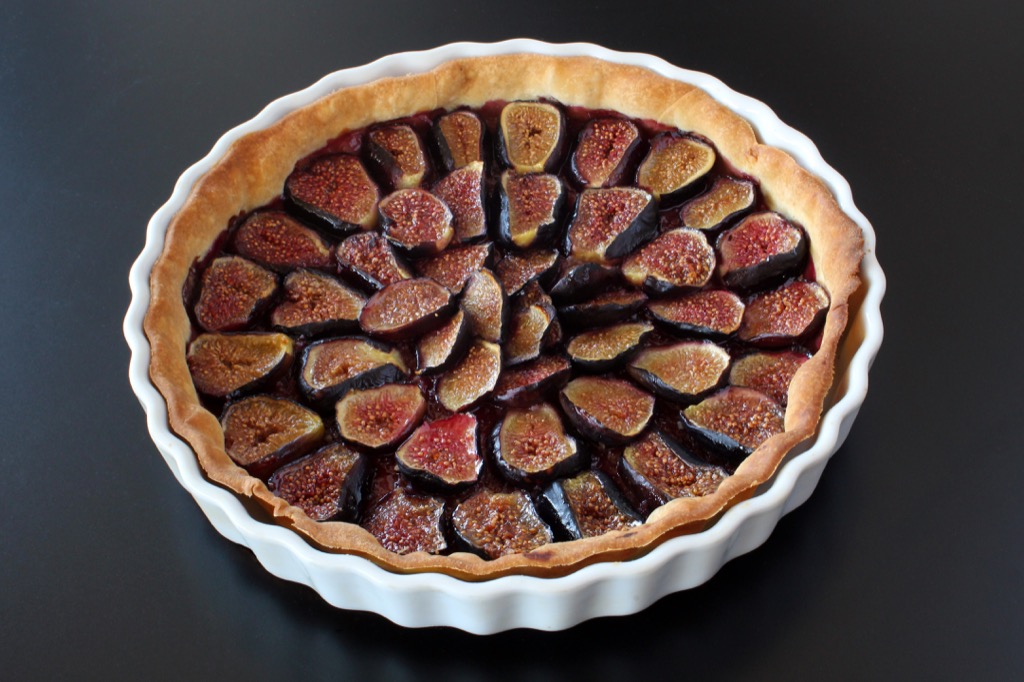 Please scroll down for English
Après les mûres, les figues! Qu'ils sont bons ces fruits de fin d'été! En ce moment en Californie, on trouve très facilement à acheter de délicieuses figues et après en avoir mangé nature à profusion, je n'ai pas pu résister au plaisir de préparer la première tarte aux figues de ma vie (il faut dire qu'en Bourgogne la figue n'est pas vraiment un produit local).
Une tarte toute simple, comme je les aime. Pour un peu, je me serai contentée de poser les fruits sur la pâte mais j'ai quand même fait un petit effort: de peur que la pâte soit détrempée par le jus des figues mûres à point, j'ai déposé un mélange poudre d'amandes/maïzena/sucre roux sur le fond de tarte.
INGREDIENTS (4 personnes)
1 pâte à tarte (par exemple celle-ci)
1 cuil. à soupe bombée de poudre d'amandes
1 cuil. à soupe rase de Maïzena
1 cuil. à soupe rase de sucre de canne roux
500g de figues
Miel
METHODE:
Préchauffez votre four à 200°C.
Etalez la pâte et disposez la dans un moule à tarte. Piquez la pâte.
Mélangez la poudre d'amandes, le sucre et la Maïzena dans un bol.
Lavez puis séchez les figues. Retirez le pédoncule puis coupez chaque figue en 3 tranches un peu épaisses.
Répartissez le mélange amandes sucre et Maïzena sur la pâte.
Disposez artistiquement les figues sur la pâte et arrosez de miel.
Mettez à cuire une trentaine de minutes.
Laissez refroidir sur une grille.
---
After the blackberries, here come the figs! I like so much those "end of summer" fruits!
At the moment in California, delicious figs are readily available, wether you go to the farmers market or at Trader Joe's. Our family enjoyed a lot of them raw, but I was not able to resist the pleasure to bake my first ever fig tart.  (Do I need to tell you that figs are not a local product in Burgundy?).
A quite simple tart, as I like them. I could simply have placed the fruits on the crust but I was worried the tart would be soggy because the figs were fully ripe, so I decided to put a thin layer of almond powder/cornstarch/sugar, underneath the fruits, to absorb the juice.
INGREDIENTS (4 servings)
1 tart crust (for example, this one)
1 heaping Tbs of almond powder
1 Tbs Cornstarch
1 Tbs cane sugar
1 Lb figs
Honey
DIRECTIONS:
Preheat the oven to 400F.
Roll the dough and transfer it to a tart pan. Using a fork, pierce the dough.
In a bowl, mix the almond powder, cornstarch and cane sugar.
Rinse and dry the figs. Remove the stems, then cut each fig in 3 thick slices.
Spread the almond/cornstarch/sugar mixture on the crust.
Place the figs artistically (!) on top of the tart and drizzle with the honey.
Place in the oven for 30 min.
Let the tart cool down on a wire rack.
---
---