Moulinée "Faut pas gâcher" aux cosses de petits pois – English pea pods soup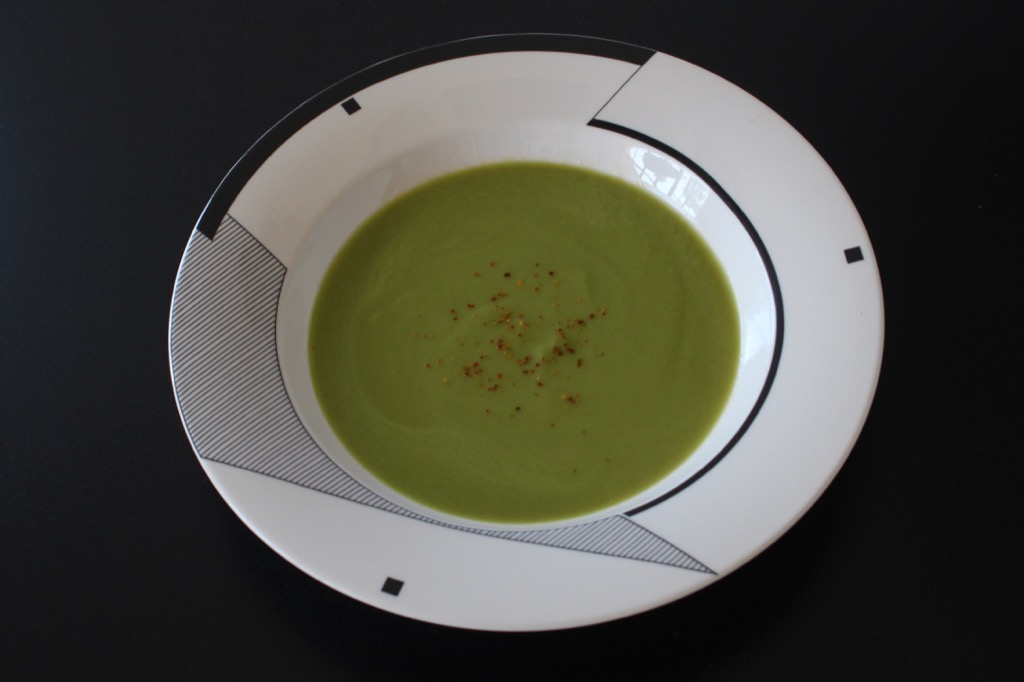 Et oui je suis Bourguignonne… fan de l'A.J.A (dans ma jeunesse), j'ai même un autographe signé de Guy Roux obtenu sur le terrain d'entraînement du stade de l'Abbé Deschamps. OK… je sens que je perds mon public là… Tout ça pour dire que chez moi "Faut pas gâcher". Allez, on se fait plaisir,  cliquez sur le lien pour une petite dose de nostalgie avec Guy Roux aux  "Guignols de l'info": GuyRoux
Revenons, à nos petits pois. J'ai récemment acheté des petits pois frais chez le primeur du quartier, "Crystal Springs Produce" et me désolais de toutes ces belles cosses tendres et printanières qui allaient terminer au compost. Il me semblait bien me rappeler qu'il était possible de les utiliser dans une soupe. Merci internet, après une petite recherche j'ai décidé d'essayer la recette proposée sur le site "Chocolate and Zucchini". Mon adaptation personnelle: encore plus simple, pas d'herbes ni de Tabasco, juste un peu de piment d'espelette, et surtout j'ai servi la soupe chaude et non glacée. (A tester une prochaine fois…  il fait encore parfois frais en Mai au nord de la Californie)
INGREDIENTS: (pour 3 personnes)
huile d'olive
1/2 oignon émincé
1 belle gousses d'ail émincée
des cosses de petits pois frais (j'avais acheté environ 800 g de petits pois non écossés)
1 c.s. de vin blanc sec
75 cl de bouillon de volaille
muscade
sel, poivre
piment d'espelette
ACCESSOIRES indispensables:
Mixeur plongeur ou blender
Moulin à légumes ou passoire très fine (en fait, j'ai utilisé mon moulin à coulis)
INSTRUCTIONS:
Retirez les tiges et les fils des cosses de petits pois, nettoyez les cosses.
Dans une grande cocotte (les cosses prennent beaucoup de place!), faites chauffer l'huile d'olive et ajoutez l'oignon. Faites fondre quelques minutes, puis ajoutez l'ail. Faites revenir une minute de plus. Ajoutez les cosses de petits pois, salez (pas trop, car vous allez ensuite ajouter le bouillon) et faites cuire quelques minutes en remuant.
Déglacez avec un peu de vin blanc, laissez cuire encore 1-2 minutes avant d'ajouter le bouillon chaud, amenez à ébullition, baissez le feu et couvrez, et laissez cuire une demi heure (il faut bien entendu faire cuire jusqu'à ce que les cosses soient tendres).
Laissez refroidir un peu, puis passez la soupe au mixeur plongeant (ou au blender). Vous n'arriverez pas à faire disparaître les fibres et fils, c'est normal!
Il vous faut maintenant sortir votre accessoire magique, le moulin à légumes de votre grand-mère. Impeccable pour retirer les fibres indésirables!
Mettez-vous au dessus d'un saladier pour passer la soupe et récupérer le liquide débarrassé des fibres. Ajoutez une pincée de muscade, du poivre à votre goût. (Si vous n'avez pas de moulin à légume, une passoire bien fine peut aussi faire l'affaire, en pressant avec une cuillère pour extraire le liquide, ou un moulin à coulis.)
Servez chaud avec une pincée de piment d'Espelette dans chaque assiette.
Crédits: inspiré par une recette de Clotilde Dusoulier sur le blog "Chocolate and Zucchini"
---
I come from Burgundy in France. A small village in the countryside, where kids were told to finish their plates and not throw away food (my grand-parents' generation lived through WWII, and not wasting anything was still very ingrained in my education).
I recently bought some very fresh English peas from a local shop (Crystal Springs Produce), and you will understand that I HAD TO use the pods. I remembered reading some time ago about using the pods in a soup. Thank you Mr Internet, after a quick search I decided to try the recipe described on the blog "Chocolate and Zucchini". I didn't modify the recipe, except that I replaced the Tabasco by  a dash of "Espelette pepper", and didn't add any fresh herbs, and I served the soup hot instead of chilled (next time maybe… some nights are still chilly in May in Northern California)
INGREDIENTS: (3 servings)
Olive oil
1/2 onion, diced
a large garlic clove, minced
Fresh English pea pods (I bought approximately 1,5 to 2 lb of fresh peas, and used all the pods)
1 Tbs dry white white
3 cups chicken stock
nutmeg
pepper
piment d'Espelette (a red chilli pepper powder from Southwest of France)
ACCESSORIES:
Plunger Mixer or blender
Food mill with fine sieve
DIRECTIONS:
Remove the stems and hard threads of the pods, rinse the pods.
In a large pot (pods take a lot of space!), heat the olive oil and add the onion. Cook the onion for a few minutes, until softened, then add the garlic. Cook one more minute . Add the pea pods, and cook for a few minutes, stirring.
Deglaze with white wine, let cook another 1-2 minutes before adding the hot chicken stock, bring to a boil, lower the heat, and simmer covered for half an hour (until pods are soft).
Let the preparation cool down a bit, then mix the soup with an immersion blender (or in a blender). You will not manage to remove completely fibers and threads, it is normal!
Now comes the time to take out your magic accessory: your Grand-Ma's food mill . The perfect accessory to remove the unwanted fibers!
Place the mill on top of a salad bowl to strain the soup and retain the liquid cleared of fibers. Add a pinch of nutmeg and pepper to your taste.
(If you don't have a food mill, a fine mesh-strainer can do:  you will have to press with a spoon to extract the liquid part.)
Sprinkle a pinch of Espelette pepper in every plate and serve hot.
Source: inspired by a recipe published by Clotilde Dusoulier, author of the blog "Chocolate and Zucchini"
---
---