Entremets aux Kakis et au Rhum – Persimmon and Rum Pudding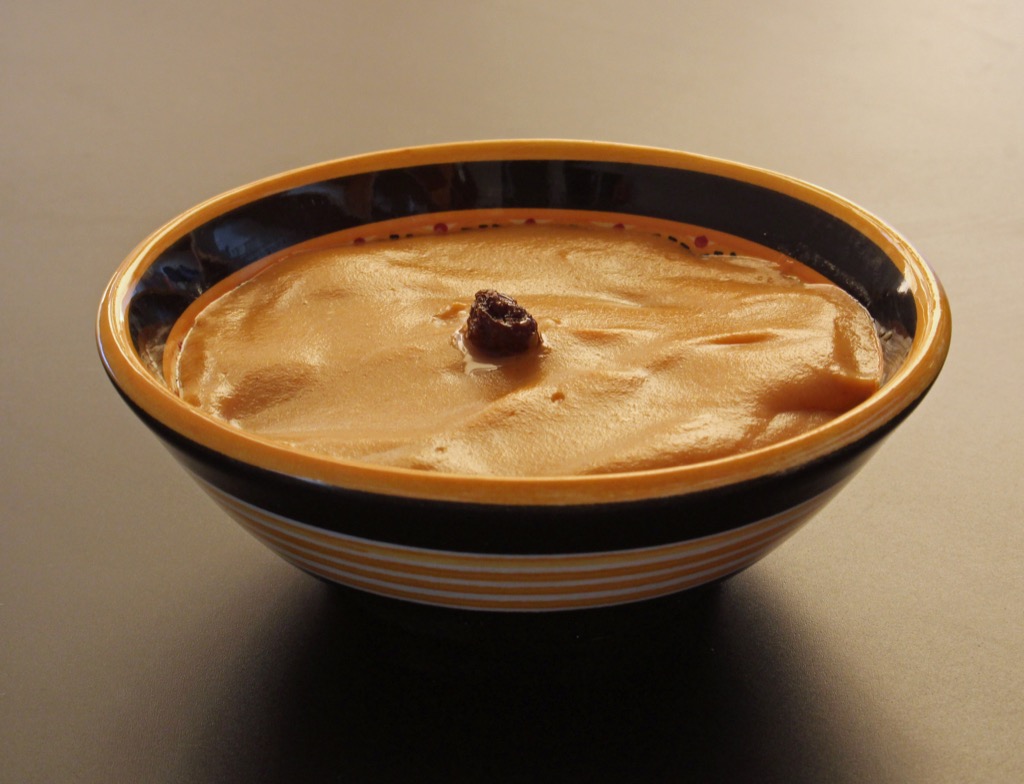 Scroll down for English
Le kaki semble être un fruit très populaire en Californie, on en trouve sur tous les étals de primeurs à l'automne.  Nos amis Robert et Annick ont un plaqueminier (= arbres à kakis, je viens d'apprendre le nom, ça frime!) dans leur jardin et nous en ont apporté le week end dernier. Mon idée de départ était de faire de la confiture, mais finalement ces kakis sont très bons à croquer crus, et puis je me suis souvenue d'un entremets que j'avais fait il y a quelques années et dont je gardais un très bon souvenir. J'en ai aussi déshydraté quelques-uns pour manger en randonnée, du coup, pas sûr qu'il m'en reste à transformer en confiture!
INGREDIENTS: pour 4 ramequins
3 kakis (la variété douce, pas la variété à chair astringente)
1 g d'agar-agar en poudre (1/4 càc environ)
1 CàS de farine de riz
1 CàS d'huile (d'olive pour moi, ou autre)
1 petite CàS d purée d'amande
facultatif: 1 CàS de sucre (cette fois-ci j'ai omis de sucrer car mes kakis étaient bien mûrs)
30 g de raisins secs
rhum brun (quantité suffisante pour faire macérer les raisins secs)
METHODE:
Si possible quelques heures à l'avance: Mettez les raisins à macérer dans du rhum (ou du rhum + eau, selon votre goût)
Epluchez à l'économe les kakis, détaillez-les en morceaux, que vous mettrez dans une casserole avec 2-3 CàS d'eau. Faites les cuire à l'étouffée, 15 min environ.
Versez les kakis cuits dans un blender. Mixez pour les réduire en une purée lisse.
Préparez une crème de riz: dans une petite casserole, délayez 1 CàS de farine de riz dans 10 cl d'eau. Ajoutez 1 CàS d'huile. Amenez à ébullition en remuant, jusqu'à ce que la crème épaississe.
Ajoutez alors l'agar-agar et laissez frémir 1 min.
Versez dans le blender la crème de riz, la purée d'amandes, éventuellement le sucre.
Egouttez les raisins secs, et versez le rhum dans le blender.
Mixez bien à nouveau.
Ajoutez les raisins secs au contenu du blender. Mélangez avec une spatule pour les répartir mais ne mixez surtout pas!
Versez dans 4 ramequins et réservez au réfrigérateur au moins 2 heures.
---
Persimmons seem to be a very popular fruit in California, in autumn every greengrocer offers them.  Our friends Robert and Annick grow a persimmon tree in their backyard and brought us persimmons last weekend. My first idea was to make some jam, but then I realized I enjoyed eating them raw and I also wanted to taste again a persimmon pudding I had prepared a few years ago. I also dehydrated some to eat as a snack when we go for hikes. Conclusion: not sure at all if I will have any left to transform into jam!
INGREDIENTS: for 4 small bowls

3 persimmons (the sweet variety, not the variety with astringent flesh)

1/4 tsp of agar-agar powder

1 Tbs white rice flour

1 Tbs oil (I used olive oil,  or other oil)

1 TbS almond butter

optional: 1 Tbs sugar (this time I omitted the sugar because my persimmons were ripe and very sweet)

1/4 cup raisins (30g) 

Dark rum (sufficient amount to  soak the raisin into the rum)
DIRECTIONS:
A few hours ahead, if possible: soak the raisins in rum (or rhum + water, depending on your preference)
Peel the persimmons, detail them in pieces, which you will put in a pan with 2-3 TbS of water. Cover the pan and simmer for approximately 15 min.
In a small pan, mix 1 TbS rice flour with 10 cl of water. Add 1 TbS of oil. Bring to a boil while stirring, until the mixture thickens.
Add the agar-agar to the mixture and simmer for 1 min.
Pour this preparation into the blender with the persimmon puree, then add the almond butter, the sugar (optional).
Strain the raisins, pour the rum into the blender. Mix thoroughly .
Add the raisins to the content of the blender. Stir with a spoon to distribute them but do not blend them!
Pour into 4 small bowls and reserve in the fridge for a minimum of 2 hours.
---
---