Poulet au "slow cooker", sauce soja tomate miel – Slow cooked Chicken, soy tomato and honey sauce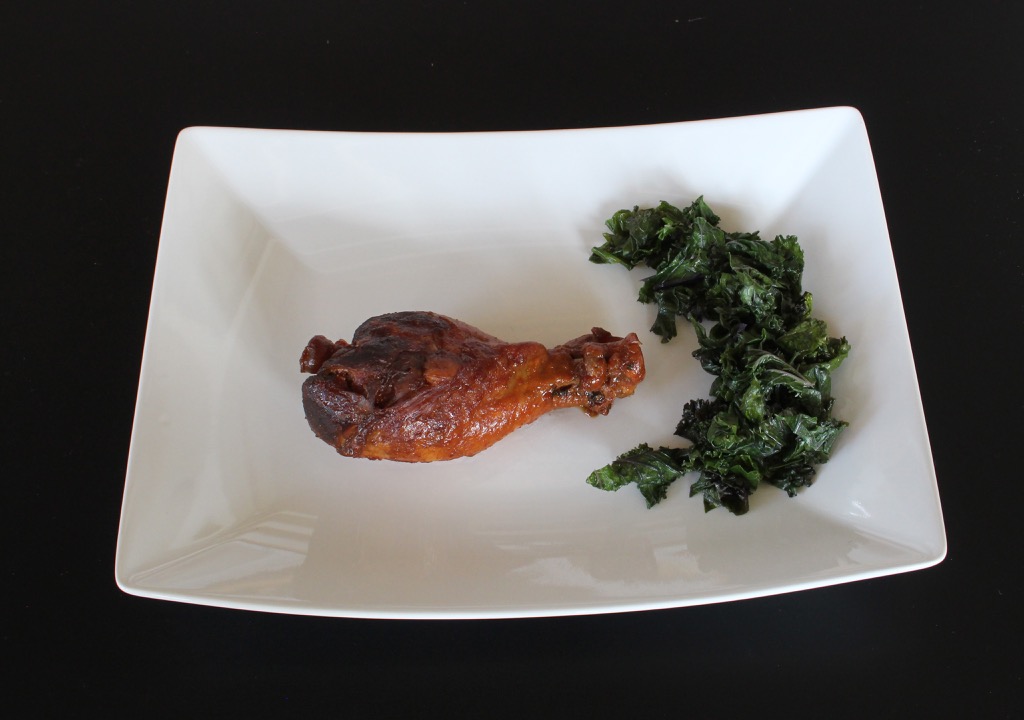 Please scroll down for English
Voici une recette qui ne demande pas beaucoup de travail car elle est préparée dans un "slow cooker" (en français québécois:  une mijoteuse électrique… un appareil qui n'est pas très répandu en France et que j'ai découvert aux USA. J'en ai acheté une d'occasion l'année dernière pour 10$, histoire de tester, et je dois avouer que j'ai été conquise: c'est tellement pratique l'hiver pour préparer des plats mijotés et des soupes. La cuisson se fait à feu très doux, éventuellement en votre absence.
En résumé: vous mettez les ingrédients dans la cocotte, vous partez faire ce que vous avez à faire, et selon la recette et la puissance à laquelle vous réglez la cocotte, vous revenez 4 à 8h plus tard et vous n'avez plus qu'à vous mettre les pieds sous la table! Cool, non?
INGREDIENTS:
5 cuisses de poulet
2 càc maizena
Sauce:
125ml sauce soja
125ml sauce tomate
60ml miel
1 cuiller à soupe de vinaigre balsamique
3 gousses d'ail pressées
basilic ou autre herbe aromatique (thym…)
poivre
INSTRUCTIONS: 10 min de préparation + 4.5 heures de cuisson
Huilez légèrement la cocotte.
Disposez les cuisses de poulet.
Préparez la sauce en mélangeant les ingrédients dans un bol.
Versez la sauce sur le poulet.
Mettez le couvercle sur la cocotte et faites cuire à faible intensité ("low") pendant environ 4 heures.
30 min avant de servir: délayez 2 cuillers à café de maïzena dans 2 cuillers soupe d'eau froide et ajoutez à la sauce.
Faites cuire à découvert 15 à 30 min, pour que la sauce épaississe.
Servez par exemple avec du riz (j'ai accompagné le poulet de chou kale sur la photo, pour faire joli et équilibré, mais dans la vraie vie, j'aime bien accompagner de riz!)
---
Today comes a chicken recipe prepared in a slow cooker. Nothing amazing for you, my American friends, but I have to let you know that electric slow cookers are a rarity in France! It's a shame, they really are so convenient to prepare comforting winter dishes.
INGREDIENTS:
5 chicken thighs
2 tsp cornstarch
Sauce:
1/2 cup soja sauce
1/2 cup tomato sauce
1/4 cup honey
1 Tbs balsamic vinegar
3 garlic cloves, pressed
basil or other herb (thyme…)
pepper
DIRECTIONS: 10 min prep time + 4.5 hours cooking time
Lightly oil the slow cooking dish.
Lay the chicken thighs into the bottom.
Whisk the sauce ingredients in a bowl, and pour over the chicken.
Cook on low for 4 hours.
30 minutes before serving: make a slurry with 2 tsp corn starch and 2 TBs water.
Add the slurry to the sauce and cook on high, without covering,  for 30 minutes, so that the sauce thickens.
Serve with a side of rice (on the picture, I served with a side of kale, to make the dish look healthy and pretty, but in real life, I love rice!)
---
---