LA brioche de Christine au Kitchen Aid- Christine's brioche in a Kitchen Aid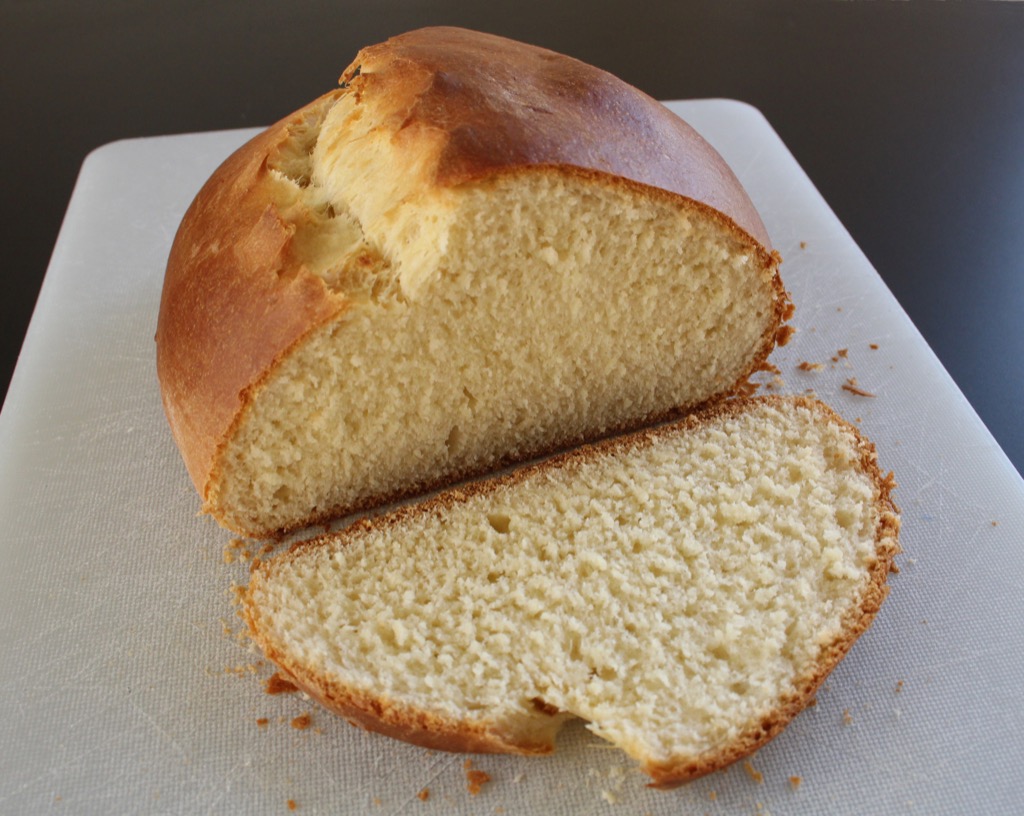 Scroll down for English
***ATTENTION TUERIE! exceptionnellement voici une recette qui n'est ni "légère" ni "santé" ***
Quasiment toutes les semaines, je fais de la brioche pour le goûter de mon fils (et nous, pauvres parents qui avons passé l'âge du goûter, nous arrivons généralement à grappiller quelques tranches le lendemain au petit déjeuner …) Les alliances beurre/crème fraîche et vanille/fleur d'oranger rendent cette brioche unique et irrésistible…. Je vous aurais prévenus!
Cette recette est celle de ma copine Christine, qui la présente en vidéo sur YouTube.
Comme je sais presque faire cette brioche les yeux fermés, je ne regarde plus la vidéo. Je me sers de notes gribouillées sur une feuille de papier qui a connu des jours meilleurs… il était donc  temps d'en sauvegarder une copie sur mon blog.
Il y a quelques petites adaptations par rapport à la recette originale, dont:
le lait écrémé, le beurre salé,  car c'est ce que j'ai en général dans mon frigo!
l'utilisation d'un pétrin KitchenAid au lieu d'une machine à pain, car je n'en ai pas!
Je vous recommande vraiment de regarder la vidéo de Christine pour apprendre à faire cette EXCELLENTE  brioche : brioche en vidéo par Christine.
INGREDIENTS: pour 2 grosses brioches (se congèle très bien)
– 100g de lait entier ou 90g de lait écrémé
– 80g de beurre salé, de préférence à température de la pièce, coupé en petits morceaux
– 70g de crème fraîche
– 2 oeufs entiers
– 100g de sucre
– 1 CàS de vanille liquide
– 1 CàS d'eau de fleur d'oranger
– 550g de farine blanche
Préparation de la levure:
– 30 g d'eau
– 1/2 cc sucre
– 2.5 cc levure de boulanger déshydratée
Mélangez et laissez gonfler 10 min
Dorure:
1 jaune d'oeuf + pincée de sel + pincée de sucre
ou par fainéantise: juste du lait (mais la brioche sera moins dorée – voir ma photo)

REALISATION
Mettez tous les ingrédients (jusqu'à la farine) dans le bol, dans l'ordre indiqué. Ajoutez la levure ayant gonflé.
Pétrissez à vitesse 1 d'abord, puis lorsque la boule est formée, pétrissez à vitesse 2 environ 15 min.
Couvrez d'un linge humide et laissez lever 2-3 heures (le pâton doit doubler de volume environ).
Versez la pâte sur le plan de travail légèrement fariné, coupez le pâton en 2.
Formez 2 brioches ovales, que vous déposerez sur une plaque de cuisson.
Laissez pousser à nouveau dans un endroit tiède,  45 min à 1h.
Badigeonnez les brioches avec la dorure et incisez profondément.
Enfournez à 340 F, 26 à 28 min.
Laissez refroidir sur une grille.
---
*** WATCH OUT ! VERY ADDICTIVE! This recipe is neither "Light" nor "Healthy" ***
Almost every week, I make brioche for my son (and we, poor parents who are too old to have a  snack at 4:00pm , we usually come to pick a few slices the next day at breakfast …) What makes this brioche unique and irresistible are the use of butter AND crème fraîche, and the addition of vanilla AND orange blossom water.
My girlfriend Christine created this recipe, and she presents it in a video on YouTube.
As I almost could prepare that brioche with my eyes closed, I do not need to watch the video anymore. I use scribbled notes on a sheet of paper that has had better days … so it was time to save a copy on my blog.
I made a few minor adaptations from Christine's recipe:
I use skim mil and salted butter, because this is what I usually have in my fridge
I use a KitchenAid kneader instead of a bread machine, because I don't have one!
If you understand some French (and even if you don't!) please refer to Christine's video to learn how to make this EXCELLENT brioche.
INGREDIENTS: for 2 large brioches (you can freeze one!)
please note that the quantities have to be measured very precisely for this recipe, you will need a scale to measure.
– 100g of whole milk or 90g of skimmed milk
– 80g salted butter, preferably at room temperature, diced
– 70g of "crème fraîche" (technically, you could substitute sour cream but it tastes different)
– 2 whole eggs
– 100g of sugar
– 1 tablespoon of liquid vanilla
– 1 tablespoon of orange blossom water
– 550g of unbleached white flour
Yeast mixture:
– 30 g of water
– 1/2 tsp sugar
– 2.5 tsp dehydrated yeast
Mix the ingredients and let the yeast react (takes approximately 10 min)
Glaze:
1 egg yolk + pinch of salt + pinch of sugar
or because I am lazy: just milk (but the brioche will be less golden – see my picture)
DIRECTIONS:
Put all the ingredients (up to the flour) in the bowl, in the order shown. Add the yeast mixture that has swelled.
Knead at speed 1, then when the ball is formed, knead at speed 2 about 15-20 min.
Cover with a damp cloth and let rise 2-3 hours (the dough should double in volume).
Pour the dough on a slightly floured work surface, cut the dough in 2 halves.
Form 2 oval buns and place them on a baking sheet.
Let rise again 45 min to 1 hour, in a warm place.
Brush the brioches with the glaze and incise deeply.
Bake at 340 F, 26 to 28 min.
Cool down on a wire rack.
---
---