Penne aux champignons et huile de truffe – Penne pasta with mushrooms and truffle oil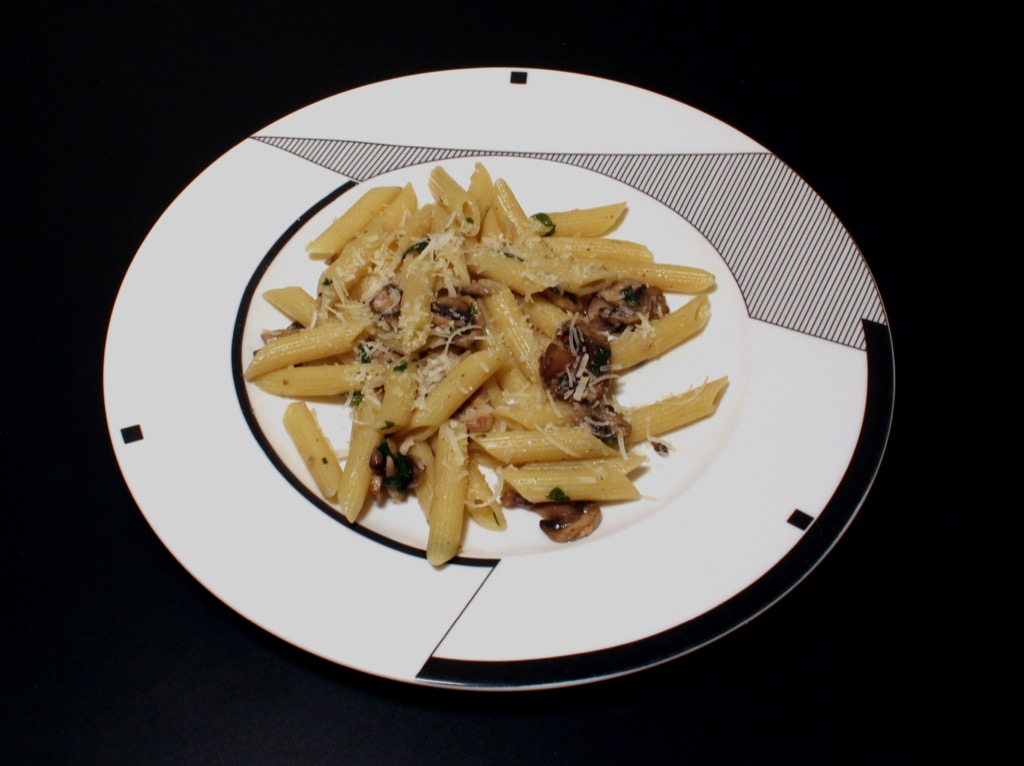 Please scroll down for English
Ceci n'est pas une recette à proprement parler, simplement une idée de petit plat sympa et hyper facile que j'ai improvisé avec ce que j'avais sous la main hier soir.
Quand j'ai bien faim, rien ne vaut des pâtes. Pour essayer d'équilibrer un peu, rajoutons quelques légumes . Une barquette de champignons fera l'affaire, et voici l'occasion rêvée pour tester mon huile de truffes blanches achetée récemment sur un coup de tête (en déstockage à Marshall's!)
INGREDIENTS : 3 personnes
– 1 barquette de champignons (de Paris, ou autres) – environ 225g
– 2 petites gousses d'ail pressées
– persil haché
– des pâtes (penne)
– sel, poivre
– huile d'olive
– huile de truffe blanche (si vous n'en avez pas, c'est évidemment bon aussi avec juste de l'huile d'olive)
– un peu de parmesan fraîchement râpé
INSTRUCTIONS:
Épluchez les champignons, nettoyez-les.
Faites fondre les champignons dans une sauteuse, assaisonnez-les d'ail et de persil. Salez, poivrez. Réservez .
Pendant ce temps, faites cuire les pâtes .
Quand elles sont cuites, égouttez-les.
Mettez 2-3 cuillères d'huile au fond de la sauteuse (1 cuillère d'huile d'olive pour 2 cuillères d'huile de truffe, à vous d'ajuster selon la puissance de votre huile de truffe), ajoutez les pâtes, les champignons, mélangez et servez bien chaud accompagné de parmesan.
---
This dish is so simple I can't really call it a "recipe". Let's say  it's a suggestion for an easy dinner I improvised with what I had at hand last night.
When I'm hungry, nothing beats pasta. To make it a healthy, balanced meal, I decided to add some vegetables. Mushrooms will do! And here comes the perfect opportunity to test my white truffle oil recently bought on a whim (on sale at Marshall's!)
INGREDIENTS: 3 servings
– 1  package of white mushrooms (8 Oz)
– 2 small garlic cloves, crushed
– chopped parsley
– pasta (penne)
– salt , pepper
– olive oil
– white truffle oil (if you don't have any, it's also good with olive oil)
– freshly grated Parmesan cheese
DIRECTIONS:
Peel the mushrooms, clean them. Gently cook the mushrooms in a sauté pan, until they are soft, and season with garlic and parsley. Add salt and pepper. Put aside.
Meanwhile, cook the pasta. When cooked, drain them. Put 2-3 tablespoons of oil in the bottom of the sauté pan (1 tablespoon of olive oil for 2 tablespoons of truffle oil, feel free to modify the ratio depending on the taste of your truffle oil), add the pasta, mushrooms, mix and serve warm with Parmesan cheese.
---
---