Pâte pour galettes de blé noir – Buckwheat pancakes batter ("galettes")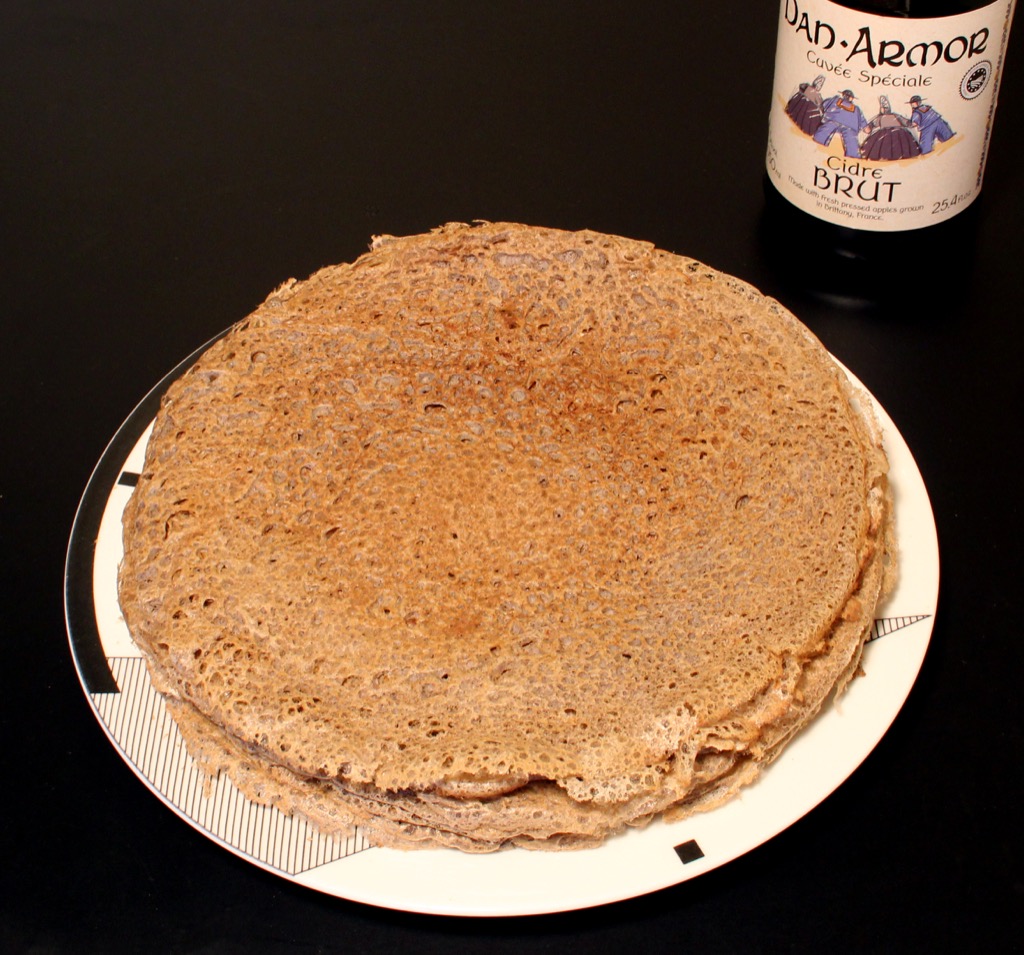 Scroll down for English
Chaque année, lors de mes retours en France,un rituel s'est naturellement instauré: Première journée à Paris, je lutte contre le sommeil, en plein décalage horaire et l'estomac retourné par tous les repas et snacks proposés dans l'avion et ingurgités sans faim réelle, et pourtant… je ne peux résister à l'envie irrésistible de prendre la ligne 6 jusqu'à Edgar Quinet, je descends la rue du Montparnasse et je m'arrête à la Crêperie de Josselin. Si c'est lundi, ou le mois d'août, je marche quelques mètres de plus et pousse jusqu'au Petit Josselin. Ce sont mes deux crêperies fétiches, celles où nous avons emmené Célian tout bébé, assis en "terrasse" (un trottoir étroit),  la poussette glissée entre deux tables. Attention, pas de réservations, pas de paiement par CB, et la queue sur le trottoir. Mais en retour, les meilleurs galettes de la planète, celles pour lesquelles je serai prête à me damner. Ma madeleine de Proust à moi. (Ils vont être heureux les propriétaires de ces deux crêperies s'ils tombent sur ces lignes!).
Tout cela pour vous dire qu'il m'a fallu trouver une recette de galettes pour "tenir" entre deux voyages en France. La recette qui suit n'est pas celle de Josselin. De toute façon, impossible de rivaliser… j'ai fini par comprendre que c'est le BEURRE qui rend leurs galettes irrésistibles. Et je sais très bien que je n'en mettrai jamais autant qu'eux!Voici donc les galettes, telles que je les fais, différentes de celles de chez Josselin, mais très bonnes quand même et définitivement plus "healthy":
INGREDIENTS: (pour environ 18 galettes de 22cm de diamètre)
– 280 g de farine de blé noir (sarrazin)
– 50g de farine de blé
– 1 oeuf
– 85 cl d'eau
– 8g de sel
Remarques:
– La farine de sarrazin ne se conserve pas très longtemps, elle rancit et son goût devient amer. Surveillez bien la date de votre paquet.
– Si vous êtes allergiques ou intolérants au gluten, vous pouvez faire les galettes avec 100% de farine de sarrazin, mais la galette est alors plus sèche et cassante, plus difficile à retourner dans la crêpière.
PREPARATION:
– Dans un saladier, mélangez les farines et le sel.
– Ajoutez l'eau en plusieurs fois, tout en mélangeant au fouet.
– Ajoutez l'oeuf battu.
– Recouvrez le saladier de film plastique et laissez reposer au moins deux heures au réfrigérateur.
– Au moment de faire cuire les crêpes, remuez la pâte à nouveau. Elle aura probablement épaissi et vous devrez certainement rajouter un peu d'eau.
CUISSON:
Je pars du principe que vous savez déjà faire cuire les crêpes et galettes! (Et si ce n'est pas le cas, dites-le moi et un jour je ferai une vidéo)
J'ajouterai simplement une remarque importante pour les galettes:
– Pour chaque galette, graissez votre crêpière bien chaude soit avec de l'huile, soit avec un morceau de beurre, que vous étalerez à l'aide d'un essuie-tout.
ASTUCES:
– Pour gagner du temps, je fais cuire toutes mes galettes à l'avance. Je les repasse à la crêpière (graissée avec du beurre!) au moment du repas et les garnis en fonction des demandes des convives (jambon, gruyère, oeuf, champignons, oignons…tout est permis!).
– Il est possible de congeler les galettes: je les roule par 3 ou 4 et les enveloppe dans du film plastique. Je les laisse décongeler à température ambiante ou dans le réfrigérateur, avant de les repasser à la poêle au moment du repas.
---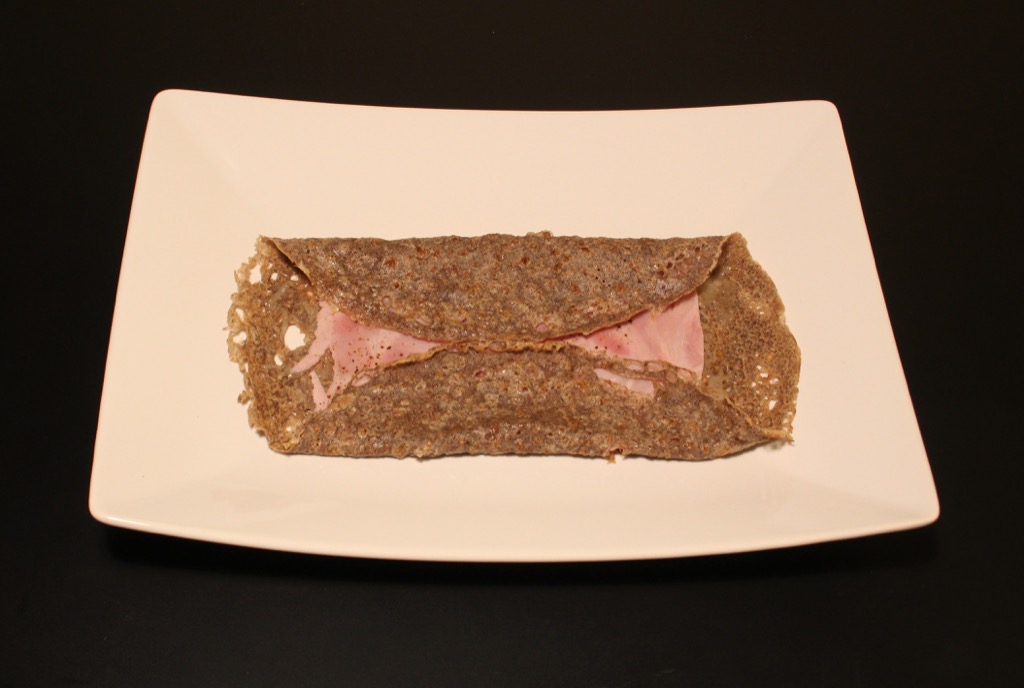 Every summer, when I fly back to France, I have a ritual on my first day in Pari: I fight against the sleep, completely jet-lagged and feeling almost sick because of all the meals and snacks offered in the plane and gulped down without real hunger, and nevertheless … I cannot resist the irresistible urge to take the line 6 of the "Metro"  (the French subway), step out at station " Edgar Quinet", walk down the "Rue du Montparnasse" and stop in the "Creperie de Josselin". If it is on Monday, or in August, I walk a bit furthering stop at "Le petit Josselin". These are my two favorite "creperies" (restaurants where you eat crêpes and galettes), where we took Célian as a baby, we could barely park the stroller on the narrow pavement, but were so happy to enjoy lunch outdoors.
Watch out, no reservations, no payment by credit card, and you might have to queue before getting a table. But I tell you it's worth the effort: you get the best pancakes on the planet, those for whom I shall damn myself. (The owners of these two creperies are going to be happy if they read these lines!) .
You understand now that I had to find a great recipe for "galettes" in order to survive the wait between two journeys in France!
The recipe which follows is not the one of Josselin. Anyway, impossible to compete … I eventually understood that it is the BUTTER which makes their "galettes" irresistible. And I know very well that I shall never dare using as much butter as they do!Thus here are my "galettes", the way I do them, different from those from Josselin, but very good all the same and definitively more "healthy":
INGREDIENTS: (makes 18 pancakes in a 9″ pan)
– 280 g buckwheat flour
– 50g white wheat flour
– 1 egg
– 85 cl of water
– 8g of salt
Comments:
– Buckwheat flour doesn't keep for a long time and can become rancid if too old. Watch  for the date on the package.
– If you are allergic or intolerant to gluten, you can make pancakes with 100 % of buckwheat flour, but the pancake will be drier, more fragile and more difficult to flip in the "crêpière" (a special frying pan to make crêpes) .
DIRECTIONS:
– In a mixing bowl, mix the flours and salt.
– Add the water, while mixing with a whip.
– Add the beaten egg.
– Cover the bowl with plastic film and let rest at least two hours in the refrigerator.
– When it's time to cook the pancakes, stir the batter again. The batter will have probably thickened and you may have to add a bit more water.
COOKING:
I assume that you know already how to cook crêpes and galettes! Anyway it's not very different from cooking pancakes… (And if it is not the case, let me know if you would like me to make a video). Just one important comment: For each "galette", make sure to grease your "crêpière" or frying pan with a paper towel soaked with oil, or better, with a generous dab of butter.
TRICK:
– In order to save time, I cook all my pancakes in advance. At mealtime, I reheat them in a frying pan, with a dab of butter and fill them according to the demands of the dinner guests (ham, Swiss cheese, egg, mushrooms, onions … everything is allowed!).
– It is possible to freeze pancakes: I roll them by 3 or 4 and wrap them in plastic film. I let them defrost at room temperature or in the refrigerator, before re-heating them in a frying pan at the time of the meal.
---
---