Gaufres Spéciales Petit Dej – Breakfast waffles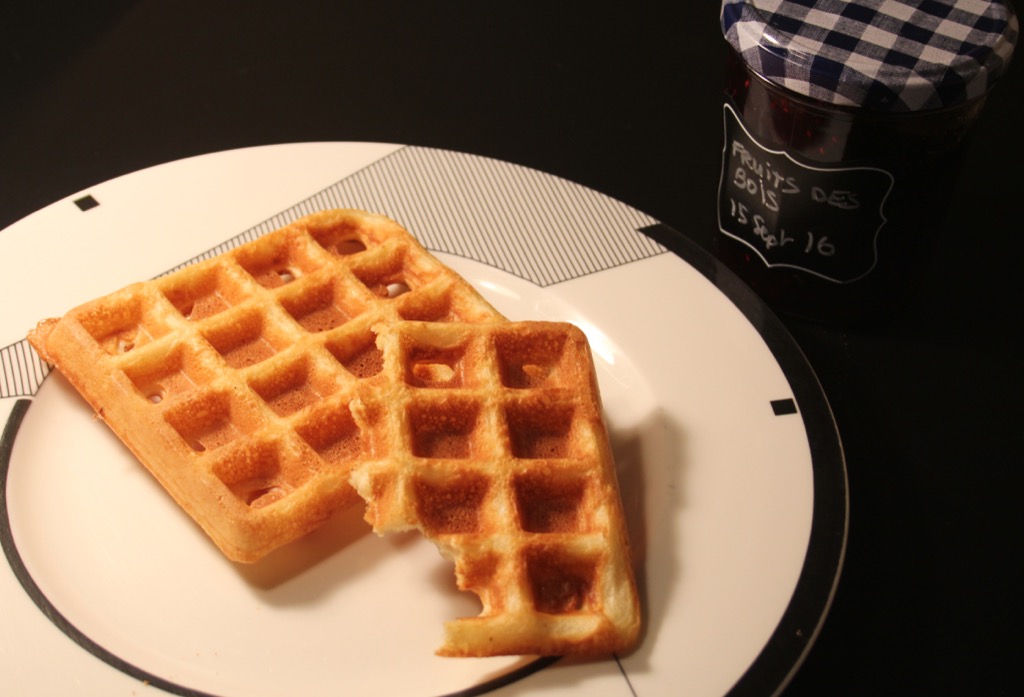 Scroll down for English
Bonne année 2017 à toutes et à tous!
De bonnes gaufres au petit déjeuner, ça vous tente? Le problème c'est que généralement il est recommandé de laisser reposer la pâte 1 ou 2h avant cuisson, et moi je n'ai pas envie de me lever aux aurores le dimanche matin…
Heureusement je viens de découvrir LA recette parfaite: la pâte doit être préparée la veille au soir, pour pouvoir cuire les gaufres au réveil le lendemain matin. En plus elles sont super croustillantes et me rappellent les gaufres de foire. De mon point de vue, cette recette de gaufres est meilleure que toutes celles que j'ai pu tester jusqu'à présent (et même celle de ma maman, c'est tout dire!)
Et maintenant régalez-vous!
INGREDIENTS: pour environ 14 gaufres
1 Cup d'eau tiède (1 cup américaine ou "tasse"= 250 ml)
2 Cups de lait écrémé tiède
2 Cups de farine
version "low cholesterol": 40 ml d'huile (j'ai utilisé pour moitié de l'huile de tournesol et pour moitié de l'huile de noix, pour donner un petit goût sympa)
ou version alternative "je me lâche et c'est encore meilleur": 50g de beurre doux fondu
1 pincée de sel
1 CàS de sucre
2 oeufs entiers battus en omelette
1/2 càc de bicarbonate de soude
1 belle càc de levure de boulanger déshydratée
INSTRUCTIONS:
La veille au soir:
Mettez l'eau tiède dans un saladier (attention choisissez-le suffisamment grand, la pâte va lever!) et délayez la levure.
Ajoutez le lait, l'huile (ou le beurre fondu), le sel, le sucre et la farine. Mélangez sans faire de grumeaux!
Laissez reposer la pâte à température ambiante toute la nuit.
Le lendemain matin:
Faites chauffer votre gaufrier, dont vous aurez huilé les plaques.
Pendant ce temps, ajoutez les oeufs et le bicarbonate de soude à la pâte, mélangez-bien.
Faites cuire vos gaufres (4 min dans mon gaufrier), et dégustez-les immédiatement chaudes et croustillantes!
S'il vous en reste pour le goûter, pas de problème, vous pourrez leur redonner du croustillant en les repassant rapidement au gaufrier.
NB: Rendons à César ce qui lui appartient. Voici le lien sur le site où j'ai découvert cette recette, que je n'ai presque pas modifiée (un peu moins de levure, un peu plus de sucre et de l'huile végétale pour remplacer le beurre… .
---
Happy New year to you all!
Would you like waffles for breakfast? The problem is that most recipes recommend to let the dough rest 1 or 2 hours before baking, and I do not want to get up at dawn on Sunday mornings … Fortunately I just discovered the perfect recipe: this dough must be prepared the night before, then you can bake the waffles when you get up the next morning. They are super crispy and remind me of the waffles you can eat at the fairgrounds in France. From my point of view, this recipe of waffles is better than all the ones I have tested so far (and even that of my mom, if you believe it!).
Enjoy!
INGREDIENTS: for approximately 14 waffles
1 cup warm water
2 cups warm skim milk
2 cups all purpose flour
1/3 cup + 1TBs vegetable oil , for a "low cholesterol" version (Note: I used half of sunflower oil and half of walnut oil, to give a nice taste)
or alternative version "even better": 3 TBs of unsalted butter, melted
1 pinch of salt
1 TBs of sugar
2 whole eggs, beaten in omelette
1/2 tsp baking soda
1 Tsp active dry yeast
DIRECTIONS:
The previous evening:
Put the warm water in a large bowl (the dough is going to rise) , add the yeast and stir until dissolved.
Add the milk, oil (or melted butter), salt, sugar and flour. Mix without making lumps!
Let the dough rest at room temperature overnight.
The next morning:
Oil the plates of your waffle iron and preheat it.
Meanwhile, add the eggs and baking soda to the dough, mix well.
Bake your waffles (4min with my waffle iron), and enjoy them immediately hot and crisp!
Should you would have some waffles left for afternoon snack (very unlikely…) , no problem, you can restore their crispiness by quickly reheating them in the waffle iron.
---
---