Velouté patate douce et lait de coco – Sweet potato and coconut soup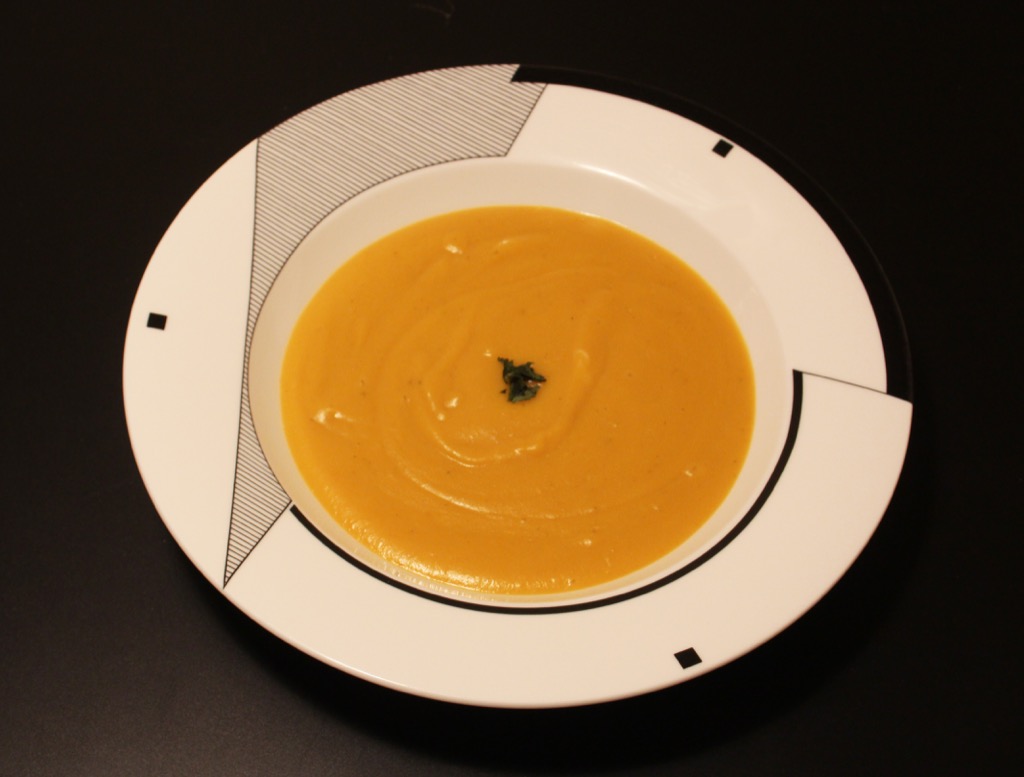 Scroll down for English
Etat grippal! Quasiment rien mangé de la journée, pas envie de sortir faire les courses, il faut pourtant bien nourrir ma petite famille. La seule chose qui me fasse envie ce soir, c'est une soupe! Et il faut que je puisse la faire avec ce qui traîne dan le frigo et les placards… Ce sera donc une soupe à la patate douce.
INGREDIENTS: (pour 4 personnes)
2 grosses patates douces
2 petites pommes de terre
3/4 d'oignon rouge
300ml de lait de coco
400 ml d'eau
1 bouillon cube (légumes ou poulet)
1 petite cuillère de curry doux (ou plus, mais mon fils n'aime pas trop les épices)
1/4 petite cuillère de gingembre en poudre (ou plus…)
INSTRUCTIONS:
Dans une cocotte minute ou une simple cocotte, faites revenir quelques minutes l'oignon émincé dans un peu d'huile d'olive.
Ajoutez les légumes détaillés en cubes, les liquides, le bouillon cube, les épices.
Fermez la cocotte. Lorsque la soupape de la cocotte minute se met à tourner, baissez le feu et faites cuire 10 min. (Si vous n'avez pas de cocotte, couvrez et faites cuire environ 30 min)
Il ne vous reste plus qu'à mixer au plongeur pour obtenir un délicieux velouté.
---
Flu-like symptoms… I didn't feel hungry today, I don't want to go grocery shopping, but I still have to feed my family tonight. The only food I want is a soup! And I have make it with what is available in the refrigerator and the pantry… So, let's prepare a sweet potato soup.
INGREDIENTS: (4 servings)
2 large sweet potatoes, diced
2 small potatoes, diced
3/4 red oignon, diced
3/4 of a can of coconut milk
1 1/2 cup water
1 cube of vegetable or chicken bouillon
1 tsp curry (or more, but my son doesn't really like spices)
1/4 tsp powdered ginger (or more…)
DIRECTIONS
Put a bit of olive oil in a pressure cooker or in a large saucepan, and cook the onion until soft.
Add the vegetables, the coconut milk and water, the cube of bouillon, the spices.
Close the pressure cooker, and cook for 10 min once it is under pressure. (If you don't have a pressure cooker, cover your saucepan and cook for approximately 30 min).
Release the pressure and mix with a plunger to get a delicious soup!
---
---