Clafoutis aux raisins et amandes – Clafoutis with grapes and almonds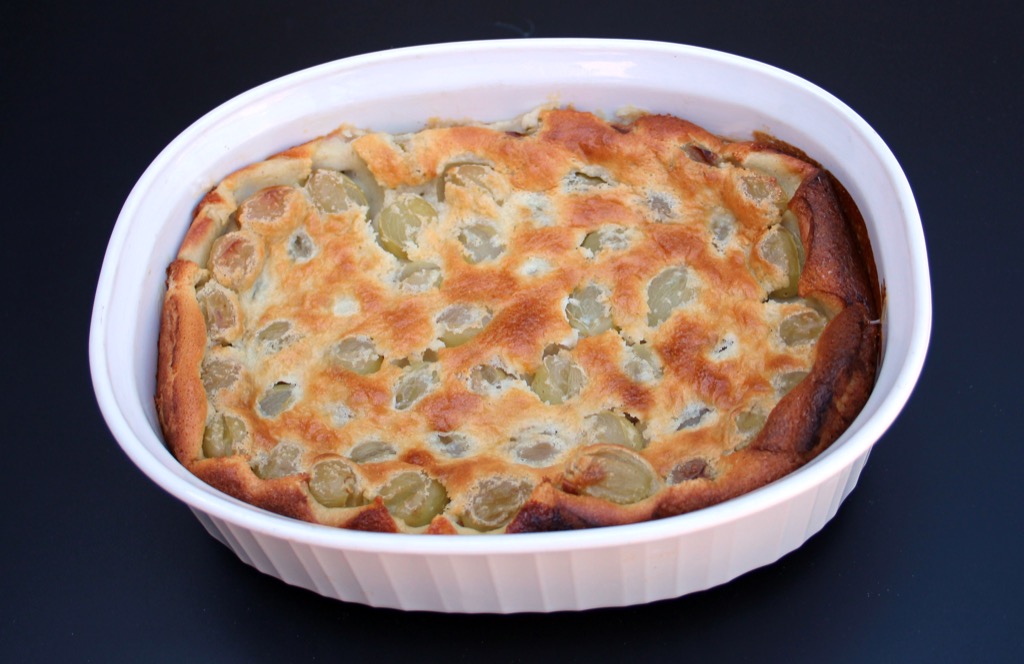 Scroll down for English
Septembre, c'est encore la saison du raisin. Aux Etats-Unis, ils sont généralement gros et sans pépins. Et puis… ils sont vendus déjà emballés, si bien que me retrouve avec un paquet bien trop gros pour une famille de 3 personnes. Du coup, les tiges sèchent, les grains tombent, et plus moyen de faire manger ce qui reste à un gamin de 11 ans! Je n'allais quand même pas laisser perdre du raisin bio… Vite, Mr internet, venez à mon secours!
En fait, je n'ai pas trouvé beaucoup d'idées pour utiliser du raisin un peu trop mûr, à part des recettes de clafoutis. J'ai décidé de repartir de ma recette de base de clafoutis  (qui vient d'ailleurs du même livre de cuisine dont je vous parlais ici lors de mon précédent billet) et de la modifier "au feeling", en m'inspirant des recettes que j'avais vu sur le net. Résultat: un clafoutis avec des amandes et du rhum, pas très traditionnel, n'est-ce pas Isabelle V.?
INGREDIENTS: (pour 6 parts)
3 oeufs
6 CàS de sucre de canne blond
5CàS bombées de farine
50g d'amandes en poudre
1 pincée de sel
60g de beurre doux (version classique)
OU 1 belle CàS de purée d'amandes (version "moins de graisses animales", pour le régime de mon petit mari)
1  CàS de rhum (ou plus)
1/4 l de lait (écrémé, mais ce n'est pas obligatoire!)
Raisins (verts) sans pépins – quantité suffisante pour recouvrir le fond du plat
INSTRUCTIONS:
Préchauffez votre four à 200C (400F).
Cassez les oeufs dans un grand saladier (ou plus facile, dans le bol d'un robot type Kitchen Aid équipé de la feuille) et battez-les.
Ajoutez le sucre, mélangez-bien.
Ajoutez la farine, 1 pincée de sel. Mélangez.
Ajoutez la poudre d'amande. Mélangez.
Si vous n'avez pas de robot: prélevez un peu de lait et délayez la purée d'amande
Ajoutez le rhum, le lait, le beurre fondu (ou la purée d'amande). Battez bien. La pâte devrait avoir une consistance proche d'une pâte à crêpes.
Beurrez ou huilez généreusement (le clafoutis, ça colle!) le fond d'un plat allant au four.
Recouvrez le fond du plat de grains de raisins.
Versez la pâte à clafoutis sur les raisins.
Enfournez pour 45 min environ (jusqu'à ce que la pâte soit gonflée,  le clafoutis doré et que la pointe d'un couteau enfoncée dans la pâte ressorte sèche).
Sortez du four et laissez refroidir avant de déguster tiède ou froid.
NB: Quand vous faites un clafoutis, il gonfle à la cuisson… et retombe dès la sortie du four. C'est comme ça, c'est normal, "No worries!" comme disent mes amis Australiens, et gonflé ou pas, c'est délicieux.
---
September is the season for grapes. In the United States, they are generally large and without seeds. And most of the time they are pre-packaged, so I have to buy a quantity of grapes far too large for a family of 3 . As a result, stalks get dry, grains fall out, and it gets impossible to convince an 11-year-old kid to eat them!
It would be a shame to waste organic grapes… Dear Mr Internet, please, come to my help!
In fact, I did not find that many ideas to cook grape, except for recipes of "clafoutis" (fruits baked in batter). I decided to start with my basic "clafoutis" batter  (which by the way comes from the same cookbook as my previous recipe) and modify it with the inspiration I found on the internet. The result: a "clafoutis" with almonds and rum, not fully traditional, isn't it Isabelle V.?
INGREDIENTS: (6 servings)
3 eggs
6 TBS cane sugar
5 TBS flour
50g almond powder
1 pinch of salt
60g unsalted butter (classic version)
OR 1 large TBS of almond butter (for lower saturated fat content)
1 TBS rum (or more)
1 Cup milk (I use low fat, but you don't have to)
(Green) Grapes – enough to cover the bottom of the baking dish
DIRECTIONS:
Preheat oven to 350F (175C).
Break the eggs into a large bowl (or easier, in the bowl of a stand mixer fitted with the flat beater) and whisk them.
Add the sugar, mix well.
Add flour, 1 pinch of salt. Mix.
Add the almond powder. Mix.
If you do not have a robot: mix the almond butter in a few tablespoons taken from the cup of milk.
Add the rum, the milk, melted butter (or almond butter + milk). Beat well. The dough should have a consistency similar to pancake batter.
Butter or oil generously the bottom of a baking dish (beware, clafoutis always stick to the bottom of the dish!)
Cover the bottom of the baking dish with grapes.
Pour the batter on top of the grapes.
Bake for 45 minutes, until until the clafoutis is puffed and brown and a knife inserted into the center comes out clean.
Remove from the oven and let cool down before serving warm or cold.
Note: When you bake a clafoutis, it will puff up in the oven, then as soon as you take it out of the oven it will  fall and deflate—but not to worry: "C'est la vie" and puffed up or not,  it's delicious anyway.
---
---