Salade rouge et verte au quinoa – Red and green quinoa salad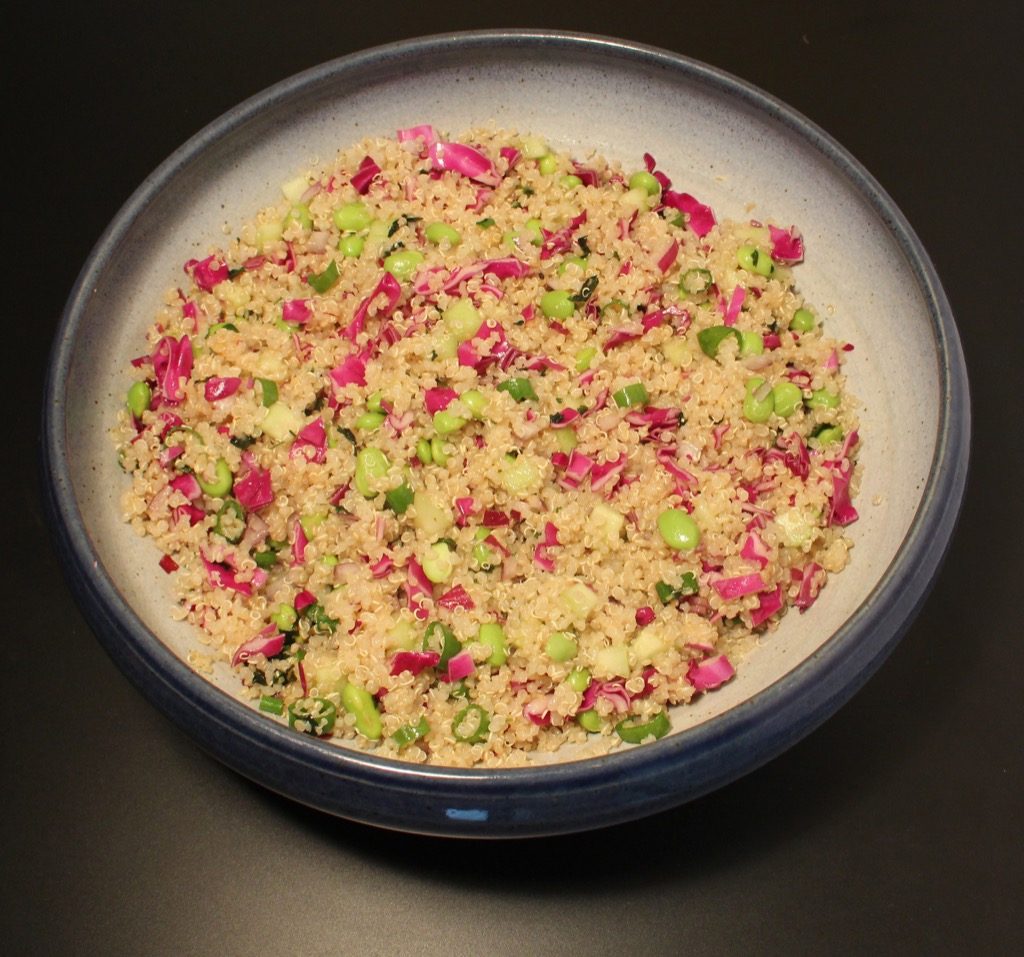 Please scroll down for English
Voici des mois (des années?) que traîne dans mon placard un gros paquet de quinoa acheté impulsivement chez Costco… J'aime bien remplacer de temps en temps un accompagnement de riz blanc par du quinoa, mais vue la taille du paquet, il était temps de trouver une variante ! C'est chose faite avec cette salade de quinoa, parfaite pour la saison des « pot lucks » et autres pique-niques.
Certains d'entres vous reconnaitront cette recette, car elle a été publiée récemment dans le journal de "Houston Accueil" , une association dont je suis membre et qui  regroupe les francophones Houston.
INGRÉDIENTS (pour 6 personnes)
Note pour mes amis Européens: la "Cup" (unité de mesure très Américaine ! ) que j'utilise fait 250ml.
Salade:
1 Cup de quinoa, rincé et égoutté
2 Cups d'eau
1/4 Cup de coriandre fraîche, hachée
1/4 Cup d'oignon vert, haché
1/4 Cup de concombre, coupé en petits cubes
1/4 Cup d'oignon rouge, haché très finement
1/2 Cup d'edamames (ce sont ces fèves de soja, vertes, qu'on vous sert souvent à l'apéritif dans les restaurants japonais. On les trouve dans le rayon des produits surgelés chez HEB, Sprouts…)
1 Cup de chou rouge, haché
Sauce:
90 ml d'huile d'olive
1 c à soupe de gingembre frais, râpé (vous pouvez en mettre plus si vous aimez vraiment le gingembre)
2 gousses d'ail, pressées
1 ½ c. à soupe de sauce soja
Le jus d'1 citron
1 1/2 c. à café d'huile de sésame grillé
1 1/2 c. à café de miel
90 ml d'eau
Sel et poivre
ÉTAPES
Mettez les edamame à cuire 3 minutes dans de l'eau bouillante. Egouttez, réservez.
Rincez le quinoa à l'eau froide.
Versez l'eau et le quinoa dans une casserole puis portez à ébullition. Baissez ensuite le feu puis laissez mijoter couvert pendant environ15 minutes. Note: vous pouvez aussi cuire le quinoa dans un "rice cooker", les proportions sont les mêmes: 1 volume de quinoa pour 2 volumes d'eau.
Transférez le quinoa dans un saladier et laissez-le refroidir.
Versez tous les ingrédients pour la sauce dans un bocal à confiture vide (ou un shaker), et mélangez-bien.
Dans le saladier, ajoutez le reste des ingrédients ainsi que la sauce. Mélangez bien. Rectifiez l'assaisonnement puis dégustez froid ou à température ambiante..
---
A large package of quinoa purchased on an impulse at Costco has been lying in my food pantry for months (for years?) … Sometimes I enjoy eating a side of quinoa instead of white rice, but with such a large package, it was really time to find a different way to use all this quinoa! It is now done with this salad of quinoa, perfect to bring to a pot luck or a picnic.
This recipe has also recently been published in a publication from "Houston Accueil", an association dedicated to  the French speaking community in Houston.
INGREDIENTS (6 servings)
Salad:
1 Cup quinoa, rinsed and drained
2 Cups water
1/4 Cup chopped fresh cilantro
1/4 Cup thinly-sliced green onions
1/4 Cup diced cucumber
1/4 Cup  minced red onion
1/2 Cup edamames (Edamames are those green soybeans that you often get as an appetizer in Japanese restaurants. You will find them in the frozen products aisle at supermarkets such as HEB, Sprouts…)  
1 Cup shredded red cabbage
Dressing:
1/4 + 1/8  cup Olive oil
1 TBs fresh grated ginger (or even more, if you really like ginger)
2 pressed garlic cloves
1 ½ TBs soy sauce
Juice of 1 lemon
1 1/2 tsp roasted sesame oil
1 1/2 tsp honey
1/4 + 1/8 cup water
salt and pepper
DIRECTIONS:
Cook the edamames for 3 min in boiling water. Drain, set aside.
Rinse the quinoa in cold water. Drain.
Place the quinoa in a saucepan, with cold water. Bring to a boil. Lower the heat then simmer covered for approximately 15 min. Note: the quinoa can be cooked in a "rice cooker". Quantities are the same: 1 volume of quinoa for 2 volumes of water.  
Place the quinoa in a large salad bowl and cool.
Place all the dressing ingredients in a mason jar (or a shaker), and shake well.
Once the quinoa is cooled, add all the other ingredients to the salad bowl. Stir thoroughly. Add salt and pepper to taste and and serve chilled or at room temperature. Enjoy!
---
---