Salade de Kale, sauce curry-amandes – Kale slaw, dressing w. curry and almonds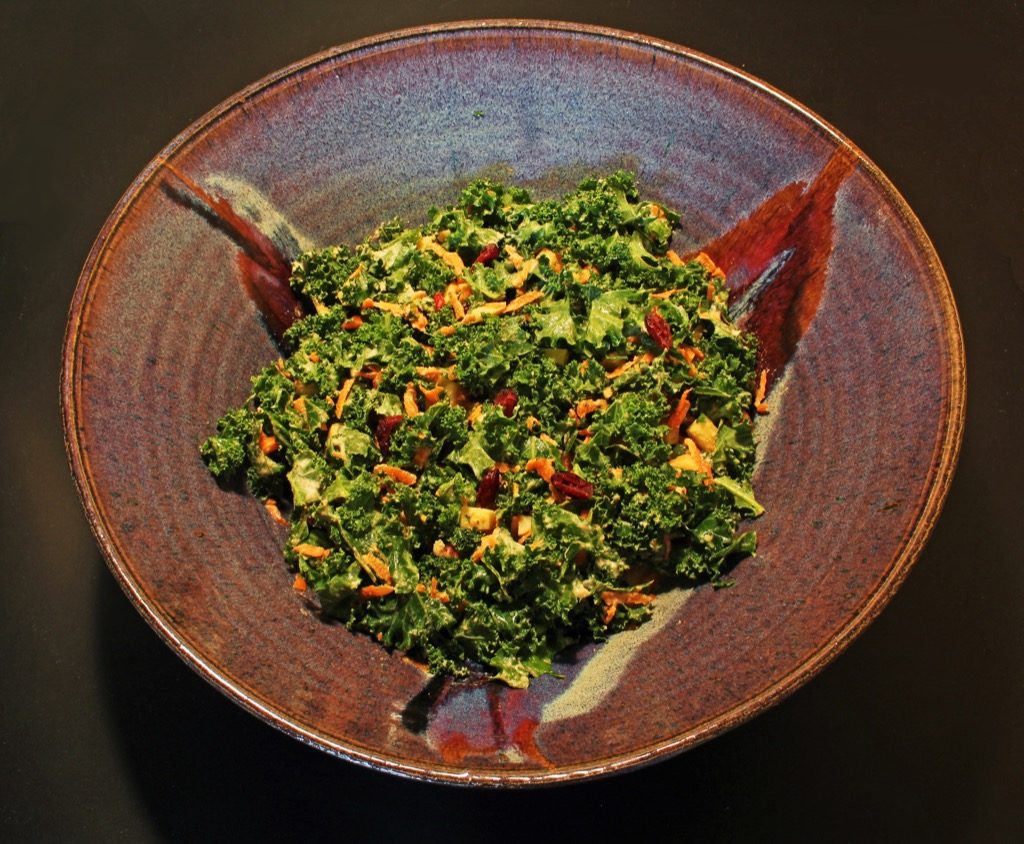 Please scroll down for English
Soyons honnêtes: le chou Kale est à la mode… mais a priori son goût n'a rien de transcendant, et sa texture peut s'avérer un peu coriace. Pourtant,  figurez-vous qu'accompagné de l'excellente petite sauce que je vous propose, vous allez pouvoir être tendance et en plus vous régaler! Cool, non? Vous pourrez même inviter vos voisins végétariens crudivores pour le dîner!
MATERIEL:
Un blender
INGREDIENTS: (plat principal, pour 3 personnes)
SALADE:
1 botte de chou Kale – émincez les feuilles finement après avoir retiré les tiges et parties coriaces.
1 pomme détaillée en cubes ou bâtonnets (ou du jicama, histoire de tester ce légume exotique facile à trouver à Houston)
1-2 carottes râpées
1-2 tiges de céleri émincé
1 belle poignée de canneberges (cranberries) ou de raisins secs
autres idées: concombre, poivron rouge, tomates cerises…
SAUCE CURRY-AMANDES:
70g d'amandes crues
3 càs de vinaigre de cidre
2 càs sirop d'érable ( si vous n'en avez pas, du miel devrait faire l'affaire) – Note: c'est une recette américaine… ici, on aime le goût sucré !
1 gousse d'ail vraiment petite, hachée
1 càc de gingembre frais râpé
1/2 càc de moutarde de Dijon
1/2 càc de sel
une belle pincée de poudre de curry
Poivre
200 à 250ml d'eau
METHODE:
1) SAUCE:
Mettez tous les ingrédients dans un blender avec la moitié de l'eau. Mixez jusqu'à obtenir une sauce lisse et crémeuse. Ajoutez ensuite de l'eau petit à petit jusqu'à obtenir la consistance que vous souhaitez. Rectifiez selon votre goût l'assaisonnement en sel, poivre, curry.
2) ASSEMBLAGE:
Mettez tous les ingrédients de la salade dans un grand saladier et arrosez d'environ la moitié de la sauce. Mélangez bien et attendez au moins 5 à 10 minutes avant de passer à table, cela permet aux feuilles de kale de se ramollir un peu.
NB: Vous pouvez conserver le reste de sauce plusieurs jours au réfrigérateur.
---
Let's be honest: eating Kale is trendy… but basically kale doesn't taste that great and its texture can be pretty chewy. Wait! don't go away! Actually, if you serve Kale with the curry-almond dressing that I suggest, you are going to be trendy AND enjoy your salad! Isn't it great? You could even invite your vegetarian raw-foodies neighbors for dinner!
TOOLS:
a blender
INGREDIENTS: (salad as a main dish for 3 persons):
SALAD:
1 bunch of Kale – Shred the leaves after having removed the stems and tough parts.
1 apple, diced or julienned (or some jicama, as it is always fun to taste some of the exotic vegetables available in Houston!)
1-2 grated carrots
1-2 celery stems, diced
1 large handful of cranberries or raisins
other ideas: cucumber, cherry tomatoes, red bell pepper…
CURRY-ALMOND DRESSING:
1/2 cup raw almonds
2 1/2 tbs apple cider vinegar
2 tbsp maple syrup (if you don't have any, I am pretty sure you could use honey) – Note: this is an American recipe, hence pretty sweet. Feel free to adapt the quantity maple syrup to your own taste!
1 very small garlic clove, minced
1 tsp fresh ginger, grated
1/2 tsp Dijon mustard
1/2 tsp salt
1/8 tsp curry powder
Pepper
2/3 to 1 Cup water
METHODE
1) DRESSING:
Place all the ingredients in your blender with 1/2 cup water. Mix thoroughly until the dressing gets smooth and creamy-looking. Add additional water to thin the dressing until you the consistency you like. Add additional salt, pepper, curry to taste.
2) FINAL STEP
Place all the salad ingredients in a large bowl, and coat with approximately half of the dressing. Mix well and let sit for 5-10 minutes before eating. This will allow the kale leaves to soften.
Note: You will have some dressing left. It can be saved for later use for a few days in the fridge.
---
---