Asperges vertes grillées – Green asparagus on the BBQ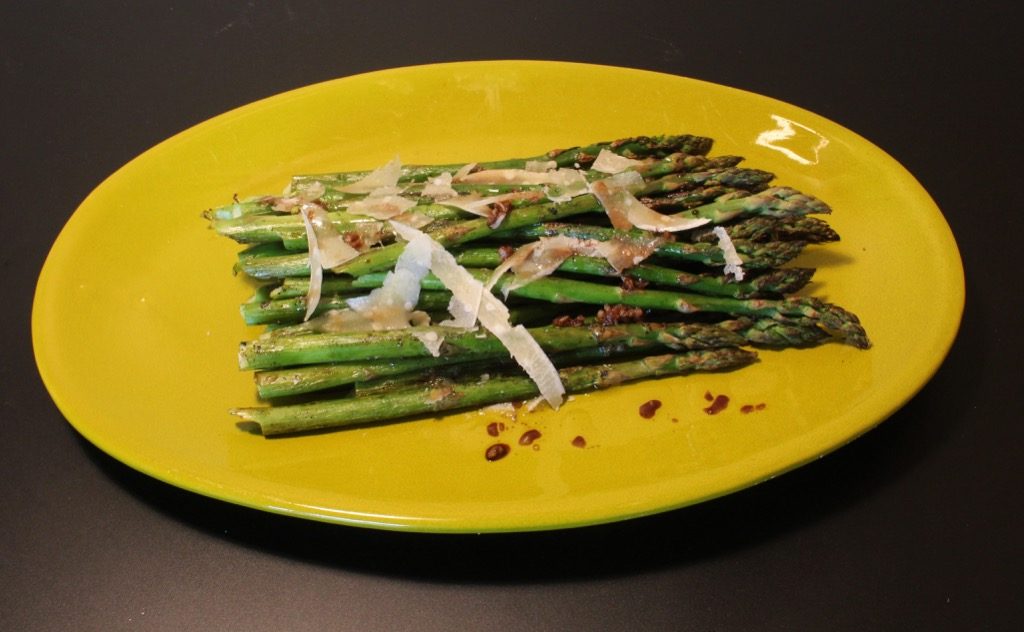 Scroll down for English
Et oui, le barbecue peut servir à cuisiner autre chose que les sempiternelles grillades, brochettes, tomates provençales et autres hamburgers. C'est en Australie, l'autre pays du BBQ, que j'ai découvert que les petites asperges vertes sont vraiment délicieuses cuites sur le grill et tellement simples à préparer de cette façon.
INGREDIENTS (pour 4 Personnes, en entrée):
1 livre de fines asperges vertes
2 gousses d'ail
2 CàS de vinaigre balsamique
2 CàS d'huile d'olive
50g de parmesan
poivre noir
INSTRUCTIONS:
Allumez votre barbecue, de préférence équipé d'une plaque en fonte. Une grille peut aussi faire l'affaire, mais il faudra faire attention à ne pas faire tomber les asperges! Les petites asperges vertes toutes fines présentent un gros avantage : pas besoin de les éplucher, il suffit d'en retirer l'extrémité dure (pour cela, pliez délicatement la tige en tenant une extrémité dans chaque main, jusqu'à ce qu'elle casse). Répartissez les asperges sur la plaque du BBQ légèrement huilée et faites-les cuire selon votre goût 5 à 10 minutes, en les retournant à mi-cuisson. Elles doivent être encore fermes et bien vertes.
Préparez une vinaigrette avec l'ail écrasé, l'huile et le vinaigre balsamique.
Dressez les asperges encore chaudes sur un plat de service, arrosez avec la vinaigrette, parsemez de copeaux de parmesan prélevés à l'économe et poivrez généreusement.
Bon appétit !
(Recette publiée dans le numéro 305 du journal de Houston accueil)
---
Yes, you can fire up your barbecue for something else than steaks, hamburgers or corn on the cob!  When I lived in Australia (the other capital of BBQ!) I discovered that thin green asparagus are really delicious cooked on the grill and so simple to prepare in this way.
INGREDIENTS ( 4 servings, appetizer):
1 lb thin green asparagus
2 garlic cloves, crushed
2 Tbs balsamic vinegar
2 Tbs olive oil
2 Oz fresh parmesan cheese
Black pepper
INSTRUCTIONS:
Fire up your BBQ, preferably equipped with a cast iron griddle. You can also cook them on a standard grate, but you will have to be careful and make sure the asparagus don't fall out!  Thin green asparagus are very convenient to prepare: no need to peel them, you simply break off the woody end (to do so, hold the extremities of the asparagus in your hands and bend gently the stem until the end snaps away). Lightly oil the griddle and spread the asparagus on it. Cook to your taste for 5 to 10 minutes, turning them over half-way. The asparagus should remain firm and bright green.
Prepare the dressing by mixing the olive oil, balsamic vinegar and crushed garlic.
Place the warm asparagus on a serving dish, pour the dressing on top of them and top with parmesan shavings (use a vegetable peeler) and lots of black pepper,
Enjoy !
(Recipe published in edition 305 of Houston accueil's magazine)
---
---