Salade verte aux nectarines – Salad greens with nectarines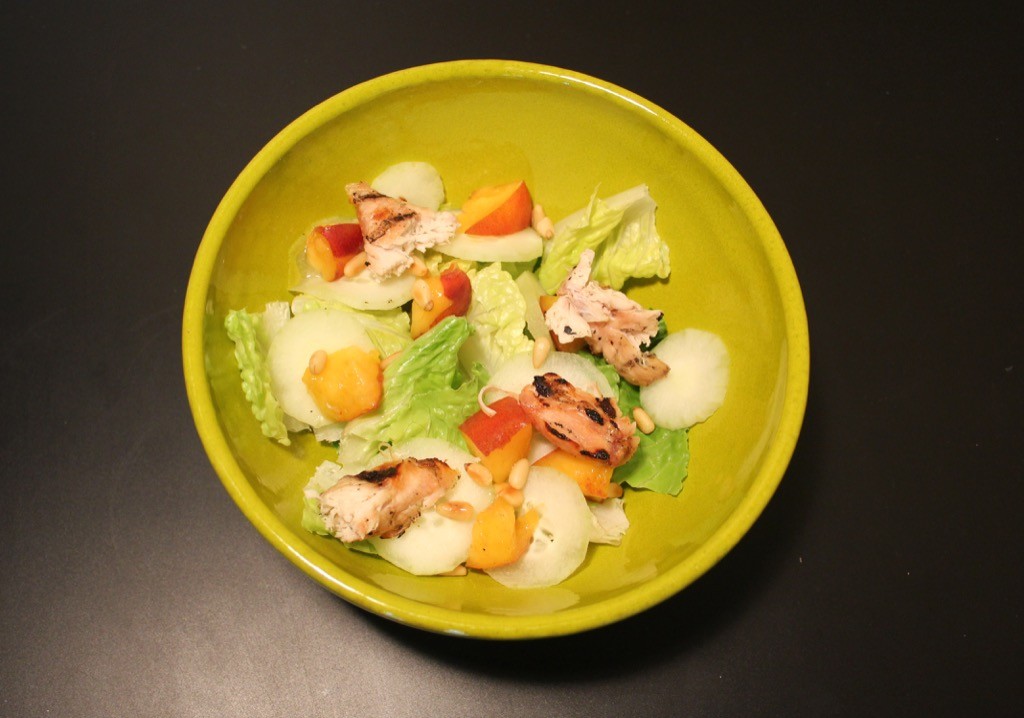 Please Scroll down for English version
Nous revenons d' un long week-end à Chicago, sans enfant (Et oui, notre fils a pris l'avion lundi dernier pour aller chez ses grands-parents. Pas facile-facile pour une maman de laisser son garçon de 10 ans traverser tout seul l'Atlantique… )
Nous avons arpenté la ville à pied dans tous les sens pour en admirer l'architecture. Quel plaisir de retrouver une ville où la voiture n'est pas nécessaire, où les gens marchent ou pédalent (Chicago est dotée d'un réseau similaire aux "Vélib"parisiens) et peuvent s'arrêter manger en terrasse! Bien entendu, nous avons goûté la fameuse "Chicago pizza" ou "Deep dish pizza". Pas mauvais, mais un peu étouffant à mon goût… d'où l'envie de salade en ce lundi.
Je trouve que c'est un casse-tête de trouver des idées de salades composées dans lesquelles il n'y ait pas d'oeufs, pas de fromage, mais qui restent bonnes et nourrissantes. Je suis lassée de mes sempiternelles salades vertes – jambon (au choix: blanc, de dinde, prosciutto…) – fruits secs (raisins ou cranberries) – noix de toutes sortes (pécans, pignons de pin, noix….). Heureusement Internet est là pour me donner des idées, et après avoir bien surfé, je me suis décidée pour une salade aux accents estivaux, avec du concombre et des morceaux de nectarine!
Pour 2 personnes:
Salade verte pour 2
1 nectarine détaillée en cubes
1/2 concombre détaillé en tranches fines
une poignée de pignons de pins grillés
2 escalopes de poulet cuites au BBQ, salées, poivrées, puis coupées en petits morceaux,
Assemblez tous les ingrédients ci-dessus dans un grand saladier, puis assaisonnez avec la vinaigrette.
Vinaigrette: 1 CàS d'huile de noix + 2 CàS de vinaigre balsamique + sel + poivre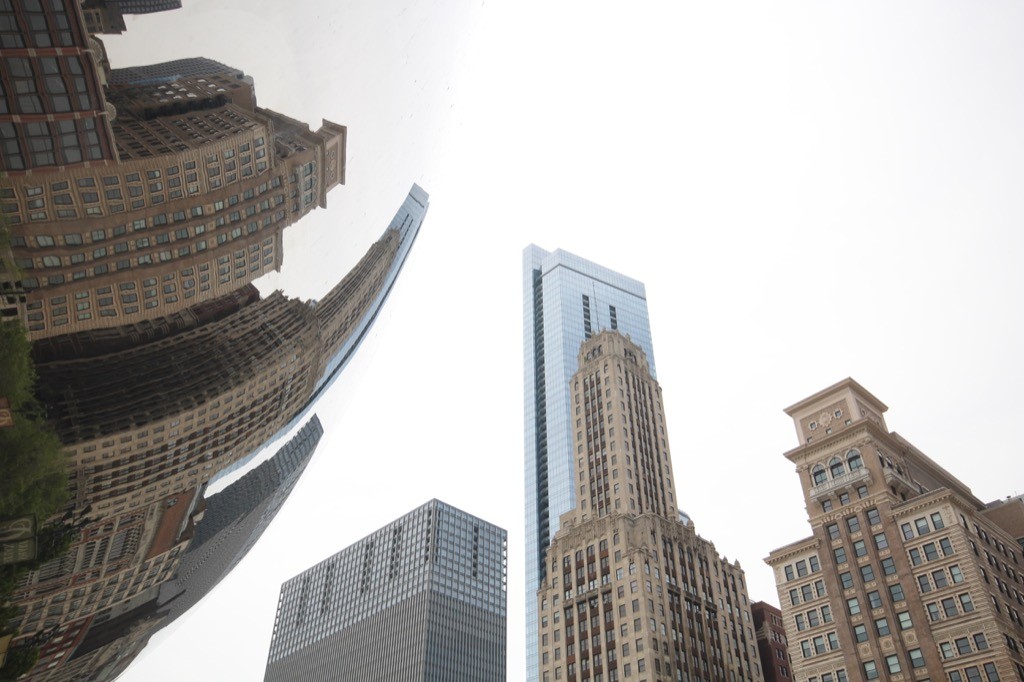 ——————————————————————————————————————————–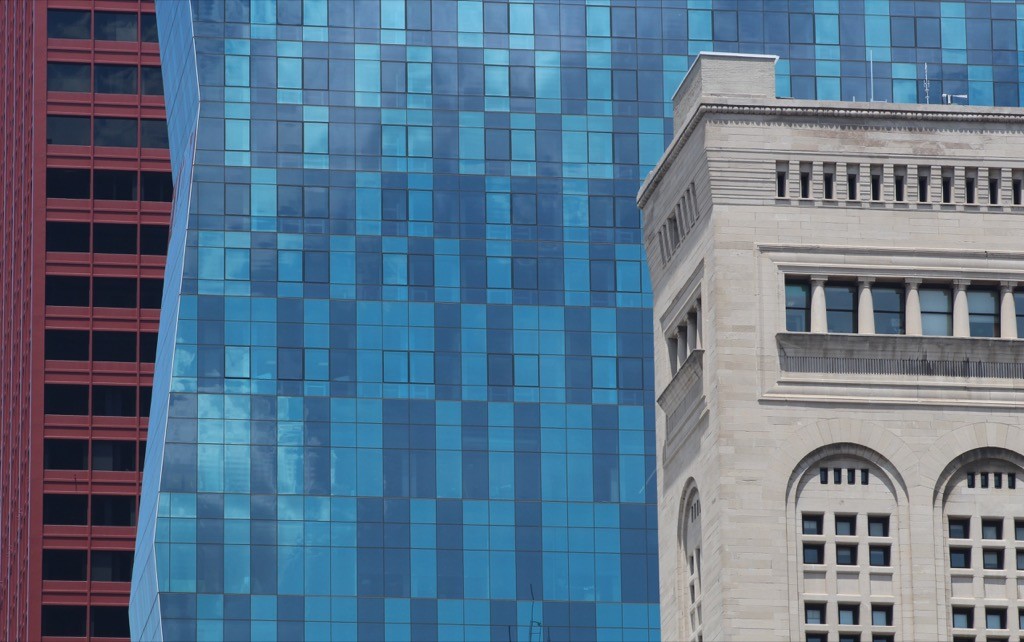 We enjoyed a long week-end in Chicago, without kid (yes, our son flew last Monday to France by himself to spend some time with his grand-parents. Not really easy-peasy for a mom to see her son board a plane and travel by himself across the ocean… )
We walked and walked around the "windy city" to take in the architecture. Such a pleasure to be in a city where a car is not necessary, where people either walk or cycle (there is a network of bicycles for rent that you can borrow and drop at different stations, similar to the "Velib" network in Paris), and can stop by and enjoy lunch on outdoor patios. Of course, we sampled the famous "Chicago pizza"or "Deep dish pizza". Pretty good but a bit heavy on the stomach… this is why I was craving for a salad on Monday evening.
It is really a challenge for me to find ideas of mixed green salads which don't include eggs or cheese, but are still satisfying. I get tired of my usual salads made of -greens – ham (French ham, turkey ham, prosciutto…) – raisins or cranberries – nuts (pecans, pine nuts, walnuts…). Luckily, internet was invented, and after surfing cooking websites for a while, I decided to go for a summery salad, with cucumber and nectarine!
For 2 servings:
Salad greens for 2
1 nectarine , chopped in cubes
1/2 cucumber, seeds removed, thinly sliced
a handful of toasted pine nuts
2 chicken filets seasoned with salt & pepper, grilled on the BBQ and cut in bite-size pieces
Arrange all the above ingredients in a large sales bowl, then add the dressing.
Vinaigrette dressing: 1 TbS walnut oil + 2 TbS balsamic vinegar + salt + pepper
---
---