Flan au chocolat pour Gwen – Chocolate pudding for Gwen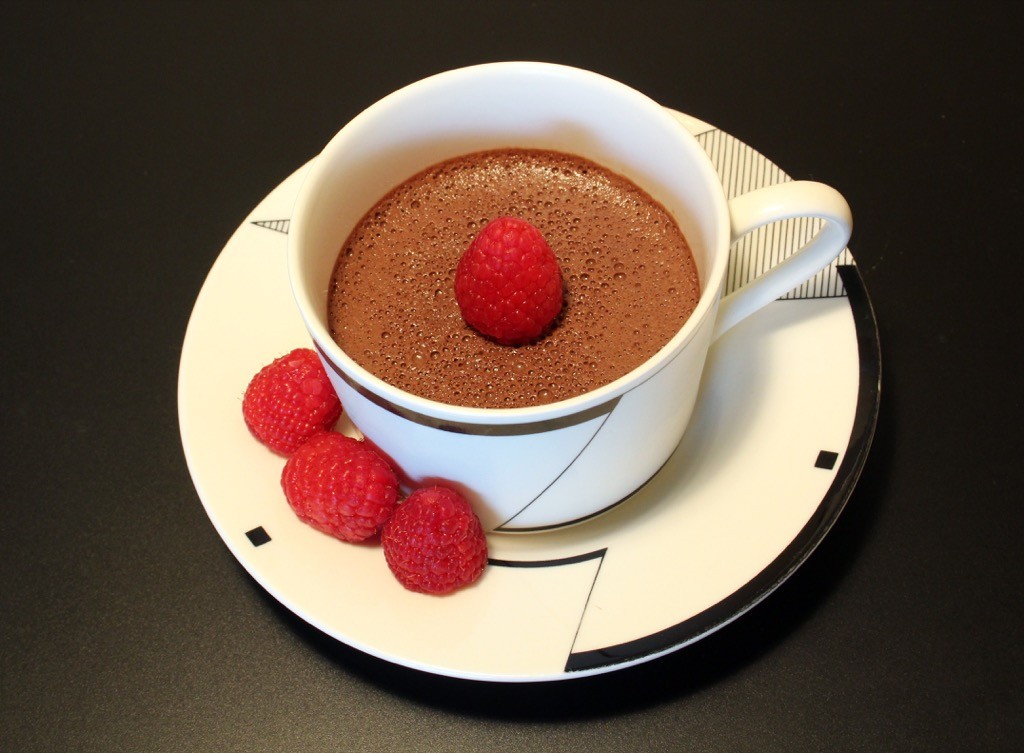 Scroll down for English version
Ma voisine Gwen (800m à pied, à l'échelle de Houston, nous sommes voisines!) m'a passé commande: ce serait génial si je pouvais lui proposer une super recette d'entremet au chocolat maison (le "super" restant à définir…), car les "Danettes" et autres petits pots au chocolat façon "La laitière" manquent cruellement aux Etats-Unis. Ah, j'oubliais de préciser la règle du jeu: pas d'oeufs ni de crème fraîche dans mes expérimentations (objectif sans cholesterol), mais attention, ça ne veut pas dire que mes crèmes seront basses calories!
Alors, voici le résultat de ma première tentative: une crème onctueuse, très chocolat. Je ne sais pas si Gwen sera satisfaite, mais j'ai au moins fait un heureux: mon mari, qui les a trouvées délicieuses!
PS: Gwen est une créatrice de talent. Elle produit ici, à Houston, des sacs et pochettes aux lignes simples et élégantes, dans de superbes matières. Ça fait cliché marketing ce que je viens d'écrire, mais vraiment, allez visiter son site elphile et vous comprendrez!
INGREDIENTS: (pour 6 ramequins)
50 cl de lait écrémé
1 belle càc de fécule de maïs (maïzena)
2 g d'agar-agar en poudre (1/2 tsp pour les américanophiles) –  à Houston dans les magasins Asiatiques, par exemple Ranch 99 sur la I-10.
100g de chocolat noir  (Lindt à cuisiner 70%, ou Nestlé Dessert si possible)
30g de sucre (ou plus, ou moins, selon votre goût concernant les desserts au chocolat)
2 càs de purée d'amande
INSTRUCTIONS:
Faire fondre doucement le chocolat au bain-marie ou au micro-onde avec quelques cuillères de lait.
Ajoutez le sucre dans le chocolat fondu et remuez pour obtenir un mélange homogène.
Dans une petite casserole, délayez la fécule dans un peu de lait.
Ajouter l'agar-agar puis le reste du lait. Portez doucement à ébullition et laissez frémir 2 petites minutes en remuant.
Dans un blender, mettez  le mélange lait/fécule/agar-agar, la purée d'amande et le chocolat fondu. Mixez bien.
Versez la crème obtenue dans des ramequins et réservez quelques heures au frais.
Dernière minute: nous avons mangé les 2 dernières crèmes avec un coulis de framboise maison. Complètement décadent!
---
My neighbor Gwen (she lives 0,5 mile from me, so by Houston standards, she is my neighbor!), gave me a new challenge: it would be brilliant if I could propose her a great recipe for a home made chocolate pudding, because the "Danettes" and other Chocolate puddings, readily available in the French supermarkets are sorely lacking in the United States. Ah, I forgot to specify the rules of the game: no eggs nor cream in my experiments (objective no-cholesterol), but attention, that does not mean that my desserts will be low calories!
Here is the result of my first attempt: a smooth, very chocolatey pudding. I do not know if Gwen will be satisfied, but I made at least a happy guy: my husband, who says they are delicious!
PS: Gwen is a great designer. Her bags are elegant, simple, with a French touch, and handmade in Houston! Please visit her website elphile, you will love her creations.
INGREDIENTS: (for 6 ramekins)
2 cups of skim milk
1 tsp cornstarch
1/2 tsp agar-agar powder – In Houston, in the Asiatic stores, for example Ranch 99 on I-10.
100 g of dark chocolate (Lindt 70 %, or Nestlé Dessert if available)
1/8 cup sugar (or more, or less, according to your taste concerning the chocolate desserts)
2 TbS almond butter
DIRECTIONS:
Gently melt the chocolate with a few Tbs of milk, either on the stove or in the microwave.
Add the sugar in the molten chocolate and stir to dissolve it.
In a small pan, make a slurry with cornstarch and a few Tbs of milk. Add the agar-agar to the slurry, then the rest of the milk. Bring slowly to a boil and simmer for 2 minutes while stirring.
In a blender, put the mixture milk / starch / agar-agar, the almond butter and the chocolate. Mix thoroughly .
Pour the pudding in ramekins and chill for a few hours.
Last minute update: we enjoyed the 2 last puddings with a homemade raspberry coulis. Completely decadent, I strongly recommend you try it!
---
---