Soupe épicée aux lentilles – Spicy Lentil Soup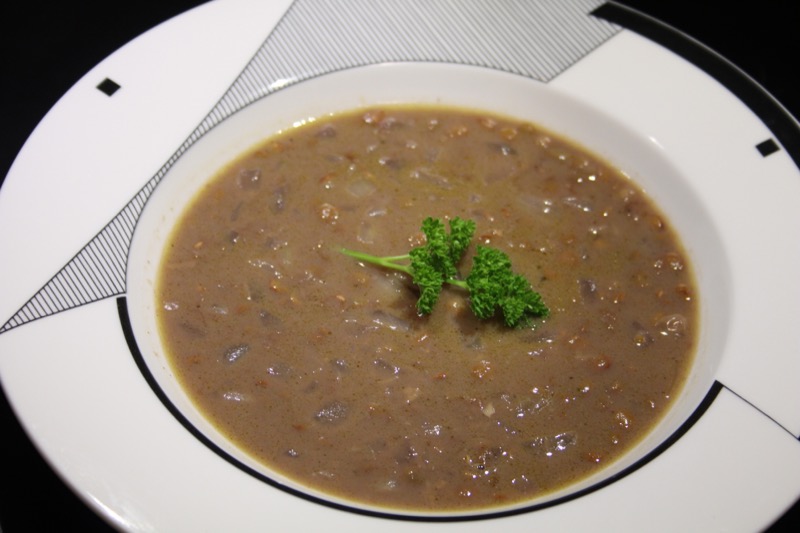 Scroll down for English version
Nous rentrons d'un long périple à travers le Nord du Texas et le Nouveau-Mexique, des vacances superbes mais pendant lesquelles l'alimentation n'a pas tous les jours été à la hauteur: sandwichs pain industriel/jambon/fromage quasiment tous les midis et mac&cheese, nouilles chinoises déshydratées et livraison de Pizza Hut certains soirs dans la chambre d'hôtel! (heureusement avec une bonne petite Shiner Bock, LA bière Texane, pour faire passer la pilule!).
Bref, quel bonheur de retrouver le confort de sa maison et le plaisir de se faire des bons petits plats, par exemple une soupe épicée aux lentilles.
INGREDIENTS:
huile d'olive
1 oignon moyen, finement émincé
1 gousse d'ail finement émincée
2,5cm de racine de gingembre, pelée et finement râpée
1 cuil. à café  de coriandre en poudre
1 cuil. à soupe de piment de la jamaïque (allspice)
1/2 à 1 cuil. à café de piment en poudre  – si vous n'aimez pas les plats épicés, diminuez la quantité!
70cl de bouillon de légume
40cl de lait de coco
150g de lentilles – la recette et le temps de cuisson sont prévus pour des lentilles vertes, si vous utilisez une autre sorte de lentilles, il faudra augmenter ou diminuer le temps de cuisson.
INSTRUCTIONS:
Faites chauffer l'huile d'olive dans une grande casserole.
Ajoutez les oignons et laissez les revenir à feu doux pendant 5 min.
Ajoutez l'ail et le gingembre et poursuivez la cuisson pendant 4 min.
Incorporez le coriandre, le piment de la Jamaïque et le piment en poudre et laissez cuire 3 min en remuant.
Versez le bouillon et le lait de coco et portez à ébullition.
Ajoutez les lentilles, couvrez et laissez frémir 30 min.
—————————————————————————————————————————————
We are back home, after 10 days of travelling across North Texas and New Mexico ! Great holidays but the food was not exactly unforgettable ! A sandwich on industrial bread almost for every lunch, Mac&Cheese, dehydrated Chinese noodles or delivery from Pizza Hut in our motel room for most dinners (At least with a tasty Shiner Bock, THE iconic Texan beer!)
Well, what a comfort to be back in our home sweet home, and be able to prepare tasty meals, such as this Spicy Lentil Soup.
INGREDIENTS:
Olive oil
1 regular size onion (not the huge ones you find in Texas !), finely chopped
1 garlic clove, minced
1″ ginger root, peeled and grated
1/2 to 1 tsp coriander powder
2 tsp allspice powder
1/4 to 1/2 tsp chili powder – if you don't like spicy-hot food, decrease the amount!
3 cups vegetable stock
1 can coconut milk
150g lentils –  this recipe and cooking time are estimated for green lentils, if you cook a different type of lentils, the cooking time will have to be adjusted.
IDIRECTIONS:
Heat the olive oil in a large saucepan.
Add the onions and cook on low to medium heat for 5 min.
Add the garlic and ginger and cook for 4 more min.
Add the spices (coriander, allspice and chili) and cook for 3 min while stirring.
Add the vegetable stock and coconut milk and bring to a boil.
Add the lentils, cover and simmer for 30 min.
—————————————————————————————————————————————
---
---