Soupe Chou-Fleur, Flageolets et graines de Fenouil – Cauliflower, Flageolet and Fennel Seed soup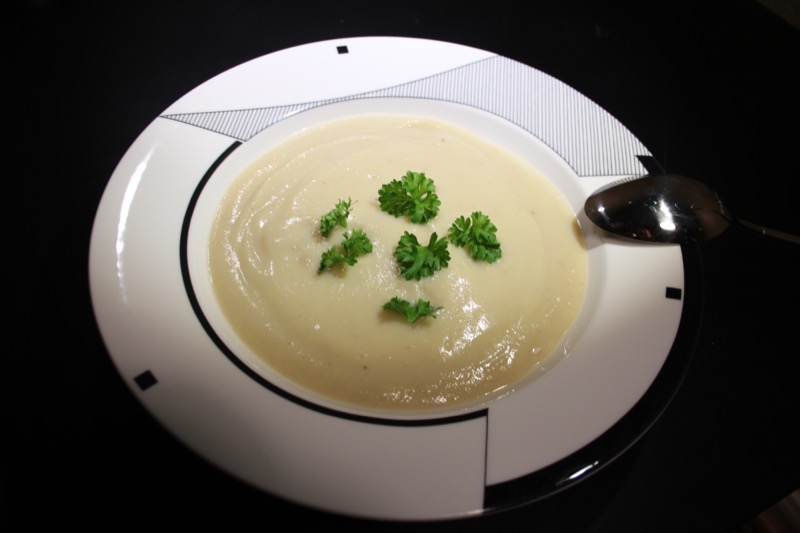 Scroll down for English version
Bon, c'est dit, j'aime les soupes! (quand vous en aurez marre de mes recettes de soupe il faudra me le dire…). L'originalité de celle-ci réside dans l'utilisation de graines de fenouil, qui lui donnent un petit goût anisé. On aime, ou on n'aime pas… Moi, ça me plait beaucoup.
INGREDIENTS: (pour 4 personnes en plat principal)
Huile d'Olive
1 gousse d'ail écrasée
1 oignon moyen émincé
1 cuiller à café de graines de fenouil
1 chou-fleur découpé en petits bouquets
1 boîte (400g) de flageolets, égouttés et rincés – à Houston, il y en a chez Phoenicia
1 litre d'eau ou de bouillon
sel, poivre du moulin
persil pour garnir
INSTRUCTIONS:
Dans une grande casserole, faire chauffer l'huile d'olive. Y ajouter ail, oignons et les graines de fenouil et faire cuire à feu moyen 5 min, jusqu'à ce que les oignons soient fondus.
Ajouter les bouquets de chou-fleur, la moitié des haricots et l'eau (ou bouillon).
Amener à ébullition. Réduire le feu et laisser mijoter jusqu'à ce que le chou-fleur soit tendre (10 min ou plus).
Mettre la soupe dans un blender et mixer jusqu'à ce qu'elle ait un aspect crémeux.
Ajouter les haricots restant, saler, poivrer. Réchauffer avent de servir.
Parsemer de persil dans les assiettes.
——————————————————————————————————
Well, you should have noticed by now: I Love soups! (when you get tired of my soup recipes, let me know…) What makes this soup unique, is the flavor of fennel seeds, which gives an anise edge to this hearty dish. Either you love it or you hate it… I like it a lot.
INGREDIENTS: (for 4 servings as a main dish)
Olive oil
1 garlic clove, crushed
1 medium sized onion, chopped
1/2 to 1 tsp fennel seeds
1 cauliflower, cut into small florets
1 X 400g/14oz can flageolet beans, drained and rinsed – In Houston, you can buy them at Phoenicias's
5 cups vegetable stock or water
salt and freshly ground black pepper
chopped fresh parsley, to garnish
INSTRUCTIONS:
Heat the olive oil. Add the garlic, onion and fennel seeds and cook gently for 5 min or until softened.
Add the cauliflower florets, half the beans and the vegetable stock or water.
Bring the mixture to the boil. Reduce the heat and simmer for about 10 min or until the cauliflower is tender. Pour the soup into a blender and blend until smooth.
Stir in the remaining beans and season to taste. Reheat and pour into bowls. Sprintle with chopped parsley.
---
---