Cabillaud sauce curry-coco – Cod with coconut-curry sauce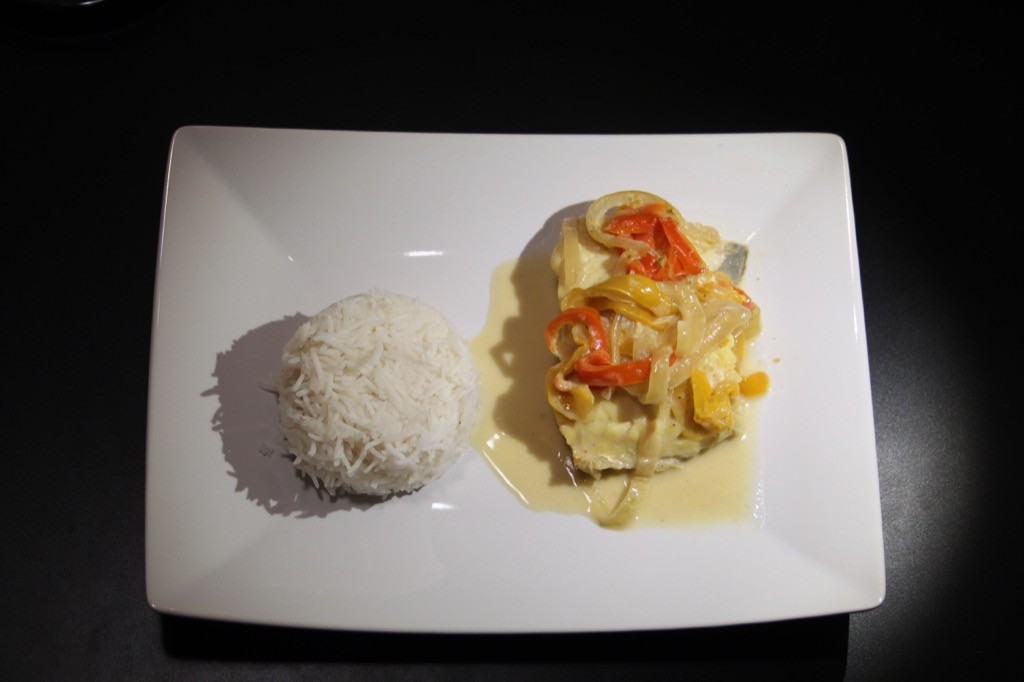 Scroll down for English version
Après l'halibut d'Alaska, le cabillaud d'Alaska, que nous avons lui aussi pêché lors de notre sortie "pêche au gros".
Voici une délicieuse recette que Julie et Laurent nous ont fait déguster lorsqu'ils sont venus nous rendre visite le printemps dernier (et oui, nos invités se mettent aux fourneaux, cool!) , et que je fais régulièrement depuis.
INGREDIENTS (pour 4):
4 pavés de cabillaud
400ml de lait de coco
1 oignon émincé (=1/2 oignon Texan)
1 poivron rouge émincé, 1 poivron jaune émincé
1 bouquet garni (facultatif): laurier, thym, persil.
1 grosse cuilère à café de curry en poudre doux
1 ou 2 gousses d'ail
huile d'olive
sel et poivre
zestes de citron vert râpés
PREPARATION:
Dans une sauteuse, faites blondir les oignons et les poivrons dans un peu d'huile d'olive.
Ajoutez un peu d'eau, couvrez et laissez compoter 5 min à feu doux.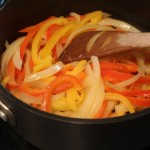 Ajoutez le curry, l'ail écrasé, sel, poivre à votre goût.
A feu doux-moyen, versez le lait de coco et ajoutez le bouquet garni.
Mélangez et laissez épaissir le mélange 5 à 10 min.
Mettez les pavés de cabillaud dans un plat huilé allant au four, et recouvrez-les de la sauce coco-curry. Ajoutez les zestes de citron vert à la sauce. Couvrez le plat et mettez à cuire une vingtaine de minutes à 180-200 C (350-400F).
Dressez le poisson dans une assiette, accompagné de riz blanc et de sauce.
————————————————————————————————————————————–
After the Halibut from Alaska, the Cod from Alaska! We also caught it when we went on a boat for a fishing trip.
Here is a delicious dish that our friends Julie and Laurent cooked when they visited us last spring (it is so nice to have visitors that cook for you!), and that I have been making regularly ever since.
INGREDIENTS (4 servings):
4 cod steaks
1 can of coconut milk
1/2 a large onion
1 red bell pepper and 1 yellow bell pepper, minced
1 bouquet garni (optional): laurier, thym, persil.
1 tsp curry powder
1 or 2 garlic cloves, crushed
olive oil
salt and pepper
grated lime zests
DIRECTIONS:
Heat some olive oil in a saucepan. Add the onions and bell peppers and cook gently until softened. Add a little bit of water, cover and let them cook at low heat for 5 more min.
Add the curry, garlic, salt, pepper to your taste.
Add the coconut milk and bouquet garni and cook at medium heat for 5-10 min until the sauce thickens.
Place the fish in a baking dish brushed with some oil and cover them with the coconut-curry sauce. Sprinkle with the grated lime zests. Cover the dish and bake for approximately 20 min (adjust the cooking time depending on the thickness of the fish fillets) at 350-400F.
Transfer the fish to a serving plate, serve with white rice and the coconut-curry sauce.
---
---