Mousse au chocolat spéciale confinement – Lockdown Chocolate mousse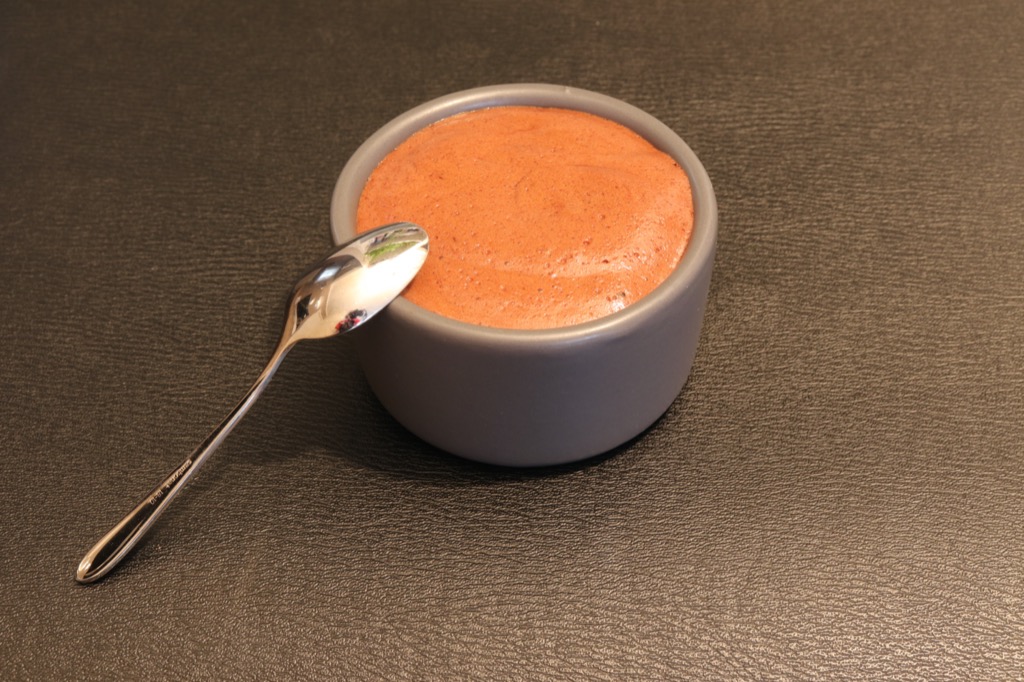 Coronavirus, 1 semaine de confinement:  il ne faut rien gâcher si on veut continuer à se faire plaisir en ne faisant les courses qu'une fois par semaine! Un frigo Parisien, ça ne permet pas de stocker beaucoup de produits frais… Du coup, je me suis enfin laisser aller à essayer les fameuses mousses au chocolat vegan, qui n'utilisent pas d'oeufs mais le liquide dans lequel baignent les pois chiches en boîte (aquafaba en est le nom officiel, ça en jette!). Afin d'éviter tout préjugé négatif, je n'ai rien dit à mes 2 hommes, je leur ai même montré mes "blancs" montés en une superbe neige dans mon Thermomix . Dans leur tête, le dessert du soir serait une mousse au chocolat bien classique. De mon côté j'étais dubitative et me demandais bien ce que ça allait pouvoir donner.  J'ai donc goûté à ces "blancs": pouah !!! Un vrai goût de pois chiches. A ce moment là, j'ai bien eu peur d'avoir sacrifié une tablette de chocolat pour rien…
Arrive le moment fatidique du dessert: et bien, étonnamment, toute la famille s'est régalée avec la mousse au chocolat obtenue. Mes testeurs n'ont remarqué aucun goût particulier (on ne sent plus du tout le pois chiche, juste le chocolat),  la texture était très agréable et ils ont été bien surpris quand je leur ai annoncé le nom de l'ingrédient mystère!
INGREDIENTS (pour 4-5 personnes)
Environ 140ml de jus de pois chiche (= tout le liquide contenu dans une petite boîte de conserve 400g de pois chiches)
170g Chocolat noir – Nestlé dessert 52% cacao dans mon cas
1 CàS Sucre canne – en fait, pas nécessaire à mon goût avec ce Nestlé dessert
Un peu (2 CàS) de Lait, ou un lait végétal pour une recette vegan.
INSTRUCTIONS: comme pour une mousse au chocolat classique, à savoir:
Montez le jus de pois chiches en neige bien ferme. Le résultat aura la même texture que des blancs d'œufs. (TM5: 2s/Turbo puis mettre le fouet et 4min/vit3.5)
Faites fondre le chocolat au bain-marie avec un peu de lait.
Ajoutez éventuellement le sucre au chocolat fondu et mélangez-bien.
Laissez tiédir le chocolat puis incorporez délicatement les "blancs" en neige.
Répartissez dans 4 ou 5 ramequins, puis laissez prendre au réfrigérateur au moins 2h.
---
Coronavirus, already a week since the beginning of the lockdown period. A Parisian fridge is pretty small and does not allow you to store many fresh products… I don't want to waste any food but I want to keep enjoying meals even if we try to shop only once a week! This is why I finally let myself go and try the famous vegan chocolate mousse, which does not use eggs but the liquid in which the chickpeas bathe in cans (Does it sound pretentious if I tell you that "aquafaba" is the official name of this liquid?). In order to avoid any negative prejudice, I didn't warn my husband and son, I even showed them my superb "whites" making stiff peaks: In their mind, the evening dessert would be a classic chocolate mousse. For my part, I was dubious and wondered what it would taste like. So I tasted these "whites": pooh!! A real taste of chickpeas. At that moment, I was really afraid to have sacrificed a chocolate bar for nothing…
Finally comes the fateful moment of dessert: well, surprisingly, the whole family enjoyed the chocolate mousse. My testers did not notice any particular taste (you no longer taste chickpeas, just chocolate), the texture was very pleasant and they were quite surprised when I announced the name of the mystery ingredient!
INGREDIENTS (4-5 servings)
Approximately 2/3 cup chickpea water (= all the liquid from a small chickpea can 400g-4Oz )
170g (6 Oz) dark chocolate
1 Tbs cane sugar (or less, it depends of the chocolate and your taste)
A bit (2 Tbs) of Milk, or a plant-based milk
DIRECTIONS: similar to a classic chocolate mousse, namely:
Beat the chickpea water into stiff peaks with an electric beater. The result will have the same texture as egg whites. (With a TM5: 2s/Turbo then insert the whisk and 4min/vit3.5)
Melt the chocolate in a double boiler with a bit of milk.
Add the sugar to the melted chocolate and mix well.
Let the chocolate cool, then gently fold in the "whites".
Divide into 4 or 5 small bowls, then store in the fridge for at least 2h.
---
---