Poulet sauce vin blanc, champignons et olives – Chicken with white wine, mushrooms and olives
Pas de cantine dans le nouveau lycée de mon fils… Me voici de nouveau face à l'éternelle question: qu'est ce que je vais mettre dans sa lunch box demain? Du coup, j'aime bien prévoir pour le repas du soir un plat dont il pourra emporter les restes. Avec du poulet et des pâtes, je suis certaine de ne pas me tromper!
Côté parents, c'est un plat satisfaisant car équilibré: une viande maigre, des légumes, et un féculent pour accompagner… et même pas de crème dans la sauce ! (Bon, d'accord, il y a du vin, mais l'alcool a le temps de s'évaporer durant la cuisson).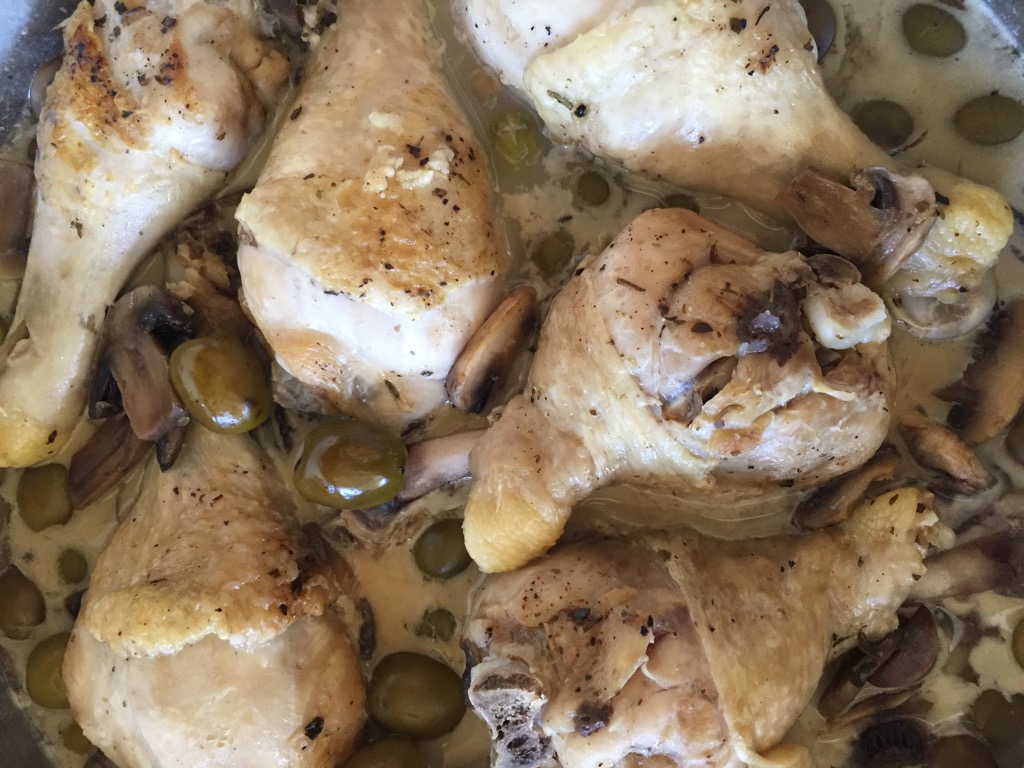 Scroll down for English
INGREDIENTS (pour 6 parts):
6 cuisses de poulet
150g de champignons de Paris frais
100g d'olives vertes dénoyautées
25cl de vin blanc sec
3 gousses d'ail écrasées
huile d'olive
1/2 bouillon cube de poulet ou 15 cl de bouillon de poulet
herbes de Provence
1 feuille de laurier, 2 branches de thym
sel, poivre
maïzena
METHODE:
Epluchez et nettoyez les champignons, détaillez-les en rondelles.
Faites cuire les champignons quelques minutes dans une sauteuse avec 1 CàS d'huile d'olive (ne cuisez pas trop les champignons, ils finiront de cuire dans la sauce du poulet). Réservez.
Salez, poivrez, assaisonnez d'herbes de Provence les cuisses de poulet, et faites les dorer sur toutes les faces dans la même  sauteuse dans laquelle vous aurez remis 2-3 CàS d'huile d'olive,  puis ajoutez l'ail écrasé.
Parsemez le poulet de 2 CàS de maïzena et faites encore cuire quelques minutes.
Ajoutez le vin blanc, 15 cl d'eau + bouillon cube (ou 15cl de bouillon), le thym, le laurier, faites cuire à découvert une dizaine de min pour que la sauce réduise.
Couvrez et laissez mijoter une vingtaine de minutes.
Ajoutez les olives et les champignon.
Laissez mijoter encore une dizaine de minutes. Voilà c'est prêt!
Dégustez sur des pâtes, ou du riz.
---
My son has to bring his lunch box in his new school. So this year I am facing again the never-ending question: what am I going to give him for lunch tomorrow? To make life a bit easier, I try to prepare extra portions for dinner, so that he can take leftovers with him the next day. When I cook a dish involving chicken and pasta, I am sure I will make him happy!
As an adult, I like this dish because it provides a balanced and low cholesterol dinner: a lean meat, some vegetables,  some carbs as a side and no cream in the sauce ! (hummm, OK, there is some wine, but the alcool has plenty of time to evaporate as you cook the chicken …)
INGREDIENTS (6 servings):
6 chicken thighs
5 oz fresh white mushrooms
3 oz pitted green olives
1 cup dry white wine
3 garlic cloves, crushed
olive oil
1/2 cube chicken bouillon or 2/3 cup chicken stock
herbes de Provence
1 bay leaf, 2 sprigs of thyme
salt, pepper
corn starch
DIRECTIONS:
Peel and clean the mushrooms, slice them.
Cook the mushrooms for a few minutes in a sauté pan with 1 TBS of olive oil. (Do not overcook them, they will cook some more with the chicken). Keep aside.
Season the chicken thighs with salt, pepper, herbs de Provence. Add 2-3 Tbs of olive oil to the sauté pan and cook the chicken thighs until they are golden on all sides. Add the crushed garlic.
Sprinkle the chicken with 2 Tbs corn starch and cook a few more minutes.
Add the white wine, 2/3 cup water + 1/2 bouillon cube (or 2/3 cup chicken stock), thyme, bay leaf, and cook uncovered on medium-high for 10 minutes, so that the sauce thickens a bit.
Cover and cook on low for 20 minutes
Add the olives and mushrooms.
Continue cooking, covered for 10 more minutes. Et voilà!
Eat with pasta or rice.
---
---